Salma Agha's daughter, Zara Khan, and Raj Babbar's niece, Kajri, bring a short film on a Punjabi bride's determination to track down the NRI groom who had abandoned her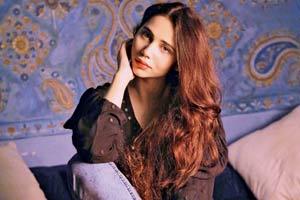 Zara Khan
Three-and-a-half decades ago, singer-actress Salma Agha and actor Raj Babbar made waves with the 1982 blockbuster Nikaah; now Babbar's niece Kajri Babbar and Agha's daughter Zara Khan (aka Sasha Agha), have joined forces to make a short film, Khoj, on the subject of young Punjabi brides who are abandoned by their NRI husbands. Khoj is scheduled to open at the Shorts Corner at the Cannes film festival in May 2018, and Zara is excited at the prospect of walking the red carpet.
ADVERTISEMENT

Kajri Babbar
In the film, however, Khan doesn't sport a glamorous look. The actress says, "I play a 19-year-old from a small village in Punjab who can't speak English properly and is married off to an NRI. Abandoned by her husband, she tracks him down in London. It was difficult for me to relate to my character's way of living and her body language, but her spirit appealed to me. Nothing can break her. And this is something I wish for women of all ages."
Director Kajri Babbar, currently completing her Masters in film direction at Arts University, Bournemouth, UK, speaks on the issue her film tackles with the fervour of youth, "I wanted to tell the world the story of a strong Punjabi woman. During my research, I contacted the NRI wing of Punjab Police and they connected me with women who had been deserted by their husbands. What shocked me was that most of the girls were still in their teens!"
Zara acknowledges the role that her and Kajri's shared family history played in getting them together for this project. "Thanks to mom and Raj uncle's association, we all are very close," she says. When she saw Kajri's first short film, Pardaa (2017), Zara messaged the director expressing her desire to work with her. Kajri responded with the script of Khoj. "We did a reading through Skype and she thought I was perfect for the role. Together, we created Gurpreet Kaur Bedi."
Though mother Salma chided her for letting her "monkey ears" show on screen because of her character's hair-pulled-back look, Zara is all praise for the film's makeup artist Charlotte Annice Spruch for making her character look authentic. Zara's personal contribution was: "long hair that really helped me look like a sardarni."
By agreeing to look her part, Zara won over Kajri who had been sceptical about the actress' willingness to accept the deglamorised part of a pregnant young girl with chapped lips and dark circles under her eyes. Zara reasons, "My job as an actor is to look the part, so paint me red, blue, yellow, or do whatever because when I'm in front of the camera, I submit myself to the director completely. I can look pretty at any given time, but to look real is my kind of beautiful."
Realism enthuses Kajri too. Groomed and raised to be a socially responsible individual, the director believes that her work should convey her convictions. Kajri attributes the fascination for NRI grooms to the belief that "India is still living under a colonial hangover. We believe everything from abroad is better including the food, money, cars, brands, government and even Indian men born on foreign land."
She adds, "In a country like ours, women should stand together and help each other but we hear several horrible cases of mothers-in-law torturing their daughters-in-law or even grandmothers abandoning their granddaughters because they are female. The issue of patriarchy becomes even more complex with the participation of women; and that frustrates me the most. This film was my subtle way of conveying the frustration."
The climax of the 28-minute film offers education as the key to empowerment. But Kajri agrees that the problem needs to be addressed at various levels. She cautions against choosing a life partner in haste and says, "Families should conduct a proper background check on the groom; from the passport to the bank accounts, everything should be verified. And it is crucial for any woman to have legal proof of marriage especially if the man is a citizen of another country."
Zara draws solace from the fact that "Union Minister Kiren Rijju went to the United Kingdom and negotiated an agreement to resolve the issue of Indians abandoning wives and aged parents back home in India." For Zara, Khoj is her chance to set her film career back on track after her debut Aurangzeb failed. Zara smiles, "A YRF film is every actor's dream launch but unfortunately Aurangzeb did not do well and everyone presumed that I was just a pretty face. But whoever has seen Khoj has said, 'Oh we didn't know you were such a good actor!'"
Also read: Is Neil Nitin Mukesh dating Sasha Agha?
Catch up on all the latest Mumbai news, crime news, current affairs, and also a complete guide on Mumbai from food to things to do and events across the city here. Also download the new mid-day Android and iOS apps to get latest updates