Repeated power cuts are not new for India. Due to the geographic location and the occasional harsh weather, it is often possible for India to experience long hours of power outages.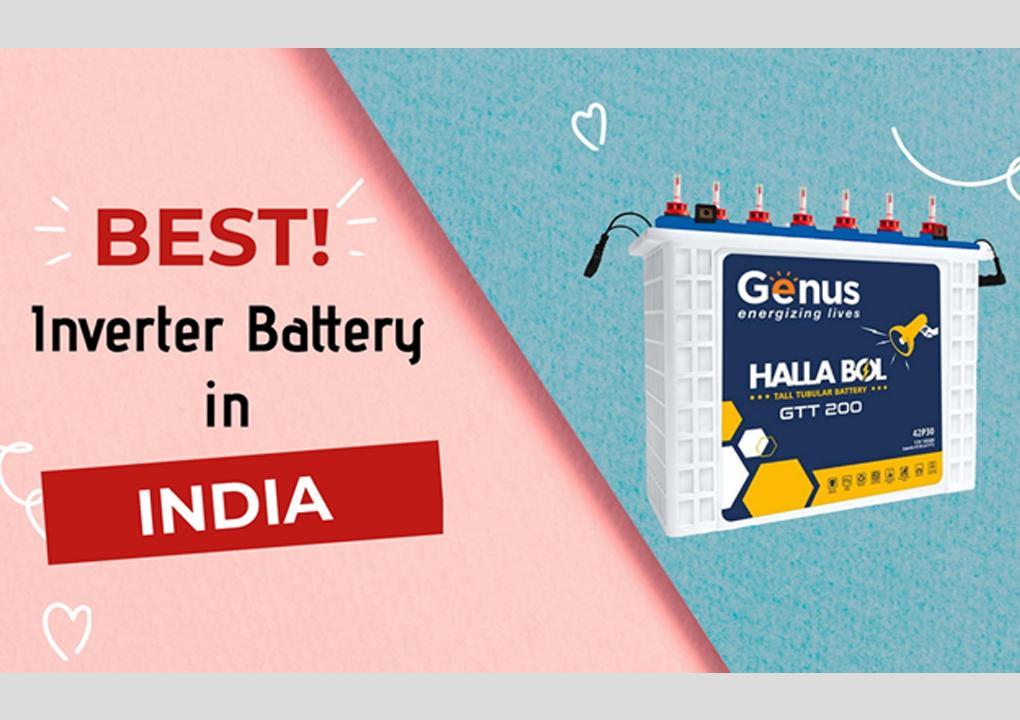 6 Best Inverter Battery in India
Repeated power cuts are not new for India. Due to the geographic location and the occasional harsh weather, it is often possible for India to experience long hours of power outages. This is exactly why the power inverter market in India has flourished to a whopping USD 4.2 billion.
Inverters are the common name Indians use for power backup solutions. Choosing suitable quality batteries for inverters is crucial to ensure their longevity. Top-quality inverter batteries are a must, especially if you stand the chance of experiencing long hours of power breakages.
ADVERTISEMENT
Best Inverter Battery in India: A Concise List
Here are the best backup inverter batteries in India.
Best Quality Inverter Battery in India: Buying Guide
An inverter battery supplies charge to power backup solutions like UPS and inverters. Batteries help these devices to convert DC flow into AC.
Inverter batteries need not provide a large amount of power. But they have to be able to provide a consistent amount of power for a long time.
Numerous brands like Genus and Luminous provide a significant number of inverter battery options in India. Investing in a long-lasting, robust, and durable inverter battery is always better to make the most of your money.
Benefits of Quality Inverter Battery
The most popular benefits of a quality inverter battery are as follows.
They are rechargeable.
Inverter batteries are available in different capacities. The user can choose based on their power requirement.
The inverter batteries are relatively eco-friendly, as they do not produce any toxic fumes.
They are a better option in terms of cost, too.
Inverter batteries are highly reliable.
Most inverter batteries support fast charging.
Pass-through charging is another feature most exclusively available among inverter batteries.
With batteries, the power supply remains uninterrupted for a long time.
Inverter batteries need minimum maintenance.
New model inverter batteries have features that help them operate even in the harshest weather conditions.
Components of an Inverter Battery
A standard inverter battery consists of the following components.
1. Electrolyte
An electrolyte transfers the charge-carrying ions between the two electrodes inside an inverter battery.
Inverters usually use a liquid or a gel electrolyte.
The most common electrolyte found among inverter batteries is dilute Sulfuric Acid.
2. Terminals
Terminals are the positive and negative end plates inside an inverter battery.
Most batteries use pure lead in the negative end.
Most batteries use PbO2 in the positive end.
3. Cooling Fans
Cooling fans are not exactly a part of the cell unit of the battery.
They are critical for the safety of the battery.
It controls and removes excess temperature that may build up inside the battery.
4. Separators
The separators separate the positive and negative terminals.
It prevents the possibility of short circuits by avoiding any physical contact between the terminals.
Most inverter batteries use rubber as the separator material.
5. Lights and Displays
These are not functional components of an inverter battery.
They exist as part of the battery system.
They provide information on the status of various battery credentials.
Types of Inverter Batteries in India
In India, there are multiple types of inverter batteries available. They differ from each other in various aspects. Here are some of the most popular ones among them.
Lead-Acid Batteries
Lead-acid batteries are undoubtedly the most common type of inverter batteries used worldwide. They are known for their affordability. They always provide a reliable performance and have a high battery backup. Lead-acid batteries are available in two variations: sealed and flooded.
Lithium-Ion Batteries
Lithium-ion batteries are famous for their relatively extended lifespan. They have a high energy density. Despite their powerful performance, they are surprisingly lightweight. These batteries need minimum to zero maintenance.
Tubular Batteries
Tubular batteries are getting increasingly popular worldwide. They deliver an extremely powerful performance. They use highly advanced technology them. These batteries are also much more durable than most of their counterparts.
These are the best options to operate outdoors. They are strong, durable, and great to use in extremely harsh weather conditions. Even if you use these batteries in extreme conditions, they provide a longer lifespan.
Nickel-Cadmium Batteries
Nickel-cadmium batteries provide a pretty long lifespan. They are also famous for their high discharge rate. It is used relatively less in household setups. It is more useful and suitable in industrial applications.
Gel Batteries
Gel batteries are helpful for a broad range of applications. They are sealed batteries. They require zero maintenance. These are considered some of the most reliable batteries currently available. They deliver highly powerful performances.
How to Extend the Life of an Inverter Battery- Tips and Tricks
Here are some pointers to extend the life of an inverter battery.
The inverter batteries usually have instructions on charging and storing them properly. It is essential to follow those guidelines every time you use a battery.
Always keep the batteries away from direct sunlight.
If you store the batteries indoors, ensure the room has enough ventilation facilities.
Overcharging and undercharging are not ideal for an inverter battery.
Undercharging an inverter battery repeatedly will eventually reduce the battery life.
Undercharging also speeds up the sulfation process. So, always try to charge the inverter batteries to the advised levels.
While storing an inverter battery unused for a long time, it is advisable to charge it completely.
Many new inverter models support pass-through charging. However, the experts recommend charging a battery when it is in load, which is not ideal.
How to Find the Best Inverter Battery Brand in India?
You can choose India's best inverter battery brand by looking for the following essential features.
1. Power
The power production capacity is the first thing to look for in an inverter battery. You must compare a battery's power capacity to your power requirement. You should calculate the wattage requirement of your appliances beforehand and choose a battery that can power them all.
While calculating the power requirement, remember that the appliances consume more power every time they start. So, calculate accordingly.
2. Battery Life
The lifespan of an inverter battery is measured in the unit Ah. Ah is the acronym for Ampere per Hour. For example, an 80Ah inverter battery can provide 80 Ampere current for an hour or 1 Ampere current for 80 hours.
So, you must cross-check your power requirement per hour and choose a battery that can support you for a long time.
3. Durability
The durability of an inverter battery depends on its type. Lead acid batteries have a short lifespan. They may last only up to five years.
But, the tubular type inverter batteries have a relatively longer lifespan. They last over eight years.
4. Solar Compatibility
Solar inverter batteries are easy to install and are extremely environmentally friendly. Many inverter batteries are now available with solar charging compatibility.
5. Safety Features
As the batteries play a significant role in maintaining the inverter's safety, some special safety features are inevitable for inverter batteries. Some of the most important ones are high voltage protection, spike protection, overload protection, etc.
Best Inverter Battery Company in India: Detailed Inverter Battery Reviews
1. Genus Inverter Battery, 165Ah: Best Inverter Battery in India
This is a premium-quality inverter battery from the brand Genus. It features high durability, excellent performance, durable materials, etc.
The body of this inverter battery is made of Selenium Antimonial alloy material. This material is famous for its highly efficient functioning at high temperatures.
This battery with 165Ah capacity delivers a solid performance for a relatively extended period. Despite the high performance, it is extremely easy to install.
It comes with a top ventilation design that helps release gas during charging. The relatively thicker plate makes sure that the battery lasts long. It also has a 3D grid design. This design improves the strength of the battery along with its visual appeal.
Features
Available in white color.
Contains tubular lead acid cell
72 months warranty available.
It has six water level indicators.
It weighs 56 kilograms.
Pros
Modern terminal design.
The PV envelop separator increases the battery life.
It comes with flat negative plates.
It features a low self-discharging rate.
It has solar compatibility.
Low maintenance requirement
Cons
Substandard delivery service.
2. Genus Inverter Battery, 150Ah: Best Home Inverter Battery in India
This is a ready-to-use inverter battery from the Genus brand. It is famous for its lightning recharge function that helps the battery achieve full power in a few hours.
It is built to resist wear and tear. It is temperature-resistant and rust-resistant and, thus, is long-lasting. It needs minimal to zero maintenance.
The Selenium Antimonial alloy material enables the battery to work well in high temperatures. It also exhibits excellent solar compatibility.
Features
Tubular inverter battery
150Ah battery capacity
17-liter electrolyte volume
It weighs around 57 kilograms.
It comes with 60 months warranty.
Pros
It requires minimal maintenance.
Deep discharge recovery
Work well for up to seven years.
It provides automatic warranty registration.
It offers more backup cycles.
Fast recharging feature
Top ventilation
Cons
Any external damage caused to the product is not covered under the guarantee.
3. Genus Surja Pro 3200 Solar Inverter: Best Solar Inverter Battery in India
The Genus Surja Pro 3200 inverter is India's best solar inverter battery. It comes with a unique Solar Maximizer feature. This feature makes the solar panels function maximum and helps the user get a zero-electricity bill.
This is the best battery to use if you want to reduce your dependency on the power grid. The clean energy produced by this battery is excellent for running all modern appliances. It is also safe to use this battery to power sensitive equipment like mobile phones, laptops, etc.
Features
Pure Sine Wave solar inverter battery
2400 VA capacity
Uses the next-generation DSP technology
It weighs nearly twenty kilograms.
300Ah capacity
Pros
High conversion efficiency
It can operate on both solar and grid.
It minimizes electricity charges.
Noiseless operation.
Compatible with sensitive devices.
Causes zero pollution
Automatic warranty registration
24-months warranty
Cons
4. Luminous Red Charge 180 Ah, RC 24000: Best 180Ah Inverter Battery in India
This is a robust inverter battery model from the Luminous brand. This is a tubular battery that effectively resists corrosion and similar damage. It offers powerful spine technology.
The design and structure of this battery support high reliability and long life. It comes in a pristine white color. The overcharge tolerance of this product is exceptionally high. This battery achieves full recharge within just a few hours.
It also features a long backup and better charge acceptance. The spine alloy material supports durability and longevity. It also comes with unique features that resist oxidation.
The separator is of polyethylene. The separator is puncture-resistant and helps avoid any short circuits inside the battery.
Features
Tubular battery
180Ah battery capacity
Over 20 Liter electrolyte volume
Weighs 60 kilograms
36 months warranty available
Pros
Easy to maintain
High backup performance
Resists overcharging
The factory-charged battery is ready to use.
No installation required
Electrolyte level indicator available
Cons
The charge indicator is not available
Physical damage does not come under the warranty.
5. Livguard 200Ah Inverter, LG1100_IT 2072TT: Best 200 Ah Inverter Battery in India
This is a high-performance inverter battery from the brand Livguard. It is highly reliable and provides consistent power for a relatively longer time. The creators use advanced technology on this product to maintain consistency in the power supply.
It recharges pretty quickly. The extra backup and long life are the two critical features of this battery. The manufacturers offer a three-year battery warranty, one of the highest warranty periods in the category.
This is a square-wave inverter battery. It is highly cost-effective. It is best suited for household requirements. It also has smart AI technology that lets it prevent overcharging.
Features
Square wave inverter battery
200Ah battery capacity
Tubular battery
Three-year warranty
Smart AI inverter battery
900VA/ 12V
Pros
Used high-quality building materials
Solid power backup
Six water level indicators are available
Longer battery life
Leak-proof build
Heat sealing is relatively superior.
Cons
Non-returnable
Not a pure sine wave inverter battery
6. Luminous iCon 1100 Inverter and Battery Combo: Best 150Ah Inverter Battery in India
This is an inverter and battery combo available from the Luminous brand. The battery featured in this combo is a tall tubular inverter battery with 150Ah capacity. This is one of the most affordable products in the category.
It features a tubular plate design. This battery is suitable for heavy-duty requirements. But despite the powerful performance, it needs very minimal maintenance. It maintains an excellent tolerance towards overcharging.
It offers a relatively long service life despite its low price. It comes with six water level indicators for convenient usage.
Features
Available in white and red color combination.
150Ah capacity
Weighs 54 kilograms
Tall tubular battery
20-liter electrolyte volume
Two years warranty
Pros
Capable of high load bearing.
Recyclable product
Rugged and robust construction
Tolerates overcharging well.
Requires minimum maintenance
Supports fast recharge
Tubular plate design
Cons
Packaging needs to improve
Many inverter battery brands in India use hybrid technology these days. The result is highly advanced inverter batteries compatible with grid and solar power. Choosing flexible hybrid options is always beneficial as it greatly increases the scope of usage. Luminous and Genus are two trustable brands when purchasing an inverter battery in India. They host a wide range of products in the category, which includes grid inverter batteries, solar-compatible batteries, and even smart AI batteries.
FAQs
1. Which type of battery is best for inverter?
Lead-acid and tubular batteries are considered best for inverters. Both of them offer powerful performances and long-lasting battery life. Indian inverter manufacturers most commonly use lead-acid batteries. Tubular batteries are also gaining popularity recently. They are equipped with advanced technology.
2. What is the average life of an inverter battery?
The average life of an inverter battery depends on the type of battery. Tubular battery lasts for an average of seven to eight years. Most other types of inverter batteries offer an average lifespan of three to four years. You can extend the lifespan of an inverter battery by properly following the guidelines from the manufacturer. Avoiding undercharging or overcharging is highly crucial to extend the battery's lifespan.
3. What can damage the inverter battery?
Harsh conditions, lack of maintenance, corrosion, over/undercharging, etc., can damage the inverter battery. Exposing the battery to severe climate conditions like extreme temperature, moisture, etc., would reduce its life. Likewise, overcharging or undercharging can seriously affect the lifespan of the battery.
4. How can I improve my inverter battery life?
You can improve your inverter battery life by charging it properly. Over/undercharging is the most damaging aspect of an inverter battery. Charging the battery as per the guidelines helps with improving its total lifespan.
"Exciting news! Mid-day is now on WhatsApp Channels

Subscribe today by clicking the link and stay updated with the latest news!"
Click here!