Telangana based NRI Engineer Raja Chandra, worked as Senior Technical Engineer for Government of Bahrain, is not just another Indian who had left his homeland for greener pastures.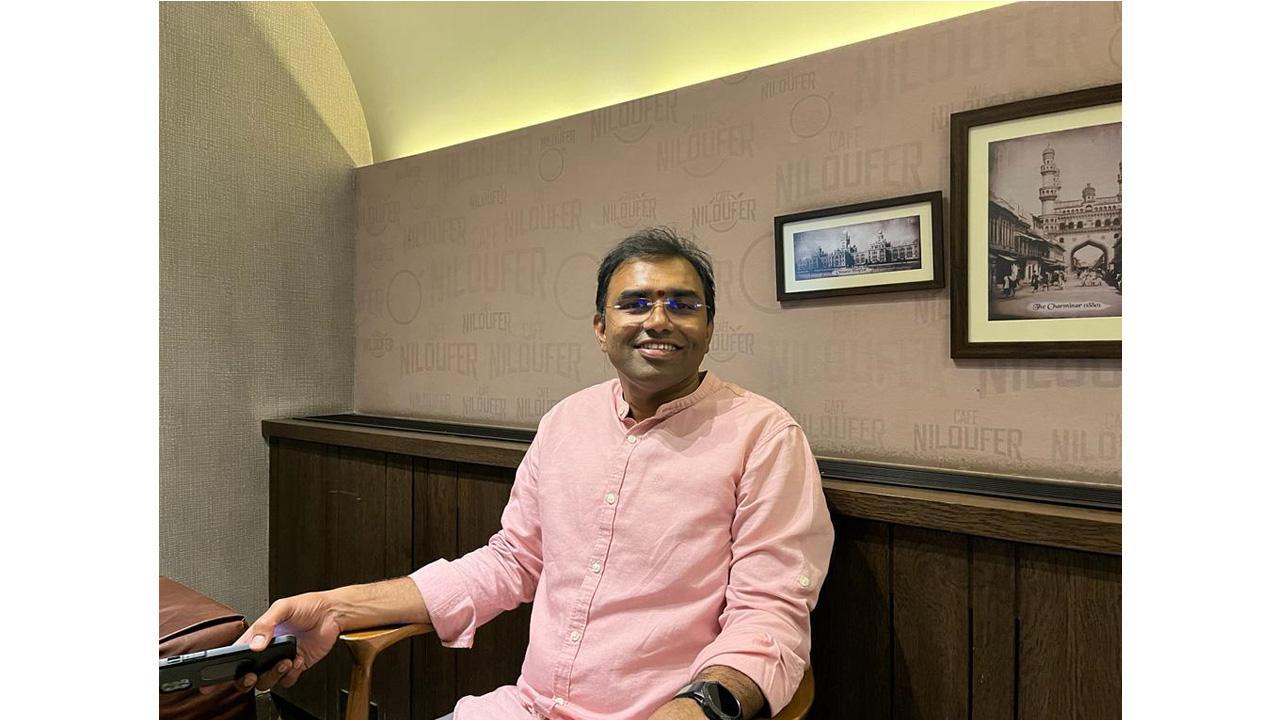 After returning to his roots in July 2022, he trusts in joy-of-giving, aspires to give back to society the intellectual knowledge and experience gained globally over 24 years and help put together a robust infrastructure that builds stronger communities & the nation. The ultimate vision is to make aware sustainable development and to join hands with the policy makers and work towards achieving the above goals, without impacting the environment. Speaking to our correspondent, he opened his heart and shared few of his ideas and vision about India & its overall development.
Question 1.  What are your thoughts towards the current infrastructural position of Telangana State & India.
Ans: Infrastructure is the backbone of any thriving and successful economy and I am glad to say that governments both at Telangana state since its formation as well as successive governments at the Centre have continuously and consistently focussed on building a robust and sustainable infrastructure platform for securing safe and sustainable future of people, as well as propelling various industries to grow.  
I believe that a robust infrastructure helps in the development of the economy as it can assist in solving problems of general poverty, unemployment, backwardness, low production, low efficiency, low productivity and low standard of living etc to name a few.
Having said that the recent rains, power and traffic snarls have shown how vulnerable our infrastructure has been to meet natural challenges and scattered population growth in the metro cities like Hyderabad.  I firmly believe, rather than address infrastructural challenges on a time-to-time basis, Governments must adopt a holistic approach towards long term infrastructural planning, implementation, and development.  They could begin by constituting high level committees, by involving all the stakeholders, to develop overall Master Development Plans which takes into consideration not just the current challenges but be futuristic to withstand the challenges that may emanate over the next 50-100 years' time by adhering to international safety and environmental standards.
Question 2.  What changes are required for India to have a good infrastructure quality:
Ans: The infrastructure sector is the cornerstone of any nation. 
I firmly believe, maintaining good infrastructure is a key driver for the growth of Indian economy as it plays a crucial role in accelerating India's overall development. As per the Indian Industry Report, the Government of India plans to spend USUSD 1.4 trillion only on infrastructure development projects between 2019 to 2023 which is predicted to boost the expansive economic growth.
This sector is highly responsible for propelling India's overall development and enjoys intense focus from the Government for initiating policies that would ensure time-bound creation of world class infrastructure in the country. Infrastructure sector includes power, water, housing, health, education, bridges, dams, highways & roads, airways, railways, ports, research works, agriculture, and urban infrastructure development. India was ranked 44 out of 167 countries in World Bank's Logistics Performance Index (LPI) in 2018. India jumped to second rank in the year 2019, as per AEML Index.
I would urge State Governments to increase the annual budget on more extensive scale infrastructure projects in above areas for the affordable & reliable system by including & connecting main cities with districts, rural areas & villages and tightening the budget leakages on freebees, that has to be restricted to deserved citizens only.
This is going to result in the growth of the industrial sectors encouraging Make in India, generating employment, improved standards of living with sustainable growth and overall economic development.
Question 3.  How are you going to contribute towards the nation building with your experience?
Ans: A country can move forward on the path of progress only when all the stakeholders from different sections of the society are involved and given an equitable opportunity to contribute. Nation-building is a continuous process whereby a society of people with diverse backgrounds, cultures and religions come together within the defined boundaries in each infrastructure sector.
I'm going to utilize my vast experience gained in 24 years globally & locally in the fields of water, wastewater, highways, and housing infrastructure projects. By studying the pressing issues, geographic locations, future projections within the States, the projects can be coordinated with all stakeholders and proposed by carefully selecting the economically viable and technically workable systems using most advanced technologies.
Question 4.  Share your thoughts on the current government's vision on India & Its progress towards a USD 5 Trillion Economy.  
Ans.  Our beloved Prime Minister Shri Narendra Modi Ji has a clear vision & mission diligently working towards making India a USD 5 Trillion Economy.
I am confident and wish to aver that the overall growth of India "A USD 5 Trillion Economy" will be achieved soon with certitude, as many radical changes have been proposed, introduced and implemented across the country, as an example we can see the initiative of Aatmanirbhar Bharat and India has succeeded in the manufacture & supply under the Make in India & Made in India Policy. The gamut includes manufacturing & supplying of the scientifically challenging satellites, aviation industry with Udan connecting Tier-2 & 3 rural areas, railways, roadways, naval architecture, automobile, digital payments, and portable handheld communication devices sectors, and even in the under rated industries like millets, khadi, toys, renewable energy, ayurvedic, herbal medicines, health, tourism…etc.
Question 5. If you're given an opportunity to serve as a Public Representative, what will be your first five year plans.
Ans.   If I am given an opportunity to serve as a Public Representative, firstly, I will choose the definite ideology & policy towards the equality, inclusive growth, nation building approach with zero tolerance on terrorism, anti-national & anti-social activities.
Secondly, I will study and take up the local core problems and find the suitable solutions for overall infrastructure development works in the areas of power, water, sanitation, housing, roads, health, education, renewable clean energy so that all the citizens, residents and industries will get the deserved returns they must benefit as honest taxpayers to the country. 
Wishing you all a very Happy New Year 2023. Let the new year surprise you with successful opportunities and good health!