'The Martian' is an immensely fulfilling epic odyssey that is at once a tribute to human endurance. There's suspense, thrills and excitement in ample measure and though this is speculative fiction, it appears so very real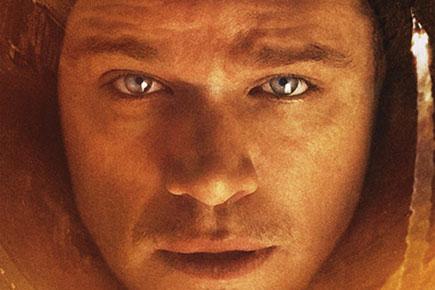 'The Martian' - Movie Review
'The Martian'
U/A; Sci-fi
Director: Ridley Scott
Cast: Matt Damon, Jessica Chastain, Kate Mara, Jeff Daniels, Chiwetel Ejiofor
Rating: 


Poster of 'The Martian'. Pic/Santa Banta
'The Martian' is Ridley Scott's umpteenth outer space adventure film and is one of his most striking ones - from among his recent oeuvre ('Prometheus', 'Exodus: Gods & Kings'). A speculative thriller, this film has been adapted from Andy Weir's 2011 best-selling novel of the same name and takes heart in telling the tale of an astronaut, Mark Whatney (Matt Damon), who gets left-behind (for dead) on an alien planet, Mars, a place less known to scientists than the more-travelled Moon. At heart it's a 'Cast Away' alright but it rides hard on a fresh source station and unimaginable sci-fi adventure.
Mark, a botanist, has to summon all his ingenuity and courage to endure the inhospitable, desolate environs of Mars while rationing, growing and renewing sources of food and energy, with no hope of a rescue for another four years, languishing all alone, 140 million miles away from Earth. His completely absorbing ship-wreck story is strong on affect and keeps you involved with its many hurdles that crop up along the way to surviving with hopes of a rescue only 4 years later when the next Mars shuttle is scheduled to arrive. The Hermes and its crew, which abandoned him for dead, are already on their way to earth completing their focused scientific mission.
The twists and turns that keep the tempo flowing and enlivens the rarefied atmosphere through deep-rooted engagement are almost surreal. The crew on board and the crew on ground at NASA are all well defined and the science behind this story of courage is quite impregnable. Both Andy Weir, the co-scriptwriter and director Ridley Scott were rumoured to be keen on Irrfan Khan playing the pivotal role of scientist Vincent Kapoor in the film but due to pressing commitments, that was not to be and Chiwetel Ejiofor really makes a meal of it. In fact all the supporting cast are at their empathetic brilliant best. Even so, it's Matt Damon who stands up to the closest scrutiny, living his role, dissipating away in outer space while maintaining a slim thread of hope for a return back to earth. And it's a glorious journey no doubt.
Scott and his team get innovative in creating a framework for plausible realism, well aided by Janty Yates costumes, un-obstructive 3D effects and splendid space vistas. There's suspense, thrills and excitement in ample measure and though this is speculative fiction, it appears so very real. The epic scale and the astronomical camerawork by Dariusz Wolski, smart editing by Pietro Scalia, emblematic selection of musical tributes and unobtrusive musical score from Harry Gregson-Williams and vivid production designer by Arthur Max, scale this experience up to an immensely fulfilling epic odyssey that is at once a tribute to human endurance!