'The Vatican Tapes', yet another demonic possession exorcism horror movie, probably the billionth movie of this sort of have come from Hollywood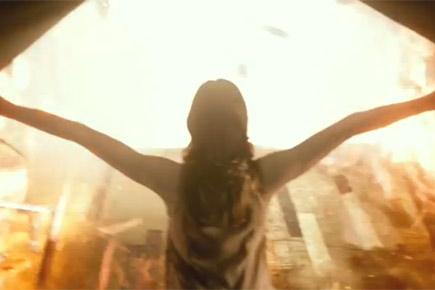 The Vatican Tapes
'The Vatican Tapes'
A; Horror/Thriller
Director: Mark Neveldine
Cast: Michael Peña, Djimon Hounsou, Kathleen Robertson, Dougray Scott
Rating:

Another week, another clunky horror movie made for cheap to cash in on the trend of low cost potboilers with smart marketing raking in moolah. This time we have 'The Vatican Tapes', yet another demonic possession exorcism horror movie, probably the billionth movie of this sort of have come from Hollywood.
Watch the trailer of 'The Vatican Tapes'

'The Vatican Tapes' is directed by Mark Neveldine and it seems like he missed his directing partner Brian Taylor this time around because the film has none of the quality, humor or filmmaking panache of their infamous 'Crank' movies. This horror movie is as cookie cutter as they come. The story revolves around a young girl (yet again) played by Olivia Dudley who shows increasingly strange behavior that is outside the realm of science and medicine. As expected, a certain Father Lozano (Michael Pena) takes notice of this girl, smells something foul and decides to help her get rid of her literal demons. Along the way he performs and exorcism and the usual bed shaking shenanigans begin and finally end in a huge explosion that hints towards a sequel.
If you thought that was a boring description of the movie, you'll be surprised to know the film is even more dull to sit through. Majority of the runtime is spent in awkward dull lighting with the lead character mildly hamming away by making contorted faces for the sake of horror. Speaking of which, the horror in the movie is non-existent. Despite the repeated attempts of doling jump scares there isn't a single moment where you believe something creepy is happening. There is one scene during the exorcism sequence which will make you shudder but only because it's rendered in such horrible CGI you won't believe the movie cost millions of dollars.
To make matters worse the film also presents some mumbo jumbo connection to the Vatican church and does it in a way that expects us to take it very seriously. This kind of narrative has been done many times, and in much better ways, so unless a horror movie offers something different in style or scope it's bound to turn into a turkey, which 'The Vatican Tapes' sadly is. It's a shame that this is the golden age of horror films, yet most of the products coming from the industry are so cheap and stale. Even if you're looking for a timepass date movie, 'The Vatican Tapes' fails to deliver. The only respite is that it is not found footage.