By and large 'Trumbo' is faithful to it's subject and keeps you engrossed and involved in it's drama. Bryan Cranston lends genuinely to his role while all the other performers support the cause of believability quite effortlessly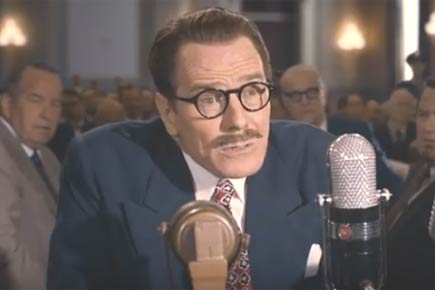 Trumbo - Movie Review
'Trumbo'
U/A; Biopic/Drama
Director: Jay Roach
Cast: Bryan Cranston, Diane Lane, Helen Mirren
Rating: 

The Hollywood blacklist way back in the 1940's is a part of cinema history that most of us would have been unaware of. So it's rather propitious of director Jay Roach to dwell on it in his biopic on the Late Dalton Trumbo (Bryan Cranston) a democrat at heart and a commie by insinuation, a celebrated screenwriter by profession, who earned the wrath of the cinema establishment which largely constituted anti-communist forces led by the trenchant and forbearing Hedda Hopper (essayed delightfully by Dame Helen Mirren). He dared to refuse to testify before the House of Un-American Activities Committee (couldn't they have thought up a better name?) and was sent to jail for that impunity. Trumbo was convicted of contempt of Congress, which involved refusing to answer to a committee embarked on a questionable investigation. But as per records HUAC never blacklisted anyone. It was the Hollywood studio chiefs who set up the blacklist after the 1947 hearings. And was more of an unwritten law that dragged on for a decade or more, enforced by the who's who of the industry who either openly supported it or did not want the bother of resisting it publicly. Trumbo himself is known to have bitterly held Hollywood responsible for the embargo on his prolific career.
The film's Screenplay by John McNamara is based on the book 'Dalton Trumbo' by Bruce Cook and tends to being a tame and slightly sanitized version of the events that pitted artists and movie moguls against their very own in a vicious feud that was unjust and unfair, to put it mildly.
Once out of jail and still unrepentant, he and his close-knit group of highly talented screenwriter friends were shunned by mainstream Hollywood and had to take recourse to using a unforeseen backdoor entry to break open the deadlock on their careers. Of course some of them couldn't face up to the unrelenting heat of being prosecuted and cowed under the pressure of banishment quite easily but Trumbo, with the help of his loving family, fought back valiantly and forced the establishment to reassess it's own thinking by winning several Oscar nominations and two Oscars (under assumed names), in the process.
The film is a reasonably tense drama of those trying times and is quite inspirational in it's rendering of it. It's a period representation, convincing and appealing in it's recreation of Trumbo's life and struggles during those tough times. While Trumbo comes out as intelligent and crafty, his witticism and sheer chicanery in subverting the embargo and re-establishing his star on the Hollywood horizon establishes his strong mettle and makes for an strongly inspirational ideal. The narrative's defining moment comes when Trumbo bumps into J. Parnell Thomas (James DuMont), his bête-noir, the former chair of that committee, who's been convicted of income tax evasion. The snarky congressman smirks 'we're now in the same boat,' but Trumbo is quick to retort, "Except that you committed a crime and I didn't." And that proves one thing about this effort- it's meant to portray Trumbo as the unduly wronged while painting the bloodhounds seeking his dishonoring, as entirely black. I don't particularly know the merits of that but one would think there's much more to that story than has been presented here.
While the politics of it might be hazy, the emotional aspects of the story are quite crusty. Trumbo's surviving through the dip in career graph, his efforts to break the blacklist, his family's complete involvement in making that happen, are the movie's strengths. His wife Cleo (Diane Lane) and their three school-age kids valiantly bear most of the brunt of his ornery eccentricities and their dogged perseverance eventually pays off when Kirk Douglas enlists him to write 'Spartacus' and Otto Preminger has him adapt 'Exodus'. Bryan Cranston lends genuinely to his role while all the other performers support the cause of believability quite effortlessly.
By and large the film is faithful to it's subject and keeps you engrossed and involved in it's drama. So largely fulfilling in my opinion!