This is not really a National Lampoons movie, this is a 'Hangover' sequel, and if you've watched the last two you can guess the quality of this one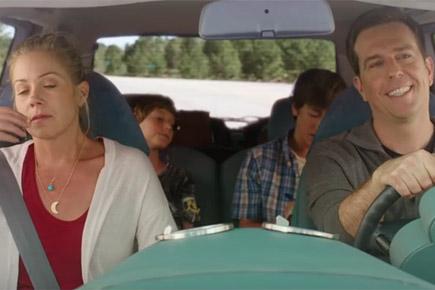 Vacation Movie review
'Vacation'
A; Adult/Comedy
Directors: John Francis Daley, Jonathan M. Goldstein
Cast: Ed Helms, Christina Applegate, Skyler Gisondo, Steele Stebbins, Chris Hemsworth
Rating:

The National Lampoon's 'Vacation' film series was a big deal in the 80's. Originally a John Hughes short film, the films followed the crazy adventures of an American family that end in hilariously awkward scenarios. There were six features following the awesome original 1983 film, and with Hollywood trying out sequels and reboots it was inevitable that 'Vacation' would be the seventh film in the canon.
Watch the trailer of 'Vacation'

Directed by first time filmmakers Jonathan Goldstein and John Francis Daley, 'Vacation' is kind of a remake of the 1983 film, a soft reboot of the series. And like most reboots it is also a failure. The reason why the original film became iconic is that at the center of its ridiculous and slapstick comedy is a sweet, good natured heart that makes you want to watch it repeatedly. It's a movie that you can relate to at any point of time, and you ended up caring for the goofy family in the film. In this remake, the heart is replaced by crude sight gags, gross out comedy, forced laughs and even a tinge of nastiness.
In 'Vacation', Ed Helms plays the family man on a mission to give his wife (Christina Applegate) and kids the best vacation of their lives. For comedic value what you get is a ton of jokes about erections, a joke about a spring bath in toxic sewage, a funny scene in a hotel room with dried blood in its bathroom and a truck driver into young kids. The film just drones on from one nasty set piece to the next, to the point where you just wait for the next unfunny disaster to happen. There's no sense of excitement whatsoever – it plays out like a Saturday Night Live sketch about the recreation of a classic movie.
The comedy is so mediocre even Ed Helms struggles to hold your attention. Chevy Chase in the original had this mad glint in his eye which made things all the more funny. Everyone in this film, Christina Applegate included simply go through the motions like robots. Chris Hemsworth makes a mildly interesting cameo as a weatherman but even he's relegated to being part of erection jokes. This is not really a National Lampoons movie, this is a 'Hangover' sequel, and if you've watched the last two you can guess the quality of this one.