Gary Oldman, known to Harry Potter fans as Sirius Black, stars in the upcoming action thriller Hunter Killer, alongside Gerard Butler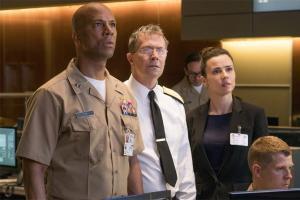 Still from Hunter Killer
Versatile actor, Gary Oldman, known to Harry Potter fans as Sirius Black, stars in the upcoming action thriller Hunter Killer, alongside Gerard Butler. For this film, there really isn't any better way for filmmakers to faithfully capture the essence of military life than by deferring to those who have had the first-hand experience of it — and that's exactly what Gary Oldman thought about his military advisor Russell Coons.
"Russell is...he really knows his stuff. It's a very very specific, very technical, kind of movie so to it's an absolute necessity to have someone here who has actually been on submarines and on ships, knows the protocol. So he is invaluable. You need someone like that around."
Amid heightened tensions between the US and Russia, a new generation of highly sophisticated nuclear attack subs called hunter killers prowl the murky depths. When the Russian president is captured by his rogue general, an untested American submarine captain (Butler) teams up with an elite group of Navy SEALs to save him. Now the Americans and Russians must work together to avoid worldwide disaster.
Also Read: The Goose Bump Moment For The Cast Of Hunter Killer!
Catch up on all the latest entertainment news and gossip here. Also download the new mid-day Android and iOS apps to get latest updates