The Grinch spreads the message of Christmas through its theme about spending the holidays together, with people you love.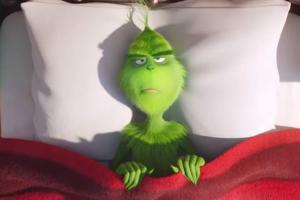 The Grinch
The Grinch
Cast: Benedict Cumberbatch, Rashida Jones, Cameron Seely, Kenan Thompson, Angela Lansbury, Pharrell Williams, Ramone Hamilton, Sam Lavagnino, Scarlett Estevez
Director: Scott Mosier, Yarrow Cheney
Writer: Michael Lesieur, Tommy Swerdlow
Rating:

Dr. Seuss's classic holiday story book 'How the Grinch Stole Christmas' gets adapted for the umpteenth time, this time though its back to animation and Jim Carrey is no longer the one hogging the limelight. The Ron Howard directed 2000 version may have created box-office magic allowing for Carrey to be synonymous with Dr.Seuss' Grinch stories but this wholly animated version with Benedict Cummerbatch voicing the lead, has a charm and verve that is entirely captivating and relevant. This version is a modernised, tweaked retelling of the classic and is resplendent in comely, compelling craft.
The characterisations are well-defined, distinguished by characteristics that are unique and memorable. The story as narrated by Pharrell Williams, introduces the titular character as a loathsome loner who lives with his loyal dog Max in a cavernous hideaway located in Mount Crumpit. The village of Whosville is located in the valley below and this film basically posits the cantankerous, pernickety, miserly Grinch against the festive little village known for its love of Christmas and everything that comes with the holiday: decorations, food and gifts. But it's mainly young Cindy Lou Who (Cameron Seely) and her generosity of spirit that turns Grinch back into the human being he forgot to be.
The reworked story represents the pop culture of today with a single parent struggling to do right by her child, Grinch's mean spiritedness being attributed to a childhood trauma that reverses with the perfect antidote and Cindy Lou's generosity linked to her mother's unique parenting skills. Grinch's dependence on gadgets and gizmos is also a telling statement on current lifestyles.
The Grinch spreads the message of Christmas through its theme about spending the holidays together, with people you love. The textured plotting allows for an enrichment that is embellished by captivating visuals and gratifying content. Whosville is a darling kid-friendly enchantment that is simply unforgettable. Everything there looks so pristine and perfect- just like in a Christmas card. The animation is crafty with its realistic dimensions and memorable highlights. The voicing is also quite exemplary especially Pharell Williams, Cummerbatch, Kenan Thompson, Rashida Jones and Cameron Seely. Their intrinsic identification with the characters they essay add depth to the ensuing enchantment!
Watch The Grinch Trailer
Catch up on all the latest entertainment news and gossip here. Also download the new mid-day Android and iOS apps to get latest updates