Be warned. While watching 'Baahubali', you might have to periodically pick up your jaw off the floor. Because this is not merely a movie, it is an unbelievably thrilling fantasy ride. Rajamouli's magnum opus, starring Prabhas and Rana Daggubati, should be enjoyed only on big screen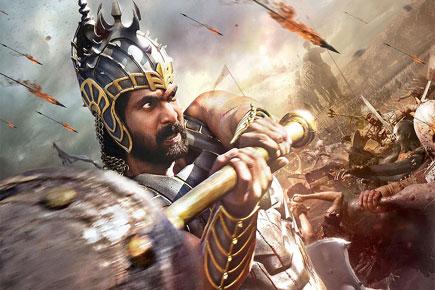 Baahubali review
'Baahubali'
U/A; Action/Drama
Director: SS Rajamouli
Cast: Prabhas, Rana Daggubati, Anushka Shetty, Tamannaah Bhatia
Rating: 
Be warned. While watching 'Baahubali', you might have to periodically pick up your jaw off the floor. Because this is not merely a movie, it is an unbelievably thrilling fantasy ride.
Thanks to SS Rajamouli's superb imagination in writing (screenplay by Rajamouli along with Rahul Koda, Madhan Karky and Vijayendra Prasad) and execution, this magnum opus turns out to be an experience that should be enjoyed only on the big screen.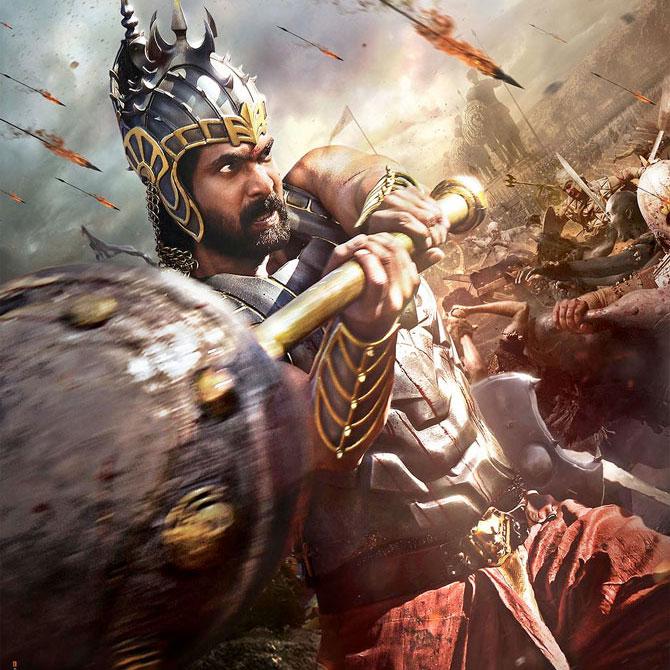 Rana Daggubati as the mighty Bhallala Deva in 'Baahubali'. Picture courtesy: SS Rajamouli's Twitter account 
The film opens with the story of the mighty man Shiva (Prabhas Raju Uppalapati) who belongs to the royal family of Mahishmati kingdom, but due to a twist of fate, raised by a tribal family. Shiva and the kingdom is divided by a gigantic waterfall and in spite of a burning curiosity and several attempts, Shiva is not able to reach the other side. It is finally the lure of a beautiful girl, Avantika (Tamannaah Bhatia), that gives him the push and the courage to pass to the other side.
On the other side is a spectacular and imaginary world (aided by VFX effects) which is part snow, part green and part war-zone. No, let's not let logic meddle with fantasy in this one.
However, the subjects of Mahishmati kingdom are an unhappy lot because their current ruler Bhallala Deva (Rana Daggubati) and his scheming father are mean and cruel. And this is where Shiva realises that he belongs here and he has an important mission to complete.
Photos: Screening of 'Baahubali' at Yashraj Studios
Prabhas is perfectly cast to play the larger-than-mere mortal, super-mighty Baahubali part. When this man with rippling muscles, admirable physique and twinkling eyes, picks up an entire 'shiva linga' to move it to a better place, or tears through thousands of enemy soldiers to straight get to their 'senapati', there is not a moment of doubt that he isn't capable of doing all that and more. Rana Daggubati and Tamannaah are limited in their acting capabilities but fit snugly in the whole scheme of things. Accomplished actors Ramya Krishnan, Sathyaraj and Nassar give good support.
It is to the director's credit that every aspect of the film -- action, mind-boggling set design and choreography -- lives up to this epic film of gigantic scale. The choreography in the song that has Shiva disrobing Avantika to get her in touch with her feminine side, is an absolute gem.
Don't miss it.