Rajinikanth's 'Kabali' could have been a great film, but the characterless – literally and figuratively – script is not only bereft of any intelligence or imagination but also telegraphs what little plot twists it has. The resultant soggy mess of a film is thus neither director's nor star's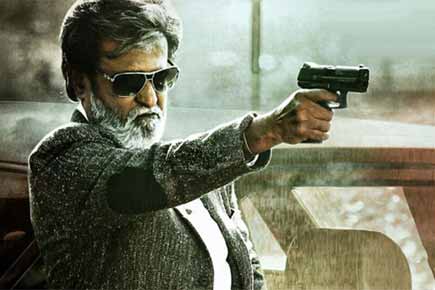 'Kabali' - Movie Review
'Kabali' (Tamil)
U; Action-drama
Director: Pa. Ranjith
Cast: Rajinikanth, Winston Chao, Radhika Apte, Dhansika, John Vijay
Rating: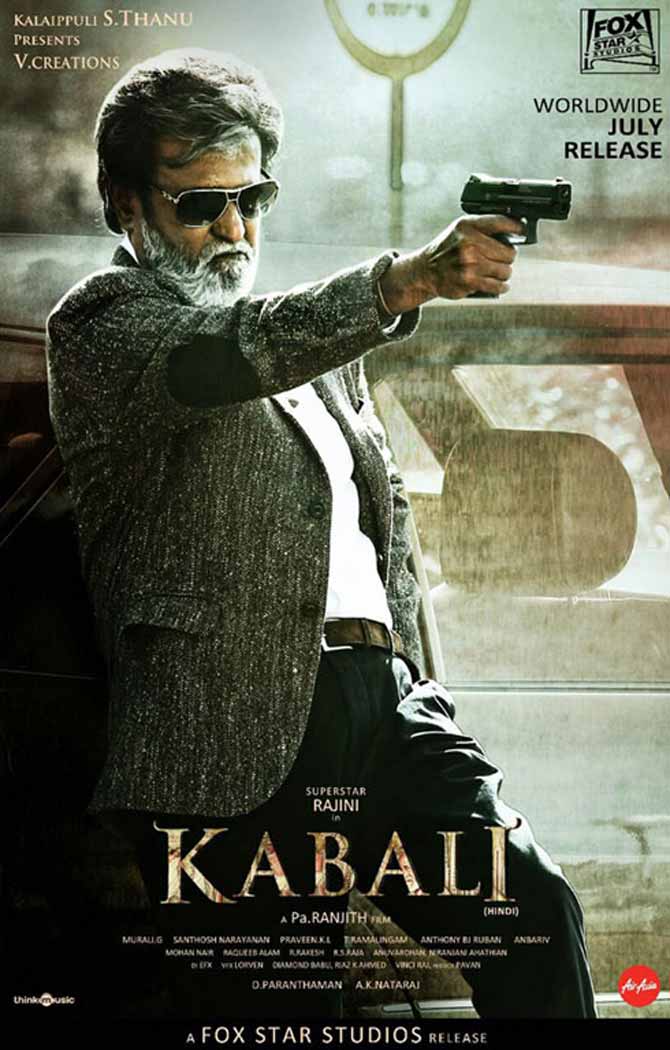 'Kabali' poster
(This review contains spoilers)
The scene that ushers the interval in Kabali is reminiscent of a movie from 21 years ago, Baasha, the last and most memorable occasion Rajinikanth played a gangster. Dead centre of the frame is a lamppost with someone lying crumpled under it.
In Baasha, this someone was an evil man. Standing in front of him was the person who put him there with calibrated savagery — Manickam, played by Rajini. In Kabali, Rajini is the man lying under the lamppost.
Baasha's formulaic first hour had but one purpose — to set up the unsuspecting viewer for those 10 minutes of mayhem before the interval. An interval that left you breathlessly wondering 'what next?'
In comparison, Kabali's first hour has no purpose (Rajini sleepwalks through it) and leaves you wondering where it all went wrong — nothing ever happens before and very little after.
Also read: The Thalaiva is here! Rajinikanth's 'Kabali' fever grips Mumbai
It wasn't supposed to be this way. When news came last year that Rajini's next would be with Pa Ranjith, it gave rise to hope. Hope that — following the failed family experiment Kochadaiyaan, which really was just an indulgent Rajini humouring his elder daughter Aishwarya, and the insipid Lingaa, which had no reason to exist — the superstar has decided on a course correction. This was fuelled by the beautiful but flawed Madras, which had several virtuoso moments before the tame denouement.
Hope also that, finally, Rajini has tired of playing himself on loop and instead chosen to submit himself to a director who writes his characters first and then chooses the best people to play them.
This much is true — Rajini plays Kabali, a Tamil don in Malaysia who has come out of jail after serving 25 years. While Kuala Lumpur has changed a lot in these 25 years — dull skyscrapers have replaced the vibrant community shops — a lot else has remained the same. The men responsible for sending him in are still out there, flooding the streets with all kinds of drugs. Kabali's got to set things right all over again. Only, this time he is also trying to find meaning after the long incarceration and is still struggling to come to terms with his loss.
In theory, this could have been a great film. You have a star who is willing to leave out the 'mass' entry and 'punch' dialogues that send fans into a trance, comedy tracks, and elaborately choreographed song sequences. And you have a director who isn't afraid to take his time setting up characters and base his scripts on the assumption that his audience is intelligent enough to not be spoon-fed every single plot point.
But the biggest letdown is the characterless — literally and figuratively — script, which is not only bereft of any intelligence or imagination but also telegraphs and spells out in all-caps what little plot twists it has. The resultant soggy mess of a film is thus neither director's nor star's. Ranjith has, somehow, managed to deliver a Rajini movie with no 'Rajini' in it.
Also read: Here's how Mumbai theatres are gearing up for Rajinikanth's 'Kabali'
The superb music by Santosh Narayan and the extremely political lyrics only magnify the script's flaws. (Even some of the key dialogues are political, but they do not have the same impact as the powerful lyrics, primarily because of the poor script.)
The only high notes are when Kabali and his daughter Yogi (Dhansika) finally reunite with his long lost wife Kumudhavalli (Radhika Apte) and a brief scene towards the end. Apte's Kumudhavalli is the only character of note in the whole movie. That is saying something for a movie where she is seen for about 10 minutes in all and which has a raft of proven performers like Kishore in the cast.
This is also sad because in those brief moments, Apte and Rajini convince you they are two people who till then thought the person in front of them was no more. You can't help but wonder what may have been had the film taken some time (and trust me, the film has a lot of time for a lot of insignificant episodes) to explore what it must be like for Kabali and Kumudhavalli to come together after all these years.
But the plot hurriedly shifts back to Malaysia and to the other high note, when Rajini — again briefly — twinkles on the terrace of a KL high-rise. Despite being in a poorly-written scene, Rajini owns the screen like few other stars can and fills it like only he can.
The closing scene that follows the drab climax is similar to that of Mani Ratnam's Nayagan, arguably the greatest ever Indian gangster movie. When Nayagan ended, it made you reflect on the life of the gangster and also why a certain boy did what he did. But because there are some absolute no-go zones for a Rajini movie, Kabali doesn't even allow you to do that. Not that there is much to reflect upon besides what could have been.
Also read: 'Kabali' craze! Here's how Rajinikanth fans have taken Mumbai by storm
Up next for Rajini is his third film with that hit machine called Shankar, Robot 2.0. After that, one only hopes — both for the star's and audience's sake — that Rajini doesn't feel burnt by this good-intentioned experiment with Ranjith and decides to go back to the tried-and-tested 'Rajini film' formula. It must have taken tremendous courage to take the leap of faith that is Kabali for someone who can still stake claim to being the country's biggest star. It will be a travesty if he shelves the experiment after one bad film.