A darn good film, as we know, has the power to stay in your psyche, manipulate your emotions and refuse to leave you for a long time. Papanasam is one such film. Highly gripping screenplay, deft direction, and an ace performance by the lead actor Kamal Haasan makes it a film not to be missed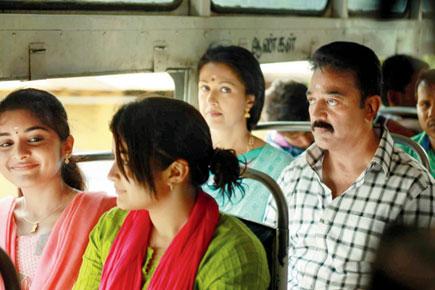 Papanasam - Movie review
'Papanasam'
U; Thriller/Drama
Director: Jeethu Joseph
Cast: Kamal Haasan, Gautami Tadimalla
Rating: 

A darn good film, as we know, has the power to stay in your psyche, manipulate your emotions and refuse to leave you for a long time. Papanasam is one such film. Highly gripping screenplay, deft direction, and an ace performance by the lead actor Kamal Haasan makes it a film not to be missed.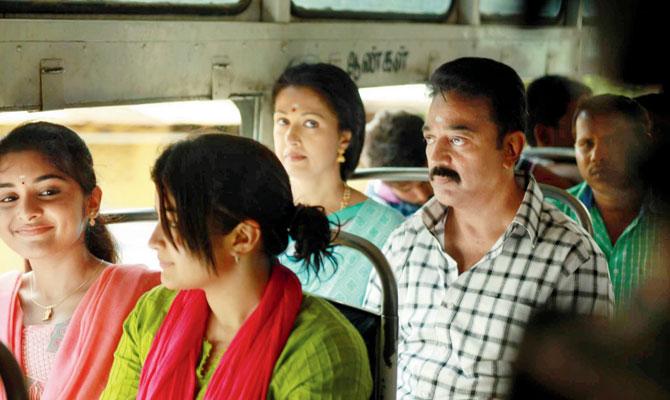 The watertight script and robust execution drags one into the emotional whirlpool
The Tamil remake of a Malayalam film, Drishyam, Papanasam is about an outwardly ordinary, illiterate man, Suyambulingam (Haasan), whose world revolves around his cable business in the sleepy town named Papanasam (which means destruction of sins and so, works as an apt title for the film) and his family — wife (Gautami Tadimalla) and two daughters (Niveda Thomas and Esther Anil). An unfortunate mishap threatens to change their ordinary life into a nightmare overnight and now it is up to Suyambulingam to get his family out of the crisis. It is at this darkest hour that he has to desperately keep his brood safe, just by using his native intelligence and his passion for cinema.
After the first half an hour when the various characters are established, the film gets into a thrilling roller-coaster mode. The next two-plus hours are when you have your heart perpetually parked in your mouth, as this hapless, middle class family goes through an unimaginable fate. The watertight script (except for one or two silly flaws) and robust execution gets you caught up in the emotional whirlpool along with Suyambulingam's family.
While Gautami and other actors give able support, it is, of course, Haasan who towers above them all, with an exceptionally brilliant performance, reiterating why and how he's so deservedly earned the tag of a legend. As this powerhouse of talent brings the character of a desperate dad alive, you stay awe-struck as you watch his expressions effortlessly vacillate between despair and determination, worry and optimism, helplessness and triumph. Smart editing (Ayub Khan) and good background music adds to making this film almost pitch perfect. Don't miss this one.