Podcasts, Broadway and a new drama series — How I Met Your Mother star Josh Radnor chats exclusively with mid-day on his Mumbai trip, about what's keeping him busy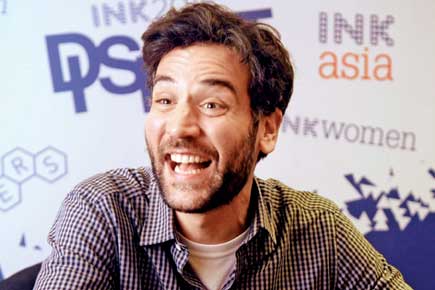 'How I Met Your Mother' is inarguably the DDLJ of sitcoms. So, when Ted Mosby, the show's lead romantic, played by Josh Radnor, is in Mumbai, we have to know what he thinks about the series' ending which divided fans into two camps.
mid-day met Radnor ahead of his Saturday lecture at INK2015 Mumbai.
ADVERTISEMENT
Is this your first trip to Mumbai?
Yes, but not to India. I was in the south for a friend's wedding about seven years ago.
What's it been like?
It's like being in a wonderful Grand Hyatt [laughs]. I haven't seen much [yet]. I know the route from the airport to the hotel where I'm put up. But I hope to get out and see some more. I was at Rishikesh and Haridwar earlier – beautiful.
There's a lot of hush-hush-ness on what you will be speaking on at the conference. Can you tell?
I don't know if that comes from me or from the conference…but it was something I wanted to write about for some time and I am excited to deliver it, to present it. But there is nothing I give you by way of a sneak-peek; it will be up online soon.
You have been recently playing the role of Jedediah Foster, a civil contract surgeon, in the American drama series 'Mercy Street', which premieres in 2016. How is that going?
Well, he is a surgeon from the 19th century and it's a Civil War show. So, it's a very different experience [from How I Met…] but it was fantastic. It was one of my favourite experiences. We are doing a period piece and I did it after being on Broadway for six months. I felt I was having a lot of new experiences as an actor.
The Broadway play, Disgraced, is a Pulitzer-winning piece by Ayad Akhtar, in which he writes about the tense lives that Muslims survive in the States. Could you tell us your role as Issac?
The playwright is a friend and I am a fan of his writing. We established a connection a couple of years ago and then he asked me to do the play on Broadway. It's about things we really don't discuss – about identity and race and religion. All these different masks come off at a dinner party. So, it's a bit of a shocking play. There are a number of gasps every night [that the play is staged]. It makes the audience feel uncomfortable in a great way.
So, after all these roles, do you think it is still hard to break out of the 'Ted' persona?
Well, in India it is! People call me by my character's name. But it's a really good problem to have. I mean, there are far worse problems that people deal with that what I have on my hand.
How I Met Your Mother just finished a decade last month. Do people still ask you questions about the polarizing ending that came with it?
It just means that people are really passionate about the show and I think any way you end a show, it is going to polarize people.
You also did a podcast with comedian Pete Holmes for his show You Made it Weird.
We have struck a nice friendship since then. It just went online [three] days ago. We did a really long podcast. If you like it, you get a lot of it.
We heard you dropped a Sai Baba quote on the show…
Sai Baba of Shirdi, though. It's the older, not the [younger]. We dropped a lot of quotes!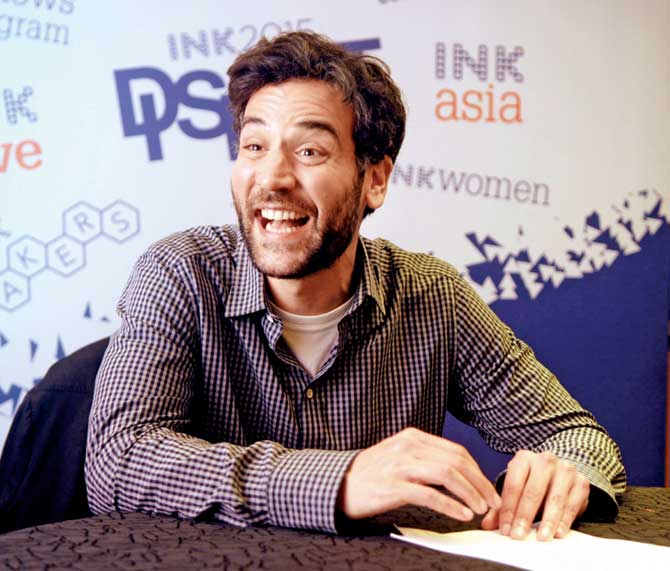 Josh Radnor, who portrayed the memorable role of Ted Mosby in 'How I Met Your Mother', is in the city to deliver a talk. PIC/NIMESH DAVE
Any directorial ventures we can expect from you?
Yeah, there are two films that are ready to go and I am hoping to do another play in New York soon. We are hoping to do more episodes of Mercy Street. So…just staying busy, writing.
Do you have advice for the diehard Bollywood romantics here?
About romance or about acting?
Well, both.
I try not to give romantic advice so much; it's about the details. It's hard to get general. About acting – are there a lot of training schools here? It is always good to get good training, study actors that you love. I learned a lot in [training] school but even more from working with seasoned and experienced actors. Be around them and see what they did, and how powerful it was. My talk is going to be about that – a teeny bit.
Do you have friends in Mumbai?
Well, now I do! I didn't before this weekend.
"Exciting news! Mid-day is now on WhatsApp Channels

Subscribe today by clicking the link and stay updated with the latest news!"
Click here!