Here's why two Panvel-based cyclists are pedalling through a gruelling 70-day journey from Kanyakumari to Khardung La on bamboo-framed bikes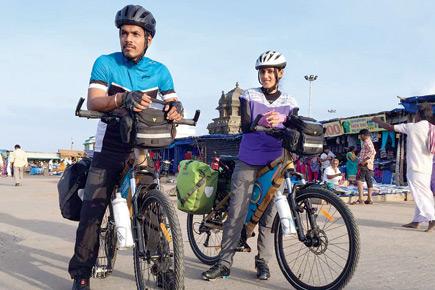 The cyclists, (from left) Sumeet Paringe and Prisiliya Madan at the starting point in Kanyakumari, Tamil Nadu
As you read this while sipping your morning cuppa, two Panvel-based cyclists — 26-year-old Sumeet Paringe and 22-year-old Prisiliya Madan — may be crossing the Karnataka state border to venture into Telangana, after 12 days of continuous pedlling, having started from Kanyakumari in Tamil Nadu. "The southern most point of India is blessed with three things — the Vivekananda Rock, an endless coast and rejuvenating calmness. But I will remember it for the stormy winds we encountered when we started cycling on NH7. Another honourable mention from the first day was the temperature, a whopping 44 degrees Celsius, and there were no trees planted by the road sides!" says Paringe, in an email interview.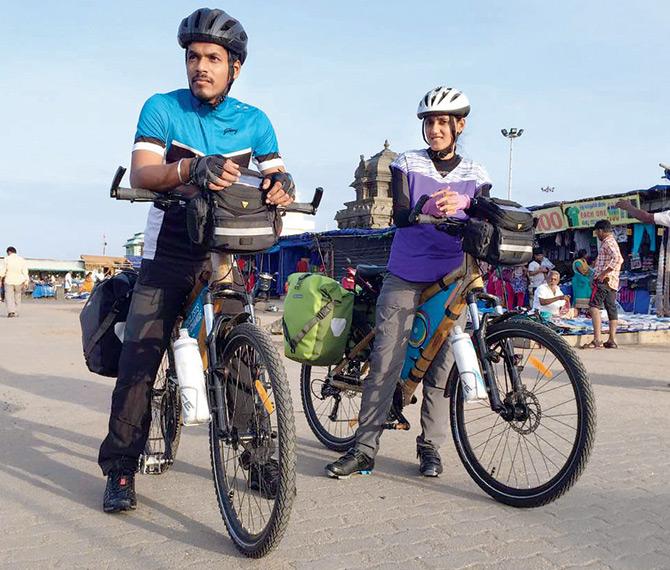 The cyclists, (from left) Sumeet Paringe and Prisiliya Madan at the starting point in Kanyakumari, Tamil Nadu
ADVERTISEMENT
Interestingly, the cyclists are riding Godrej's specially designed sustainable bamboo-framed bicycles, which are supposed to be lighter and stronger than several steel-made bicycles. "The bamboo bikes have been a great partner until now as we can cycle for almost 100 kms a day," he adds. However, this is just the first leg of their journey. Over the next 58 days, the duo will cycle all the way to Khardung La, a snow-capped mountain pass located in Ladakh, Jammu & Kashmir. And all this, for a cause.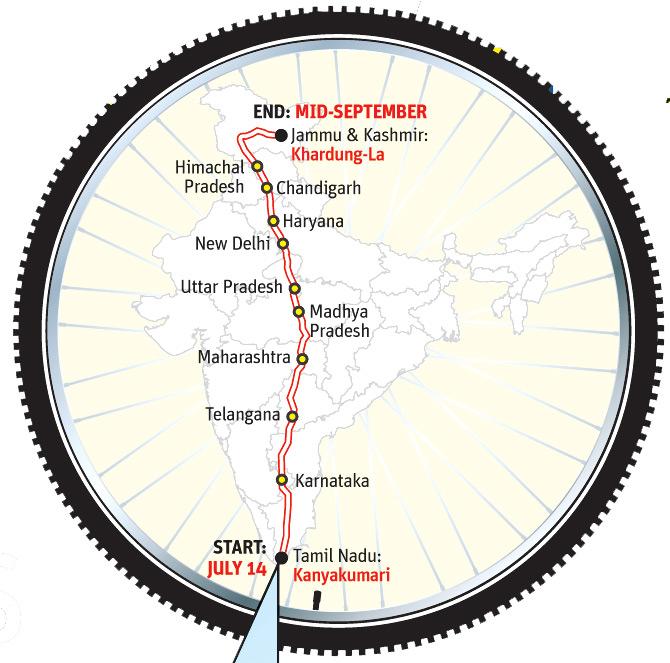 For the girl child
The cyclists are part of a campaign to support the education of the girl child, initiated by IIMPACT, a Gurgaon-based NGO established in 2003, by the alumni of IIM-Ahmedabad. Up for crowdfunding on FuelADream.com, the campaign has managed to raise over R10 lakh out of its overall goal of R50 lakh. "In India, educational opportunities for girls from socially and economically disadvantaged communities are minimum due to lack of schools, gender discrimination, broken families and safety concerns. IIMPACT focuses on primary education of underprivileged girls, from six to 14 years of age, who have never gone to school. The group teaches girls how to read, write and calculate, with the system of teaching taking them from junior kindergarten levels to Class V in achievable stages. Through the initiative, we aim to support the education of minimum 1,500 girls," informs Nirmala Tandon, CEO (Honorary) at the non-profit, adding, "While the cyclists are on the road striving towards their aim to reach Khardung La, we wanted to help them raise funds for the cause they are riding for. So, the campaign will be up for the entire duration of the journey."
The crowdfunds will be distributed among the NGO's centres in Rajasthan, Uttar Pradesh, Bihar, Haryana, Jharkhand, Orissa, West Bengal, Uttarakhand, Madhya Pradesh and Chhattisgarh.
Meet the pedal pushers
Though young, both cyclists have a vast experience of traversing India on a bike. While Paringe completed a solo ride from Panvel to Khardung La in 2014, Madan took up a bicycle journey from Panvel to Kanyakumari this January. They've also been part of group expeditions. "A journey this long required passion and endurance. When we met the cyclists and told them about the cause, they were equally excited about it," informs Tandon.
With an aim to reach Khardung La by mid-September, the cyclists will cover 11 states including Maharashtra, Madhya Pradesh, Uttar Pradesh, New Delhi, Haryana, Chandigarh, Himachal Pradesh and Jammu & Kashmir, which amounts to a rigorous 4,400 kms. "Since the journey is from South to North, the terrain becomes even more difficult. Given that we are in the middle of the monsoon, the terrain is expected to be rough, and landslides are expected as the cyclists reach the northern part of the country," informs Ranganath Thota, founder at FuelADream.
Given their experience, the duo was entrusted to chart the itinerary on their own, but a breakdown vehicle is following them on the route. "The cyclists will ride an average of 70 kms daily with one/two day stops in Bengaluru, Hyderabad, Paratwada (in Amravati), Bhopal, Agra, New Delhi, Shimla, Manali and Leh to rest in between the ride," adds Thota. In Maharashtra, the cyclists will pass through towns like Bhokar, Pusad, Karanja, Paratwada and Betul.
LOG ON TO: www.fueladream.com
"Exciting news! Mid-day is now on WhatsApp Channels

Subscribe today by clicking the link and stay updated with the latest news!"
Click here!