From Kabir's dohas to charismatic verses by Janabai and Chokhamela, juxtaposed with Arundhati Subramanium's contemporary poetry, words will find new expression in dance and music in a performance titled Jheeni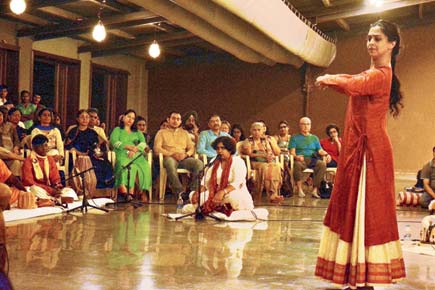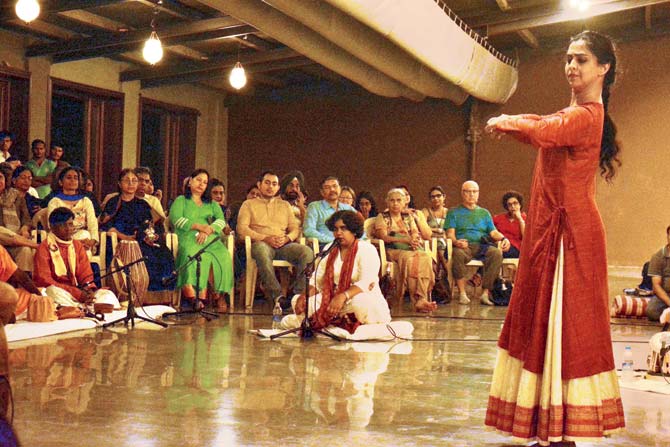 A jam session of Jheeni with Shruthi VIshwanath (vocals), Hitesh Dhutia (guitar), Shruteendra Katagde (tabla) and Sanjukta Wagh (Kathak). Pics/Gargi Kowli
From Kabir's dohas to charismatic verses by Janabai and Chokhamela, juxtaposed with Arundhati Subramanium's contemporary poetry, words will find new expression in dance and music in a performance titled Jheeni. "The word Jheeni means subtle. The words of Bhakti poets are embedded with silences, non-verbal stories of struggle, doubt, hesitation, revelation and surrender. Shruthi (Vishwanath) and I were involved in Bhakti poetry on our own. Earlier this year, we met at the Kabir Festival in Bhutan; it's where an exchange of ideas took place," shares dancer Sanjukta Wagh, who is co-directing the act with Vishwanath. "Kabir's famous poem, Jheeni Jheeni has been set to music by the Gundecha brothers. We chose to enhance it by weaving in melody of the voice. The sound of ghungroos and guitars will make it come alive," she adds.

Sanjukta Wagh
The second piece is by poetess Janabai. "She had a strong, radical voice and sang in Marathi. In the poem we are performing, she expresses her love for lord Vithala, even addressing herself as his whore," explains Wagh. Vishwanath is also influenced deeply by this work. "It was progressive not only for that time but continues to be so. It's a traditional abhang. I had made a different tune for it to present at a concert. When I discussed it with Sanjukta, we knew that we had to do this piece," she recalls. Janabai's verses will be fused with contemporary poet Arundhati Subramanium's words.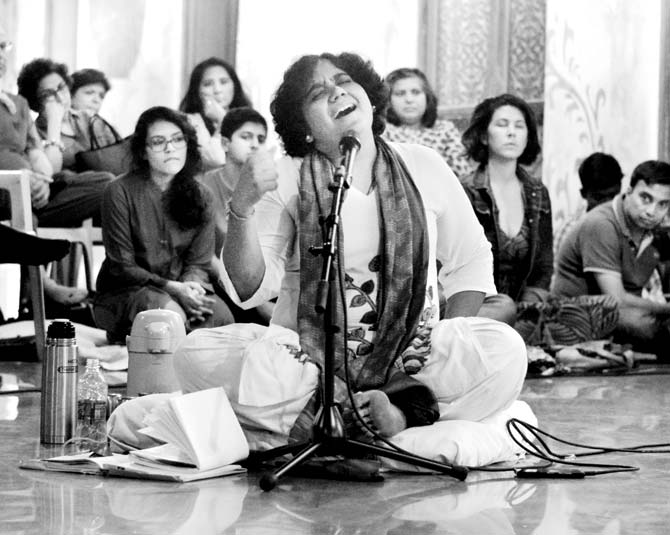 Shruthi Vishwanath
"We have discussed her work at length before. We felt that an excerpt from her poem, Confession, would work well with Janabai's passionate lines. Subramanium's poem refers to a half lion, half woman emerging from the pillars. This is a version of the Narsimha avatar, replacing theman with a woman. It's a potent narration of her journey as a seeker," says Wagh adding, "Her poetry in the 21st century draws a parallel toJanabai's were in the 13th and 14th century."
Chokhamela's poetry represents his struggle as a Dalit, in his quest to establish his identity. "He wasn't allowed to enter a temple. His verses reprimand God, telling him that he will have to come out and meet him someday," says Wagh.
Using symbols and metaphors of the cloth, the body, the boat and the dance, the artistes blur the line between personal and collective journeys through a series of structured sonic and improvisations. The presentation will feature a mix of Folk and Classical dance and music. "There is no genre to this performance. My training is rooted in Kathak, and I use that as my base but purists will call this contemporary, as I don't hesitate to break the form when required by the piece," informs Wagh. Vishwanath, who is trained in Carnatic Classical music, will also use that combined with folk styles and Hindustani Classical influences in her performance. "During our rehearsals, we realised that the energy of this piece is what drives it," Wagh says.