Aram Nagar has a Cat Cafe Studio, inside a film production house that moonlights as an animal shelter and a cat adoption centre. Anju Maskeri spends an afternoon in the company of 15 cats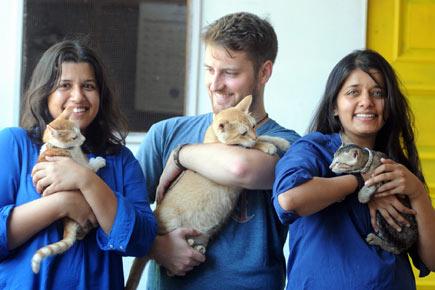 A bright yellow plaque that reads, Bungalow No. 68 along with the cartoon of a black cat peeping at us with large eyes, welcomes us to the Cat Café Studio at Versova. As the door opens, a handsome brown pup with infectious energy is all over us. When we look around, a tiny grey cat catches our attention as he wrestles with his identical sibling, while another white and ginger coloured feline sleeps in a basket, oblivious to the world around. One kitten even hisses at JJ, the only canine among the 15 odd cats for coming close to his food bowl. And almost equal to the cat population is the employee strength at the studio, which in fact, is a film production house that doubles up as an animal shelter, an adoption centre and a place where one can go spend time with the cats, without having to pay a penny.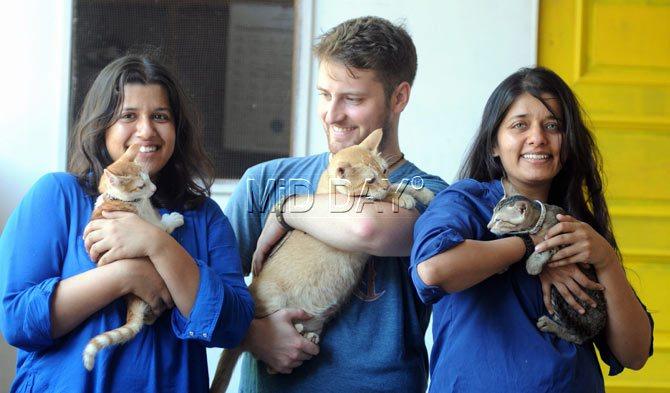 (left to right) Charu Khosla, Jason Moss and Mriidu Khosla. Pics/Nimesh Dave
Established five years ago by Mriidu Khosla, Zcyphher Studios was involved in cat rescue operations right from its inception. "We would rescue every injured cat we came across. We had exhausted our homes because we already have six cats, so we started keeping them in the office. People would come with their kids, spend time with cats and we would educate them on how to handle pets. We even had an animal-care awareness session for slum kids," says Mriidu. Although the idea was also to have a cat café on the lines of the ones in Japan, lack of funds have proved to be a roadblock. "We aren't an NGO and get no outside funding. About 12 to 15 per cent of our company profit goes into taking care of these animals," she reveals, adding that they have conducted almost 100 adoptions over the years. Mriidu and her team also take care of all the stray dogs in the area; right from feeding them to spaying them and even treating maggot injuries. She adds that the only reason you don't see dogs at the studio is because there isn't enough space.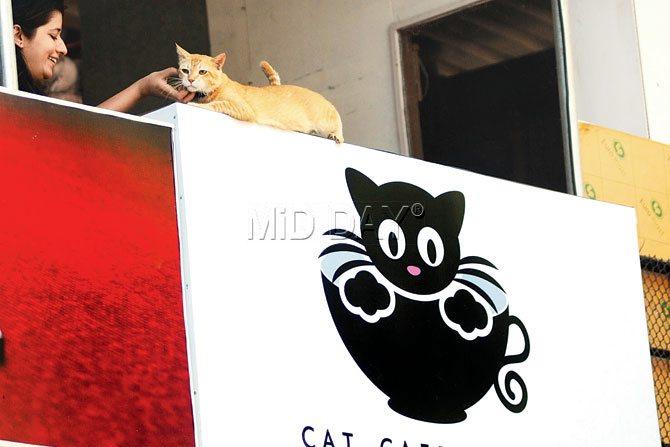 Oliver sits atop the board that welcomes visitors to the Cat Cafe Studio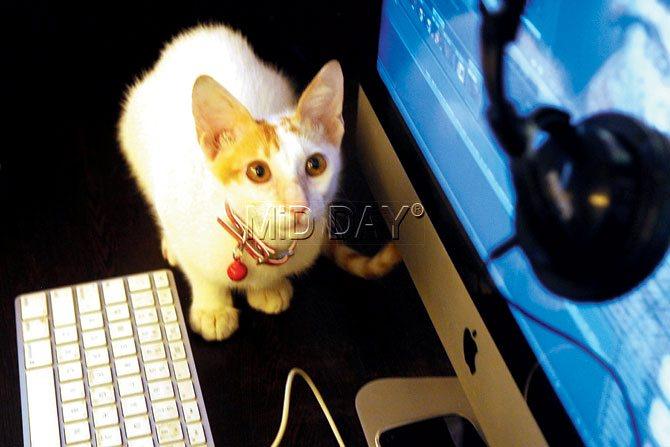 Bugzie stares daggers at the headphones kept inside the editing room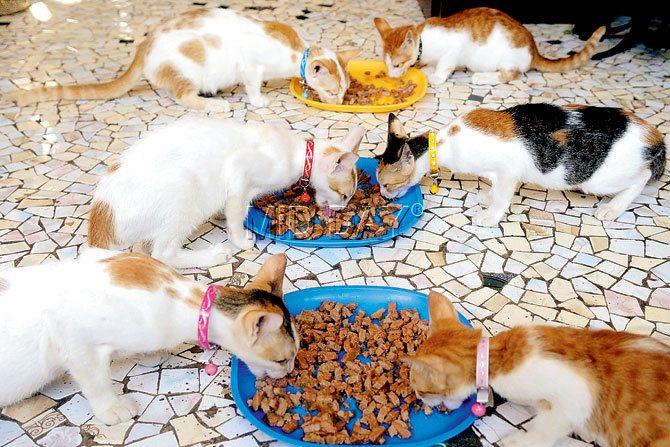 The cats gorge on a mix of dry and wet food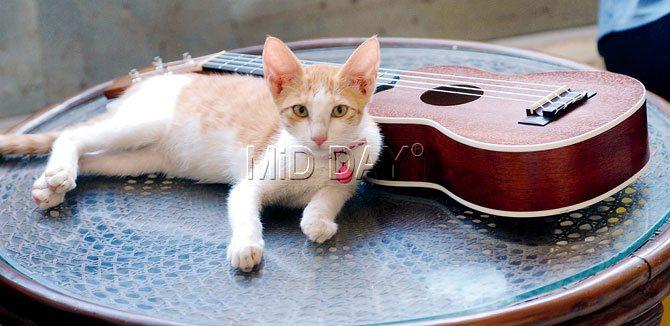 Phoebe spends a lazy afternoon next to a guitar
The team conducts a thorough background check of the person who intends to adopt the cat, which includes visiting their houses. "We encourage people to come over and spend time with the cats and then decide which one to adopt," says Mriidu's sister, Charu Khosla who joined the venture in 2011. Despite this, they are inundated with cases where the person returns the cat within a week of adoption. "They give us reasons like, they couldn't sleep at night because the cat was mewing or that their daughter doesn't study because of the cat. However, we also have sincere people who send us pictures of the cats happily settled in their new homes," says Jason Moss, the editor at Zcyphher. Interestingly, all the 13 employees at the studio are die-hard animal lovers. So is this one of the criteria while selecting candidates? "We are fortunate to have colleagues who love animals. Initially some of them were apprehensive but it didn't take long for them to fall in love with the cats," says Charu. At each editing table, there's either a cat playing with the 'mouse' or peacefully napping on someone's lap.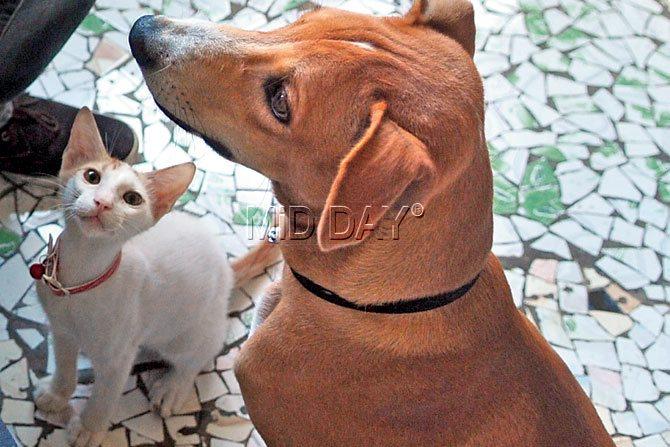 Bugzie shares a moment with JJ, the only pup at the studio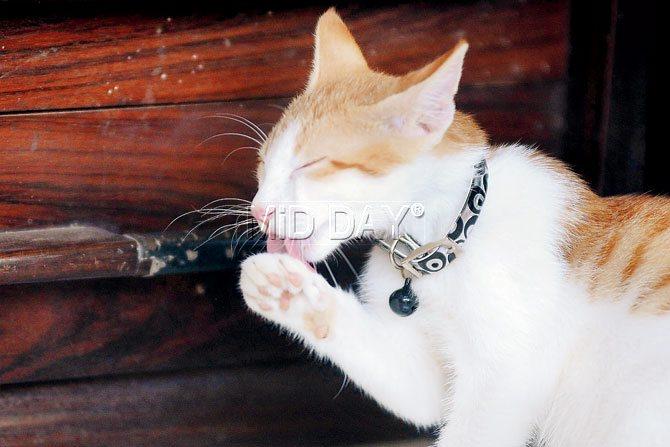 Forrrest after a hearty meal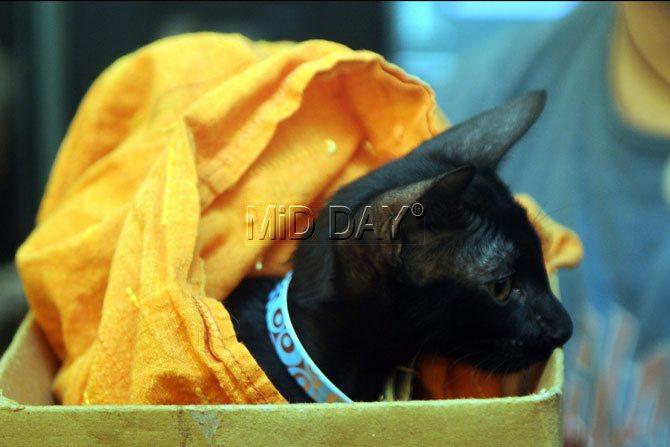 Draco, who was rescued from the slums in Sunderwadi, hides in a box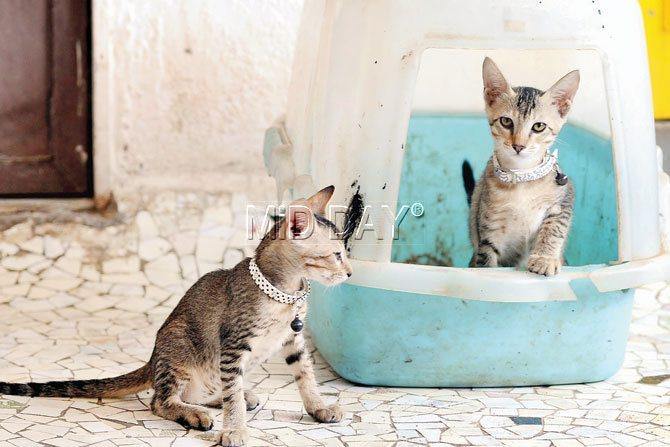 The two brothers, Emmet and Bronson take a breather as they play near the sandpit
So, does this come in the way of work? "It does, sometimes. If a cat is unwell and has to be taken to a vet, we have to leave work aside and tend to them. But we make up for it by working late hours and even on Sundays. Nobody complains. The cats are like our kids," says Charu. "But the best part about our workplace is that there is no politics like other corporate set-ups. We are too busy loving our cats to do that," she adds with a smile.