With State Minister Aaditya Thackeray shedding light on the Peltzman effect, in connection with irresponsible post-vaccination behaviour that results in infection, three city doctors share dos and don'ts after taking the jab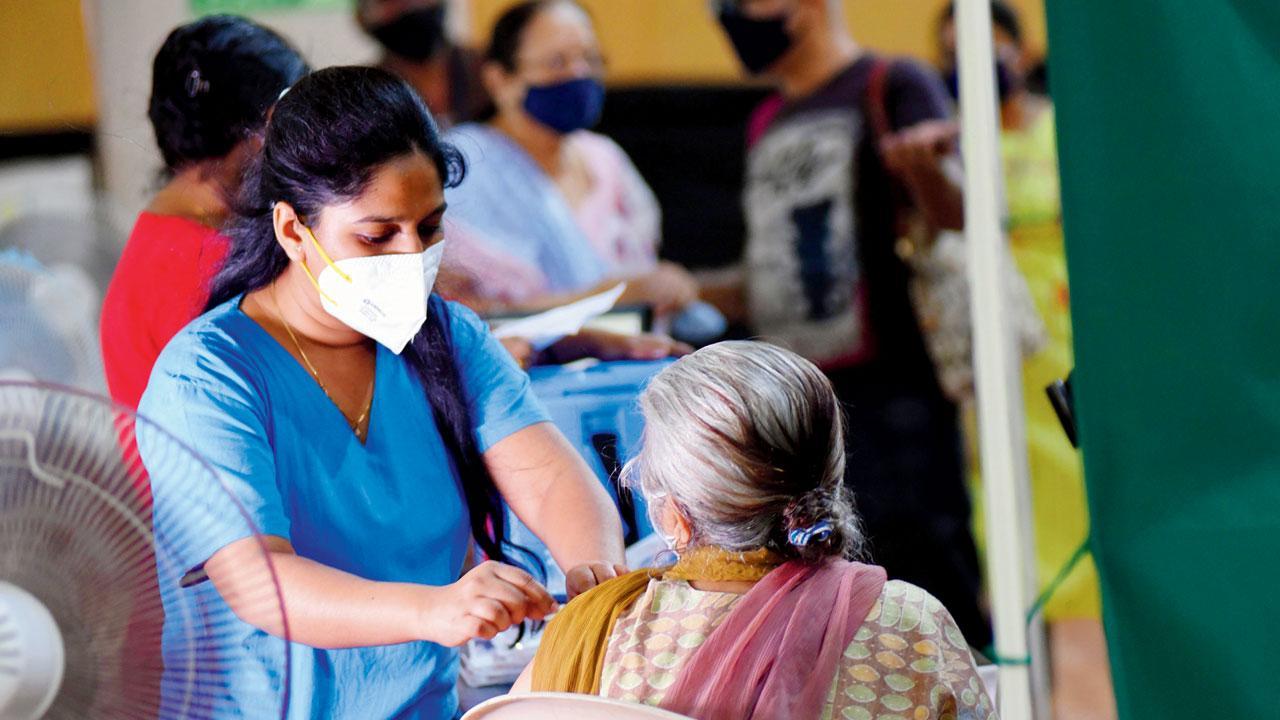 A senior citizen gets her vaccine shot in Dahisar. Doctors recommend taking both doses within the mandated gap
We find ourselves in the midst of another lockdown, but things are not quite the same as a year ago. The glimmer of hope is the availability of vaccines. At the moment, two options are available in India: Covaxin and Covishield. Irrespective of which one you take, they are not a fool-proof shield against infection or re-infection. And lately we've been seeing many cases of irresponsible post-vaccination behaviour, which noted surgeon Dr Muffazal Lakdawala brought to notice by tweeting, "Heard of more people becoming positive post the first dose of vaccine? It's because of the #peltzmaneffect. Perception of Safety increases one's risk taking appetite & a false sense of bravado leads to letting your guard down."

Dr Dillon D'souza
ADVERTISEMENT
Urging people to read Lakdawala's tweet, Maharashtra's minister for Tourism and Environment, Aaditya Thackeray responded, "Mask up, keep your hands clean and keep safe distance!" And the city-based doctors we spoke to, concur. We invited three to share dos and don'ts you must keep in mind after getting vaccinated.
Remember you are not invincible against the virus: For Dr Amit Saraf, consultant internal medicine at Thane's Jupiter Hospital, the feeling of 'invincibility' after vaccination is churning out far more Covidiots than the pre-vaccine era. "People have to understand that vaccination is not a permanent and total cure against the virus. It's just a safeguard to boost your immunity, so that if you are infected with COVID-19, you can get away with a mild to moderate infection," he states.

Dr Amit Saraf
Time to double mask and check your sanitiser: While you must mask at all times, Dr Hrishikesh Pai, consultant gynaecologist and infertility specialist at Lilavati Hospital, vouches for double masking. "Plus, your sanitiser needs to have a minimum of 60 to 70 per cent alcohol to kill the organism. If using soap, wait for half a minute and then wash it off. Avoid taking post-vaccination pictures without masks with other people, too," he cautions.
Follow dosage guidelines: Your vaccination journey shouldn't end at the first dose. Both doses should be taken according to the mandated gap for separate vaccines — four to six weeks for Covaxin, and four to eight weeks for Covishield. Dr Dillon D'souza, ENT consultant and head and neck surgeon at Jaslok Hospital, and Desa's Hospital says the role of the first dose is to sensitise your body for the second dose; it is the latter that plays a key role in the immunization response. "Stay indoors for at least a week after you take each dose. Get maximum rest. Make sure your vitamin levels and diet is maintained; avoid foods high in fats and oil," he suggests. Also, keep an eye out for any complications.

Dr Hrishikesh Pai
Take a shot, even if you have recovered from the virus in the past: The window for taking the vaccine post COVID-19-recovery can range from three to six months, says D'souza. "Once you have got COVID-19, you can have a good level of antibodies for up to three months and immunity can last for a year. But the new variants bypass a large part of the immune system," he informs. That's also why it is important to continue with protective measures like social distancing, masking and maintaining hygiene.
A brief history of the Peltzman effect
Named after Sam Peltzman, professor emeritus at the University of Chicago, the Peltzman effect originated from a paper he wrote, where he highlighted that safety measures like seat belts and airbags did not reduce highway deaths. He called this 'risk compensation' — a phenomenon where people take bigger risks due to the availability of safety nets. In addition to the Peltzman effect, D'souza states that pandemic exhaustion is also a barrier that we need to overcome.
"Exciting news! Mid-day is now on WhatsApp Channels

Subscribe today by clicking the link and stay updated with the latest news!"
Click here!