Behind the experimental musician Nadaka's performance at a Worli venue earlier this week lies a four-decade-long story. We caught up with him to discuss about the move from Canada, his quest and inspiration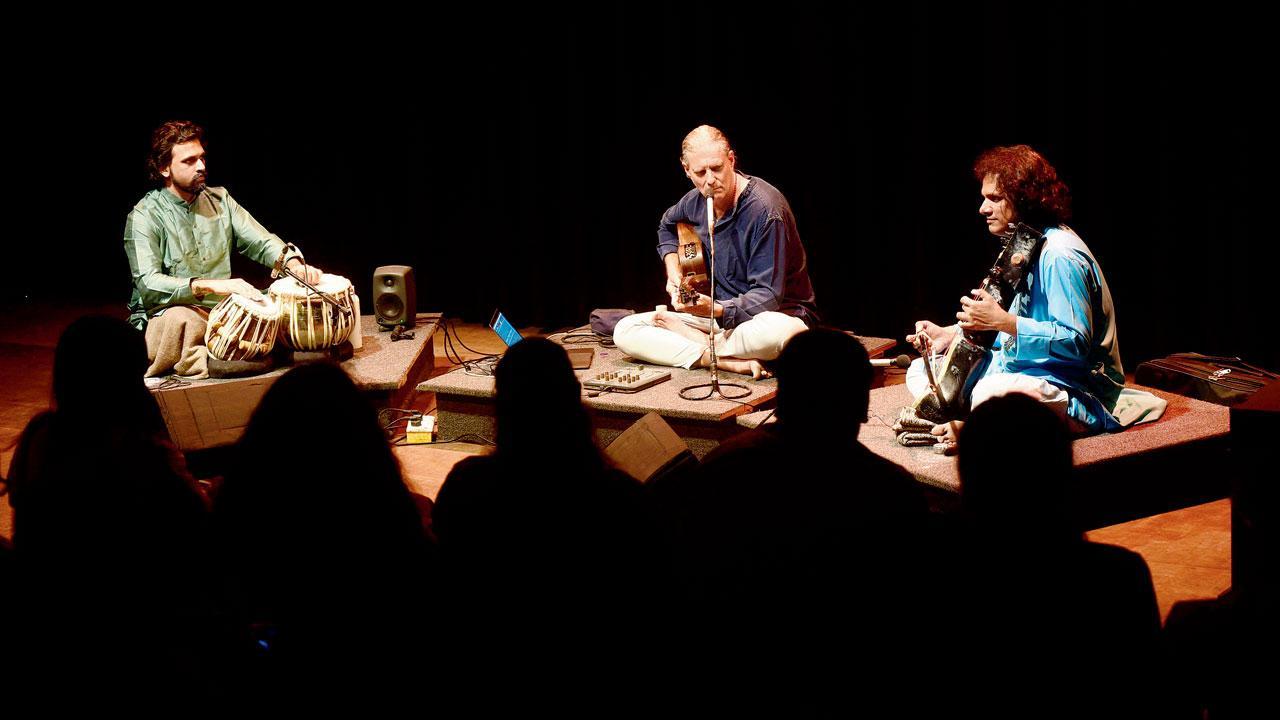 (From left) Chandrashekhar Gandhi, Nadaka and Ilyas Khan at the Mumbai concert
It is a quiet afternoon when we catch Nadaka practising his ragas at a Malabar Hill apartment. "Vaango (welcome)," he says in Tamil, throwing the first surprise our way in this musical interaction. A guitarist, innovator and a musicologist, Nadaka is travelling across the country on a nine-city music tour. We met him before his performance organised by Alliance Francaise de Bombay on March 30 to learn about his unique innovation.
The instrument
ADVERTISEMENT
The raga guitar, or geet-taar as he calls it, looks like a guitar at first glance. But upon closer observation reveals distinctive veena-like frets with more strings running along the body. We count  four tanpura strings, six guitar strings accompanied by two additional chikari (taalam/minor note) strings and a 12-string swaramandal, too. "I often say there are 23 strings, with me being the 24th," he jokingly adds.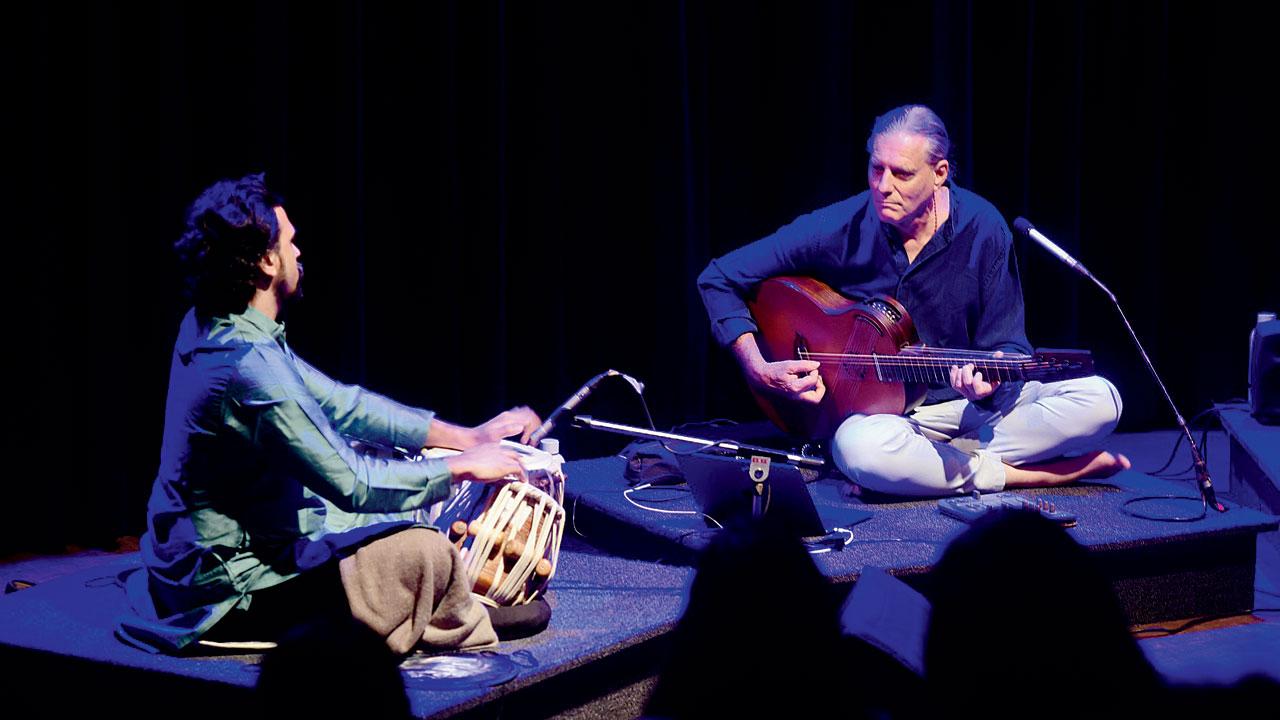 Nadaka (right) jams with Gandhi on tabla. Pics/Atul Kamble
The journey
The diverse influences on the instrument mirror Nadaka's story in many ways. In a tale Jack Kerouac would be proud of, the musician left Canada as a 16-year-old for India in 1974. The teachings of Sri Aurobindo Ghosh drew him to Pondicherry, he says. "It was difficult, but my family understood," he adds.
In India, he hitchhiked, stayed at a monastery in Sarnath on his way to Auroville. In South India, he met a friend and teacher in Trichy Ramji — a musician and veena maker. "I worked with him on some projects, and learned the tanpura and classical vocals for three years. When I returned to the guitar, it felt limiting," Nadaka says. And so, he set to work.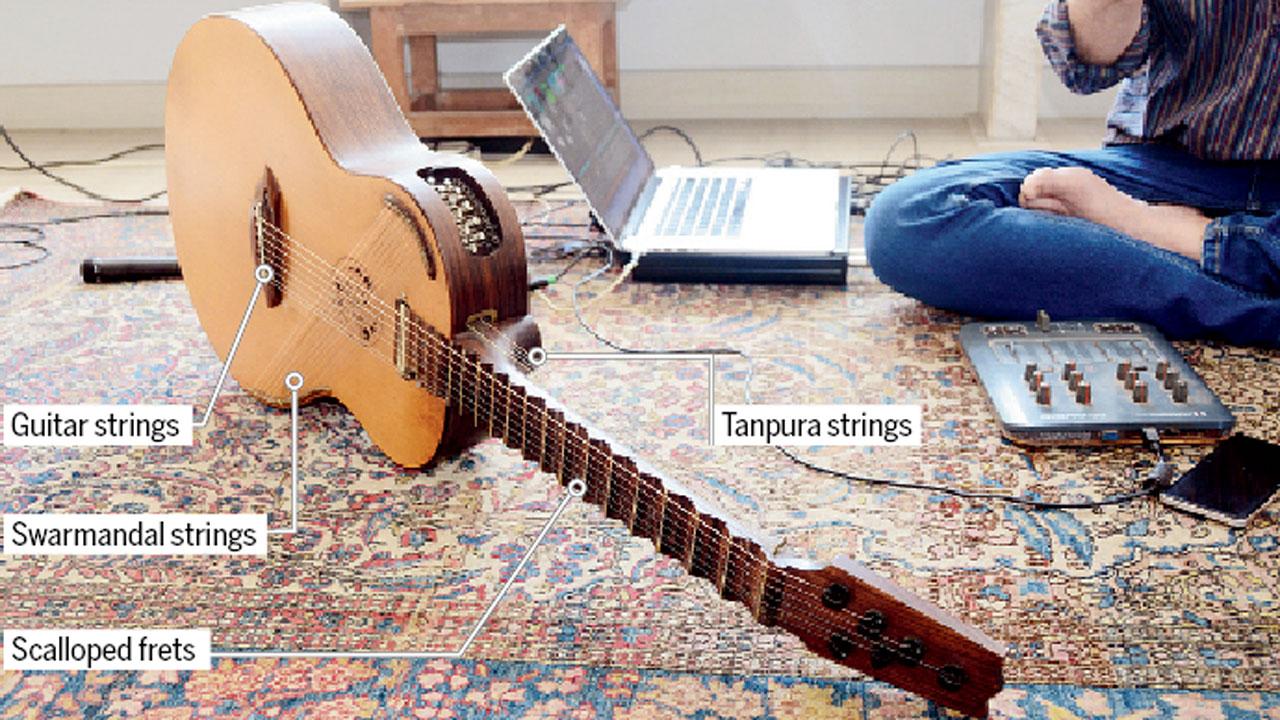 The raga guitar with its many modifications. Pic/Sayyed Sameer Abedi
The creation
Nadaka began by modifying the tuning of the guitar to an open C-G form, akin to the veena. Next, he fitted the neck of the guitar with mobile, scalloped frets. Frets were also being used by John McLaughlin, but without the mobility. "They enabled me to recreate the meend/gamaka [ornamental notes created by gliding through scales]," he points out. Over time, he would add the tanpura and the swarmandal strings to the final form.
Travelling with ragas
Over the years, the musician played with the pioneers and who's who of Indian fusion from Vikku Vinayakram, Ganesh Kumaresh, Sivamani to an Academy Award-winner in AR Rahman. "I would pester many of them on gamakas, sliding scales and ragas," the musician recalls.
Was fusion his ultimate musical objective, we ask. "My desire was to go deeper into Tamil music and culture. When someone asks what fusion is, my answer is that I am. Inevitably, we are all products of many influences," he replies, adding, "Take the raga Keeravani, for instance. The Hindustani form and Carnatic form, for the same raga, are so different. The Hindustani form has Middle-Eastern stylings," he notes. Similarly, Spanish forms can be classified as variations of Bhairavi, he adds to our surprise.
The caravan goes forward
For now, the guitarist is on the move. The Geet-Taar and Taal tour, having stopped in Mumbai this week, will travel to Bhopal, Delhi, Chandigarh, Bengaluru, Hyderabad, Trivandrum, Chennai and finally, Pondicherry. The musician will be accompanied by Ilyas Khan on the sarangi, and Chandrashekhar Gandhi on the tabla throughout the tour.
Does he intend to pass on the knowledge of his raga guitar to others? "It is a difficult instrument," he says. Although he is teaching students, the focus remains on helping them to understand scalloped frets or adapt to new tunings. The raga guitar, he adds, is a part of his internal quest.
"You must have an innate deeper spiritual aspect to your music as well. It is not just about the approach, but a search for that perfect note," he remarks. And as we can see, such quests often lead to interesting destinations in life.  
Log on to: ragamantra.com
"Exciting news! Mid-day is now on WhatsApp Channels

Subscribe today by clicking the link and stay updated with the latest news!"
Click here!