A photo exhibition documents an 800-year-old tradition and captures the spirit of pilgrims on the Pandharpur Wari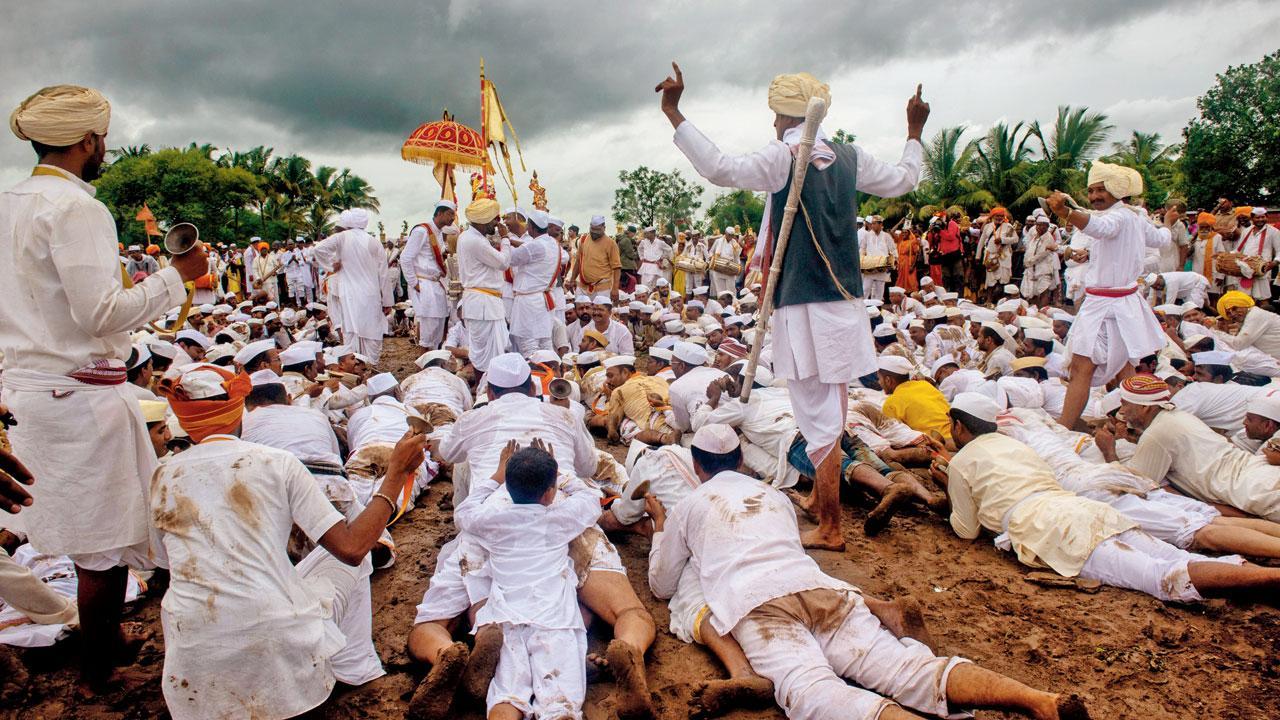 Palkhi at the ringan by Sudharaj Olwe
What can portray something as intangible as faith, and the yen and yang of humility and largeness that the relationship between worshipper and deity causes the former to experience? A display of it such as a bent knee and bowed head? This writer thinks not. But photographs of a river of white Gandhi caps and colourful sarees in its sheer volume of about a million pilgrims come close to portraying the magnitude of devotion. Art collector and exhibition curator Parvez Damania and educationist Ratan Luth's show The Great Pilgrimage  — Pandharpur is a photo exhibition of the 21-day yatra to the Vithoba temple in Pandharpur in Solapur district.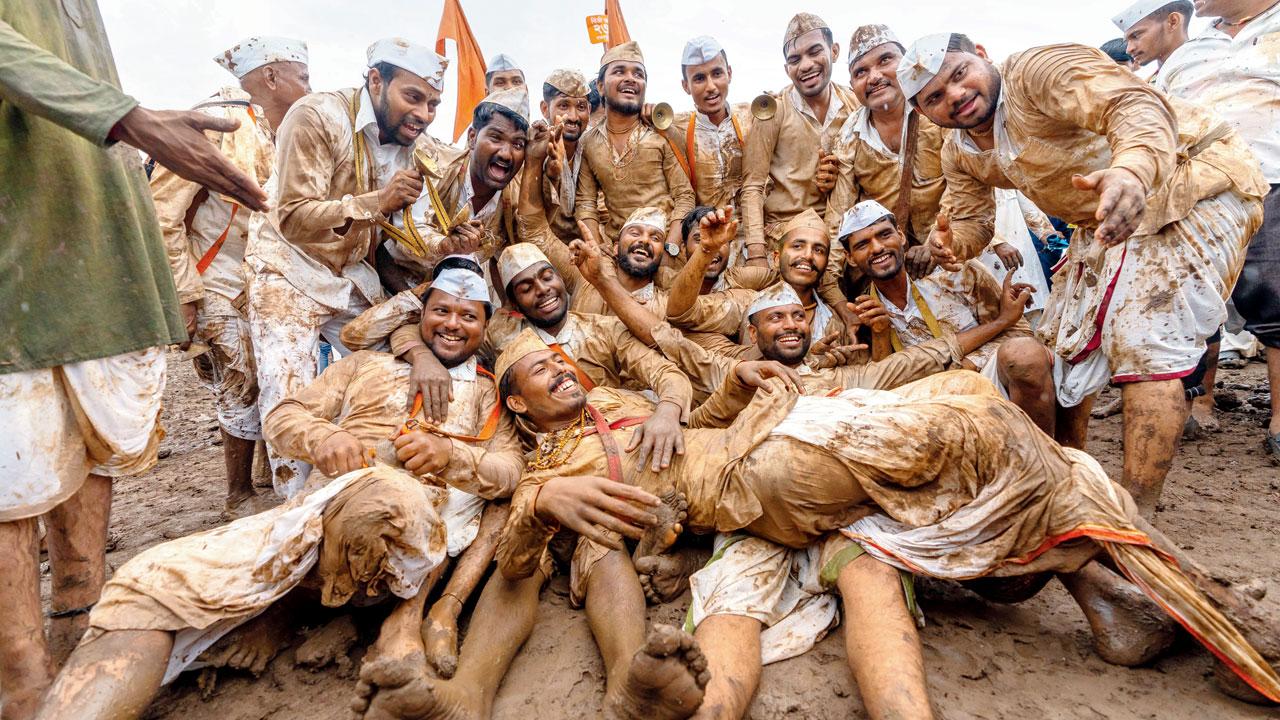 Happenings during a ringan by Mahesh Lonkar
The stills captured during this year's Wari, have been shot by 16 photographers, photojournalists, professors and students from Symbiosis University, including Padma Shri Sudharak Olwe, Shantanu Das, Mahesh Lonkar, Pubarun Basu, Mukund Parke, Saurabh Bhattikar, Dr Sawan Gandhi, Pranav Deo, Rahul Godase and Dnaneshwar Vidya, Nitin Joshi, Deepak Bhosle and Shivam Harmalkar, in association with the Directorate of Tourism, Government of Maharashtra. The crew walked part of the approximately 230 km pilgrimage for 10 days together with warkaris or pilgrims, who translate their devotion into the series curated by Damania. 
"The purpose was not to study or discuss, but capture the joy and enthusiasm of the warkaris. We had some of India's best photographers with us and my instruction to them was, 'Let us capture the spirit of the people on the walk' and it was an unbelievable experience," Damania recalls. He recounts the tough conditions being mitigated by this sense of community among the pilgrims. With reverberations from the chants and the instruments like veena, mridangam, dholki and chipli, Damania hopes the exhibition will offer knowledge and create awareness about one of the largest pilgrimages in our state.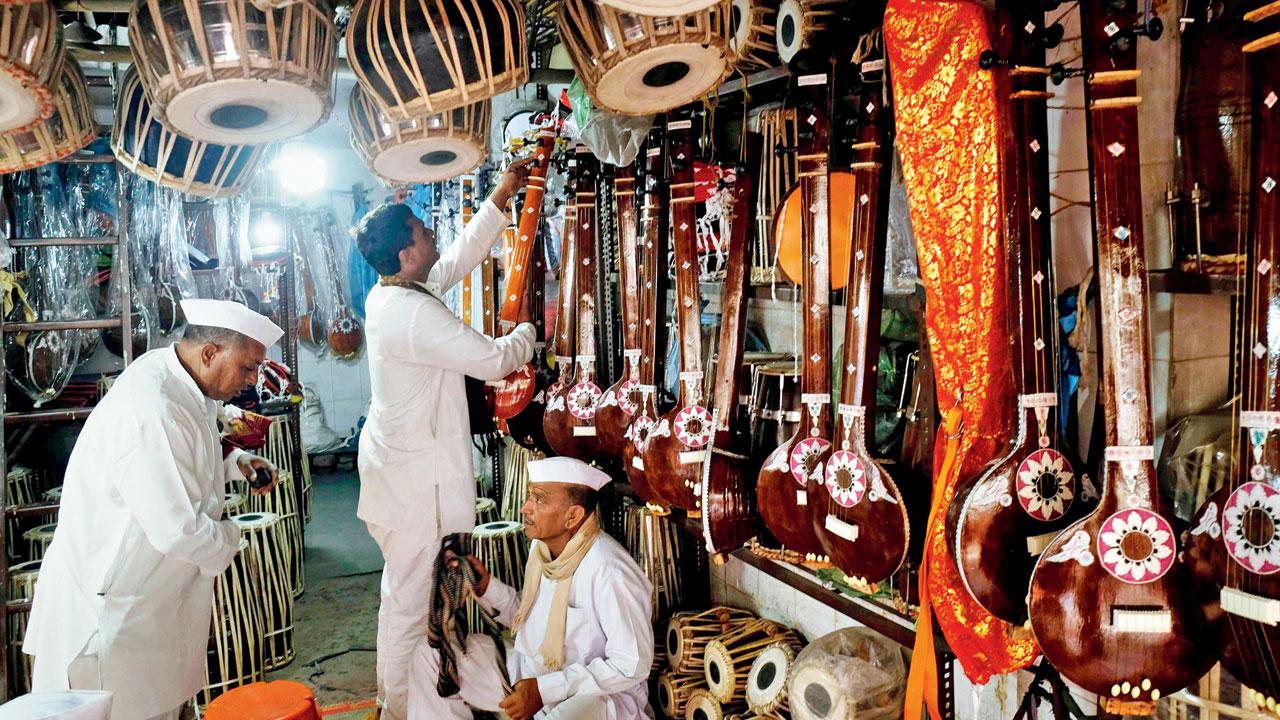 Musical instruments shop at Alandi for pilgrims to purchase and use during the Wari. Pic Courtesy/Shantanu Das
From the photographs, are images of instruments being sold at Alandi for warkaris to purchase and use during the walk, shot by Shantanu Das. A drone shot by Saurabh Sharad Bhattikar shows pilgrims gathered at Alandi temple in Pune on the first-day ceremony of the yatra. A still of a family by Mahesh Lonkar showcases the palkhi or a palanquin. Lonkar, who has walked the Wari eight times, speaks about the ringan, a ritual performed during the yatra that includes a rider on a horse moving within the gathering. In a photograph capturing the happenings of the ritual, he notes that younger pilgrims are not only equally passionate about the Wari, but shares that their devotion towards the god Vitthal becomes a reason for their strong bond.
For Damania, it is impossible to name just one memorable moment. He shares an instance during a ringan, "During this ritual, the horse as it moves around, lifts up mud that the pilgrims will pick up. But during one ringan that I sat for, the horse kicked up mud that fell on me. For me, it was a different kind of blessing."
On: September 30; 10 am to 8 pm
At: Piramal Art Gallery, NCPA
Log on to: ncpamumbai.com