Former Indian captain Nari Contractor, who was felled by West Indies pace bowler Charlie Griffith's delivery in 1962, recalls his torture and recovery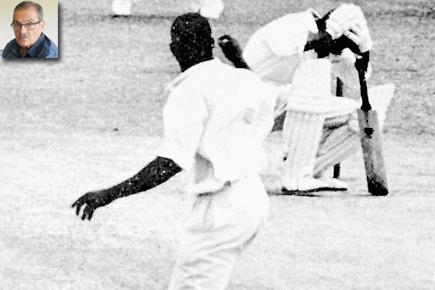 Nari hit by Griffith delivery, Pic Courtesy: Chucked out by Charlie Griffith, Nari Contractor (inset)
Two of the worst head injuries in cricket before the one suffered by Australia's Phil Hughes yesterday, are associated with Indians.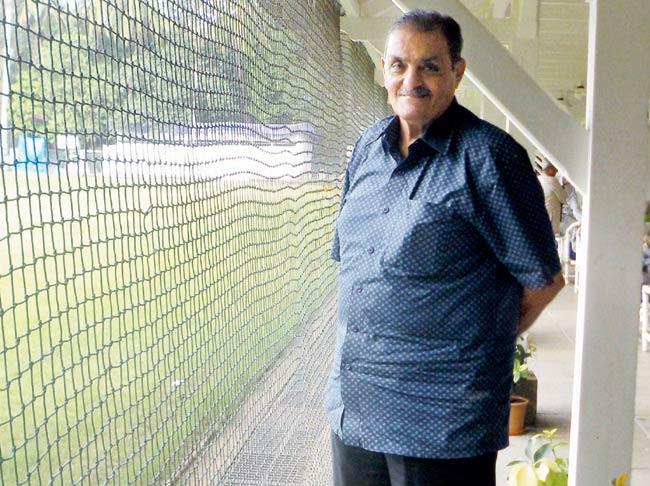 Nari Contractor. Pic/ Uday Devrukhkar
In 1998, former India batsman Raman Lamba's head injury while fielding at short leg during a club match in Bangladesh, proved fatal.
Also Read: Phil Hughes battles for life after being struck on the head by a bouncer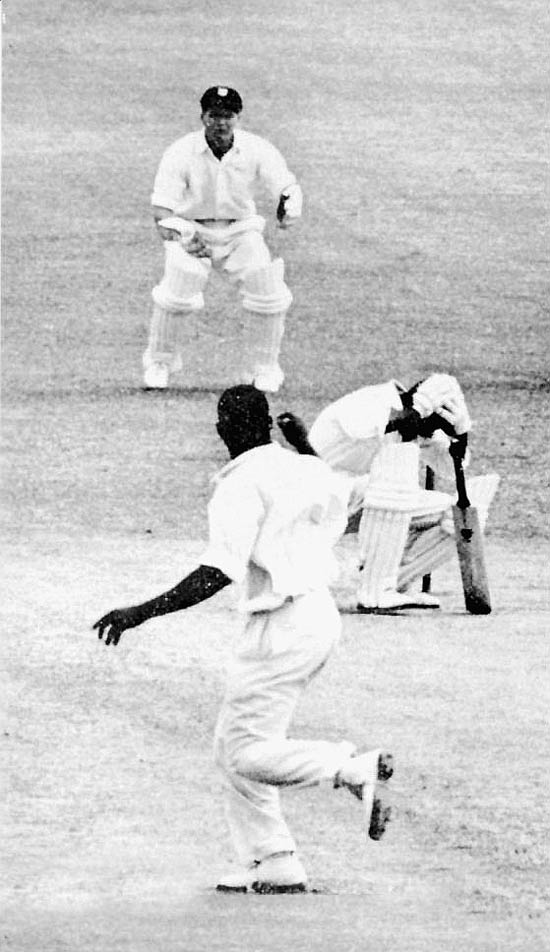 Nari Contractor is hit by a delivery from Charlie Griffith in 1962. Pic Courtesy: Chucked around by Charlie Griffith.
Lamba passed away at 38. On the 1961-62 tour of the West Indies, India captain Nari Contractor was felled by a Charlie Griffith delivery during the Indians vs Barbados game at the Kensington Oval. Contractor made a return to cricket but never played for India again.
Below are excerpts from a recent interview with Nari Contractor:
Q. What did you hear about Charlie Griffith before the Indians vs Barbados game in which you suffered the head injury?
A. There was a cocktail party, which the West Indians call Sundowner, where Frank Worrell told us there was a bowler in the Barbados side called Charlie Griffith and he's a chucker. And as we had so many injuries before the game, he suggested that it would be better to get out than getting hit. Frank said Griffith was crude and impolite. He cited an example of him hitting an 18-year-old batsman on the head and he didn't even apologise to him, so Frank told us to take care.
Q. Can you describe for us the particular Griffith over in which you got hit?
A. It was the third over of the innings. The first ball from Griffith went past my nose in a flash. 'My God, this is something,' I said to myself. I thought maybe some lethargy had set in after lunch, so I did some spot running. The second and third balls were the same.
The fourth ball I played but Conrad Hunte fielding at short leg caught it on the half volley. Had he caught it, I would have been saved. Now when Griffith ran in to bowl the fifth ball, someone in the dressing room opened a window, which created a black square for me. I thought of moving away, but I decided to play the delivery and sort out that problem later.
Also, my partner Rusi Surti had earlier shouted from the other end, 'skipper, he is chucking.' I walked up to Rusi and said, 'you don't shout across the wicket like that. If you think he is chucking, tell the umpire.' That was playing on my mind too. My concentration was not there because of all these thoughts. Meanwhile, he bowled it and when I saw the ball, it was here (pointing to his face) and it hit me at 90 degrees.
The ball fell on my leg and I sat down with the support of my bat, which is in a photograph in Griffith's book. I did not duck into the bouncer as he writes. Soon, I was bleeding from my nose and ears. I returned to the pavilion with the help of my manager Ghulam Ahmed (the former India off-spinner).
I changed into a fresh set of clothes and the bleeding continued. I was rushed to hospital. They examined me and said there was a brain concussion. In 1962, a brain concussion meant that there were only 10 per cent chances of survival.
Q. Did they tell you about the brain concussion?
A. I heard it. The doctor told Ghulam that he'd have to give me a sedative because I had suffered a brain concussion. After that, I didn't know what happened, but I was told that Dr Leacock had left instructions that he be called immediately if I vomited and if I lose movements in my limbs.
In the evening, Ghulam came to check on me and discovered I had vomited half a bucket and my left hand was not moving properly. He admonished the staff and reminded them of Dr Leacock's instructions. 'Why haven't you called Dr Leacock?' he asked. The doctor was then called. Now, Dr Leacock was not a neurosurgeon, and while neurosurgeon Dr Ghourilal arrived from Trinidad, Dr Leacock kept me going the night by stopping the blood from flowing to the brain, which would have created a bigger clot. When Dr Ghourilal arrived, a two-hour operation was conducted.
This interview first appeared in Back Spin magazine (UK) for which Clayton Murzello was a guest contributor.