Vilas Godbole, 76, did not know that a solitary match he played for Bombay against Ceylon in 1965 qualified him as a first-class cricketer until a social media quiz by our sports editor said so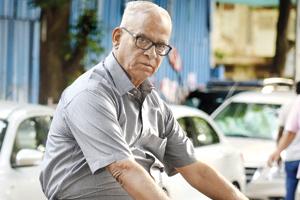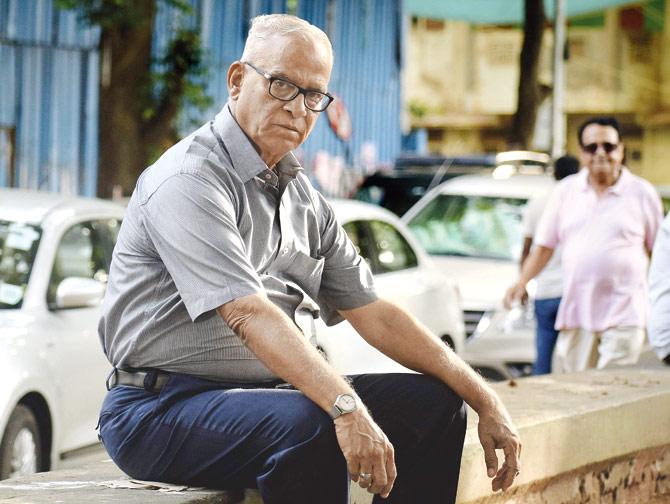 Vilas Godbole. Pic/Ashish Raje
Can a quiz propel a cricketer into a pension scheme? Before you utter, 'what sort of a question is that?' let me tell you that this is possible. Last week, Vilas Godbole, a Mumbai-based opening batsman, who played his best cricket in the 1960s, received his pension from the Mumbai Cricket Association (MCA) after discovering that he was a first-class player through a quiz I conduct on Facebook every Friday.
Vilas Godbole, 76, was enjoying a pleasant November evening last year when he learnt that he was part of an answer to my weekly quiz on Facebook. I had asked users to identify three out of four Indian first-class cricketers from a group photograph of the 1980 MCA managing committee that spearheaded the association's golden jubilee celebrations.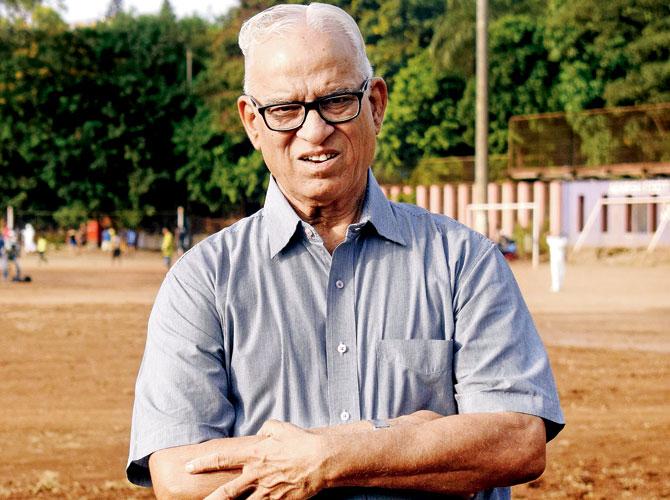 Vilas Godbole at Shivaji Park yesterday. Pic/Ashish Raje
Five respondents to the quiz got all four cricketers right (Polly Umrigar, Naren Tamhane, Sharad Diwadkar and Vilas Godbole) while 12 identified three players which was enough to be considered winners of the weekly quiz I post every Friday.
I was aware of Godbole playing in a first-class fixture for Bombay against Ceylon at the Brabourne Stadium in 1965. On November 10, 2017, Godbole was informed by his sons Kedar and Kaushik about the quiz and how he could consider himself a Mumbai first-class player even though he did not represent the city in the Ranji Trophy. Meanwhile, cricket consultant Makarand Waingankar (PhD in Mumbai cricket) urged Godbole to write to the BCCI for a 'first-class' endorsement.
Prof Ratnakar Shetty, then the BCCI's General Manager (game development) forwarded Godbole's query to the Board's statistician Dinar Gupte, who confirmed the January 8-10, 1965 game was indeed a first-class fixture in which Godbole hit the first ball he received for a six off Sri Lankan pacer Norton Fredrick. He was dismissed by the same bowler for 15 in his only innings of the game.
In January this year, Godbole dashed off a letter to then MCA president, Ashish Shelar, requesting him to consider him for the MCA's monthly pension scheme (which would earn him Rs 20,000) with retrospective effect. The MCA agreed to his request, saying he would benefit from the pension, but didn't mention anything about the arrears.
Pension reflects in account
Last week, Godbole's bank account reflected pension amounts for the first five months of this year. "I never considered myself a first-class cricketer. I was thrilled when the BCCI confirmed that I am a first-class player because I missed out on a chance to play the Ranji Trophy for Bombay.
"I was in the reserves for three games. It was very difficult to get into that Bombay side," remarked Godbole, with a lump in his throat. Around 12 years ago, the MCA started paying Rs 10,000 per month to all over-55 Mumbai cricketers who had played between 1 to 24 first-class matches. The amount was increased to Rs 20,000 per month in 2014. If the MCA agrees to Godbole's request for the pension to be paid from retrospective effect, he would stand to gain anything between Rs 15 to 20 lakh.
'Pay arrears, MCA'
"The MCA must pay his arrears. It's not Godbole's fault. He has served as a player, administrator and a coach," said Waingankar. In order to receive his arrears, Godbole has sought an appointment with retired SC judge Hemant Gokhale, one of the two judges appointed by the Bombay High Court to run the MCA till it conducts its elections as per reforms charted by the Lodha panel.
Also Read: Clayton Murzello: AB And The Art Of Saying Goodbye
Catch up on all the latest sports news and updates here. Also download the new mid-day Android and iOS apps to get latest updates