As Pakistani off-spinner Saeed Ajmal is banned for chucking by the International Cricket Council (ICC), we turn back the clock to the late 1950s and early 1960s when Aussie pacer Ian Meckiff became synonymous with throwing
The Personal Toll
For a person who played cricket for the sheer love of the game the violence of the throwing attacks leveled at me after my success against the Englishmen (1958-59) came as a shock that was too serious to laugh off.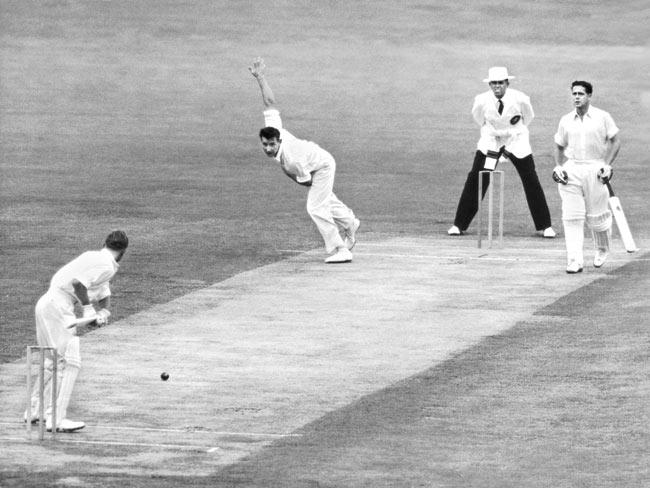 Australia''s Ian Meckiff bowls to Clement Arthur Milton during England's second innings in the third Test at Sydney, January 12, 1959. Pics/Getty Images
ADVERTISEMENT
To pick up a paper after every game of cricket I played and suddenly find myself the centre of a furious debate between countries on both side of the world imposed a big strain on my family and me. Throughout the whole controversy I tried to appear outwardly calm and relaxed but I was far from it.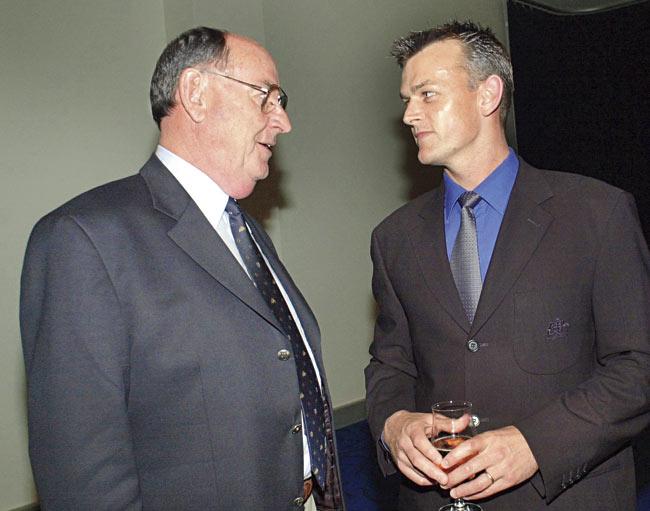 Ian Meckiff of the 1960-61 Australian team (left) with Australian hero Adam Gilchrist at the Brisbane Convention Centre in Brisbane. They were in Brisbane as part of the 40th anniversary celebrations of the Tied Test during the 1960-61 West Indies cricket tour of Australia
How could I be unaffected by something that had virtually changed my whole life? From a player who received only the average day-by-day publicity of a Test or national cricketer I was rocketed overnight into somebody whose practically every move made headlines; even in club games I was now big news; and few people could have had so many cameras aimed at them.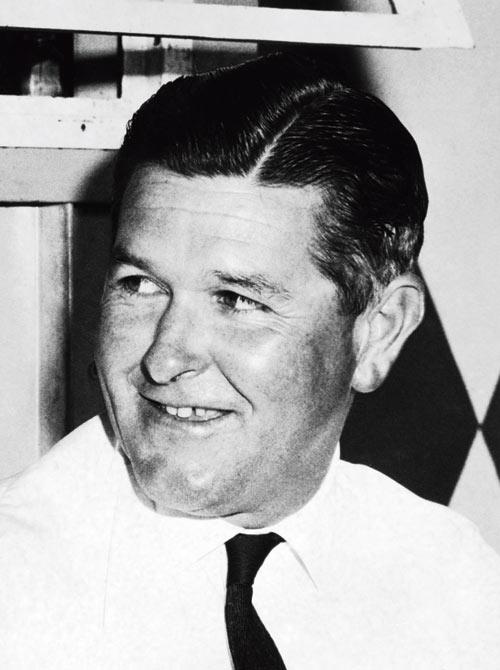 Umpire Colin Egar, who no-balled Ian Meckiff four times in the first Test against South Africa at Brisbane
No longer could I go out and play cricket for the sheer enjoyment of it. Now, every time I bowled I was conscious that everybody was watching me, waiting for me to make the slightest mistake. It was like being thrown into the sea when you are unable to swim.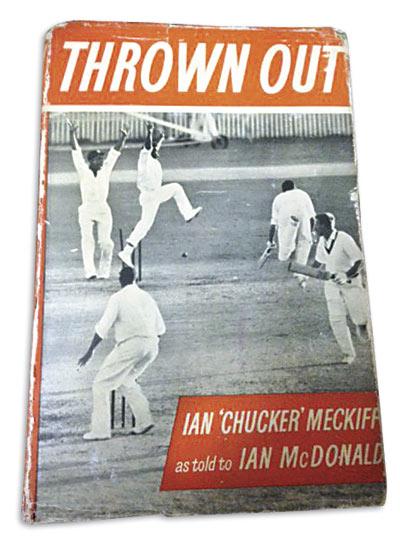 Thrown Out by Ian 'Chucker' Meckiff as told to Ian McDonald. Published by Stanley Paul in 1961
Does Ian really throw?
During the whole throwing campaign I was unable to defend myself by answering, my accusers because of my 'no comment' contract with the Australian Board of Control. Believe me, it is an annoying position to be in when you see ridiculous statements written about you and you can't reply to them.
Not only did this take a toll on me it had a disturbing effect on my family. My mother and father were pestered by people asking them: 'Does Ian really throw?'; and my wife Lorraine was continually upset by embarrassing situations. We even found that little kids nicknamed my young son Wayne 'Chucker'.
The strain finally told on me and I had to seek medical advice. My nerves had become frail and I was frankly sick and tired of the whole affair. In fact I reached a stage where I had a serious discussion with my wife about giving the game away. But I had too many people supporting me and I felt if I stop playing I would be virtually admitting defeat.
This was the last thing I wanted to do because I knew I did not throw and I was desperately keen to prove this to my critics. The doctor told me that the worry and the tension I was under every time I bowled was affecting my nerve system in my stomach and I have been under treatment for five months.
He also attributed most of the injuries which were starting to become far too constant to the tension I had built up in me. These injuries made matters worse for me and gave me the added strain of worrying about lifting my form in my attempt to get to England.
It's all very well to say take no notice of it and dismiss it with a laugh and a shrug of the shoulders. That is easy to do outwardly but at the same time you're churning yourself up inside.
I tried many ways to stop worrying about the attacks, I gave up reading newspapers altogether for a while, but that made little difference because someone would sooner or later mention some new outburst that had been written.
Then I tried reading the reports like comic strips, but I couldn't find them funny enough to laugh at. Except for some of the sheer ridiculousness and complete lack of factual interpretation that appeared in some articles.
Frustrating
The frustrating thing was that I had no way of fighting back. All I could do when I was asked if I did throw was to shake my head and say no.
I'd need an adding machine to work out how many times people asked me this question; people I didn't even know and often people who didn't even follow cricket. They'd recognise me from photographs and ask me for the fun of it.
It didn't matter where I went people whom I came in contact with in my job as a traveller for a hardware firm; playing golf; when I walked into a club or an hotel, or even just walking along the street.
It sounds fantastic but it is true. At the height of the controversy, it became so bad that I often shunned public places. It wasn't that people were accusing me of throwing; they just wanted to ask me if the reports were true what I think of my actions.
Then there were always the know alls. The ones who would come up and give me advice on how to swing my arm over; even although the majority of them had never played cricket in their lives. The whole thing built up to such an extent that regardless of whether people believed I threw or not, they were calling me chucker Meckiff.
Even, some of my close friends lapsed into nicknaming me, Chucker. They did it in jest, but it caught on to such an extent that the tag now sticks, although it no longer worries me I now quite expect to be called Chucker Meckiff for the rest of my life.
The little things that stick
There are little things that stick in my mind. My wife and Australian opener Colin McDonald's wife Lois were sitting in the stand at the MCG. one day when I came on to bowl.
There were two English women sitting directly behind them and one of them, immediately started to gurgle that one of the English cricket writers had been at her place for dinner, the previous evening and told her that, there wasn't a doubt in the world that Ian Meckiff threw.
Every time I ran down to bowl she exclaimed; 'See, he throws, doesn't he?' Apart from the fact that she probably didn't know the difference, the steady stream of chiding every time I bowled worked my wife up to boiling point. And she finally turned and let the 'critic' know in no uncertain manner that I didn't throw.
One day I was giving some schoolboys a few hints and decided to bowl up a few slow balls for the fun of it. As I rolled my arm over to deliver a lollipop a freckle-faced kid fielding nearby screamed out, 'No ball!' I was walking through a park after visiting a friend in Melbourne's Alfred Hospital one day when I noticed a group of kids playing cricket with a tennis ball.
I'm sure they didn't know who I was, in fact, I doubt if they noticed me, but when I got within hearing distance, a little bloke who was about knee high to a grasshopper yelled out at the top of his voice, "Look out here comes Meckiff!" With this warning, he charged down to the box, they were using as a wicket and threw the ball head high at the little chap at the other end.
"Exciting news! Mid-day is now on WhatsApp Channels

Subscribe today by clicking the link and stay updated with the latest news!"
Click here!