Lamenting that just two sessions cost the team the Test series, Ravi Shastri says the Jo'burg Test was the knockout punch that led to ODI, T20 series wins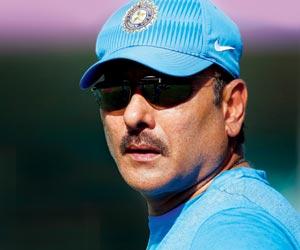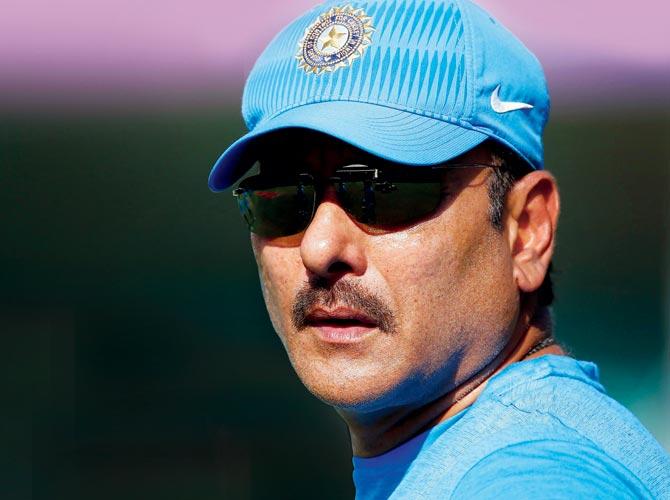 Ravi Shastri
Team India head coach Ravi Shastri has slammed critics for not giving Virat Kohli's outfit due credit for its deeds on the South Africa tour. Although the South Africans won the Test series 2-1, India's performance in the third Test on a pitch that Shastri called "nasty" merited kudos of the highest order. The team followed up that win with triumphs in the ODI and T20 series. His description of the Johannesburg pitch notwithstanding, the coach said his side won't complain about pitches.
No India cricket coach has come out of a South Africa tour so victorious. What's the feeling like?
I think it's awesome. I've been to South Africa on every India tour save one (in 1996-97). I went there as a player 25 years ago on the first one and I even did commentary for the 2001-02 Australia v South Africa series. In fact, I've been more to South Africa than any other nation, so I know how difficult South Africa is.
What I am very proud about is that the boys fought on each of the 21 days of cricket there which is unreal for an Indian team on any tour for that matter. Every day they had a chance. Out of 12 matches, we won eight. What can one say? You've just got to give the boys credit.
How did the team regroup after the two losses in the Test series?
We always believed we could win. Very few people saw it, but we could have won both those games. Sometimes you feel in your country, people are happy when you lose. We pulled out a calculation where we looked at sessions and we were just two sessions behind and those cost us two Test matches. I said, take the positives out of that and go into the next Test match to win — not to draw — to win! Not many teams would have batted first on that [Johannesburg] track. It was a nasty one.
Considering India got 60 Test wickets in South Africa do you think host countries/curators will view India with trepidation now?
I wouldn't say that. We don't complain about pitches. We go and play and the message is very clear — when you come to my country, never question the pitches because I will say, 'take a fu****g walk.' We don't give excuses; we play on what we are offered. That's how my boys play. And it's a ground rule — no complaints, no excuses... it's the same pitch for both teams.
Leaving aside the 1983 and 1985 ODI teams, have you seen a better India one-day outfit?
I wouldn't like to compare, but I still think the ability to take wickets at any given stage — with the new ball, middle overs and old ball — made a huge difference.
As coach, how big was the challenge for you personally?
Massive. I think the penny will drop for the boys in a week's time. They don't know what they have achieved. Often, when you play with that mindset and that level of intensity for two months, the penny drops much later.
There's lot of talk about the challenging tours to England and Australia. Do you think the two Test losses will provide the most useful lessons for those two tours?
We are all students of the game and they know that they would have learnt a lot from those two defeats and the tour. I said before going to South Africa that the next 18 months would define the Indian cricket team. I know for sure it will be a better team 15 months down the line. Win, lose, whatever... it will be a better team and I stick to that. This team has belief. When you have a captain like Virat (Kohli) who leads from the front, it spreads within the team like a disease.

What did you tell the team before the start of the one-day series?
Nothing. We carried the momentum into the series and the guys didn't back off. They were brilliant. I mean, but for the rain-affected ODI (in Johannesburg), I see it as a 6-0 tennis set score.
Without taking away credit from this team, SA were not at their best in the ODIs. How do you put things in perspective?
This is the biggest problem with our critics. When you win, the other team is not playing well. When you win in Sri Lanka, they are a weak team. When you play South Africa, they are not at their best. Remember, a team is only as good as you allow it to be. It's as simple as that. No one says the Indian team were not at their best when we lose. No Indian says that. When we lose, we lose. Ah, but when another team lose, they were not at their best. I can't fathom and I don't have an answer for that. By the way, we are not playing players, we are playing a country so I don't care what is on offer. I am playing against South Africa. Who plays for South Africa is not my problem.
Did people come up and tell you how they enjoyed watching India in the ODI series?
Every South African was standing up and applauding. If you make a couple of calls there you will know what they feel [about the team]. I walked through a mall and there were people saying, 'coach... outstanding!' Arun (bowling coach Bharat) and R Sridhar (fielding coach) went shopping on Sunday and were told, 'When are you guys going back? You've given us a whipping, we've had enough.' This is the ultimate!

So, no regrets concerning the tour in your book?
I'll be lying if I say there are no regrets. For me, everyday is a learning curve. When you lose, you learn too. What I liked was that the boys stood up and fought. They didn't allow their shoulders to drop. In fact, they fought harder.
They reserved the biggest punch for the last. Two zip down and to throw that knockout punch on South Africa in Johannesburg was tremendous. They never recovered from that. I was like Muhammad Ali v George Foreman in 1974 and he fu****g knocked him out.
Would you say England and Australia had better watch out now?
I wouldn't say 'watch out'. The England tour is later. I live in the present. We've got Sri Lanka before that so it's one step at a time, but I will enjoy this moment all my life. I will never forget South Africa.
Is the scheduling a worry?
Big worry. I feel for the players and that is why we have rested so many for the Sri Lanka series. They are human. In our country, the expectations are so high that you have to win in whatever format you play.
Are the boys getting better at dealing with expectations?
Yes. We make it very clear — 'read nothing, hear nothing... focus on your work ethic and the rest will follow. Winning and losing is not in your hands, your work ethic and preparations are.'
Also Read: Ravi Shastri gives a cheeky reply when asked about Virat Kohli's batting
For more on Ravi Shastri read here
Catch up on all the latest sports news and updates here
Download the new mid-day Android and iOS apps to get updates on all the latest and trending stories on the go