Karun Nair, who on Monday became only the 2nd Indian to slam a triple ton, had narrowly escaped death in July this year after a boat he was travelling in along with several others capsized in Kerala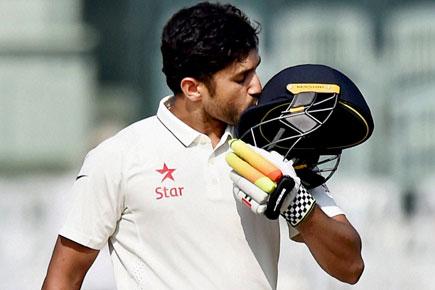 When 'lucky' Karun Nair narrowly escaped the jaws of death in July 2016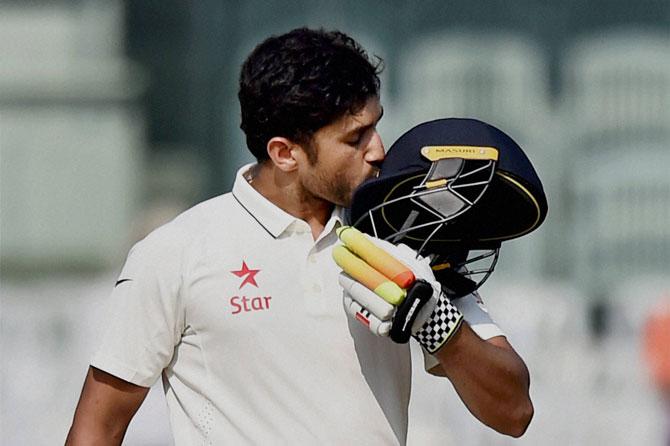 Indian batsman Karun Nair is grateful to be alive and feels the pressure of scoring a triple ton is negligible when one has survived a near death experience. Pic/PTI 
India's latest cricket sensation Karun Nair is basking in the all the attention and glory after his historic triple ton against England in the ongoing fifth Test at Chennai. But the situation wasn't the same in July 2016, when he was just grateful to be alive.
Why? Well, Nair narrowly escaped death in July this year after a boat he was travelling in along with a hundred others capsized in river Pampa in Kerala.
The incident took place when Nair along with some others had temple festival, "Valla Sadya', a celebration of the Sree Parthasarathy Temple, near his home town of Chenganoor in Alapuzha district.
The snake boat he travelled in with around 100 others capsized. According to media reports, two youth went missing from the boat.
The accident took place at 11.45 am on July 17 when the boat was about to reach near Aranmulala temple for the offering. Rescue boats reached the spot and the locals too swung into action and rescued the upcoming crickter and the others.
An official attached to the Aranmula Police station confirmed that Nair was in the snake boat.
"The boat capsized and immediate rescue services was undertaken and managed to rescue all passengers, while two are still missing," the official had told mediapersons at the time.
25-year-old Nair's mother, who was there at the M A Chidambaram stadium to see the historic innings, also revealed that her son was born premature and "the doctors advised us that he should always be made to exert and we did that and he learned cricket by playing on the streets right from a very early age".
Discussing the incident, the youngster, who doesn't know how to swim and is truly lucky to have survived, told official broadcasters, "I didn't know how to swim. People there rescued me and I was lucky to live again."
"This is the best knock I've played in my life. There were many situations in the middle when I had to play differently, with (KL) Rahul, (Ravichandran) Ashwin and (Ravindra Jadeja) Jaddu. I have to thank them for supporting me, egging me on," Karun said at the end of the fourth day's play after India took a 282-run lead over England by amassing 759/7.
"The first hundred is always important and I think when I got the first hundred, I didn't feel any pressure. I was just playing my shots after that," added the Karnataka youngster.
He has now become only the second Indian batsman to score a triple hundred in Test cricket. Karun's unbeaten 303 against England in the ongoing fifth and final cricket Test also puts him in the same bracket as Garry Sobers and Bob Simpson on account of converting a debut century into a triple ton.
(With Agency Inputs)