On this day in 1996, Sanath Jayasuriya smashed the fastest ODI fifty at the time. The Sri Lankan is known as one of the finest cricket players of all time. Today, we take a look at the various records set by Jayasuriya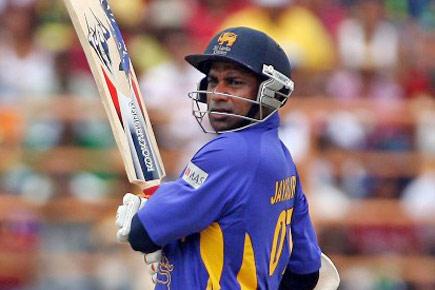 Sanath Jayasuriya
On this day in 1996, Sanath Jayasuriya smashed the fastest ODI fifty at the time. The Sri Lankan is known as one of the finest cricket players of all time. Today, we take a look at the various records set by Jayasuriya.

Sanath Jayasuriya in 2007. Pic/ AFP
>> Sri Lanka hold the record for the highest team score in Tests, ODIs and T20I's. In all these matches, Sanath Jayasuriya was the leading run scorer for his team.
>> He is the third batsman in Tests to smash six boundaries in one over.
>> He has the seventh highest Test individual score of 340 runs.
>> His score of 189 is the highest ODI score by a Sri Lankan.
>> His 17-ball 50 was the fastest in ODIs for 19 years until AB de Villiers broke it by scoring in 16 balls in 2015.
>> He is the fourth highest run scorer in ODIs with 13,430 runs.
>> He is the only batsman in cricket history to score two consecutive 150 plus scores in ODIs
>> He has hit the second highest number of sixes in ODIs with 270. Afridi stands at number one.
>> He holds the record to be the only ODI player with 12,000 runs and 300 wickets.
>> He is the third highest cricketer with most ODI centuries with 28 scored. Tendulkar and Ponting rank first and second respectively.
>> He was the first cricketer to play 400 ODI matches.
>> He is one of only four cricketers to score an ODI ton on his birthday. The others are Sachin Tendulkar, Vinod Kambli and Ross Taylor.
>> He is the second oldest player to hit a century in ODIs at 39 years and 212 days.