Former Indian cricketer Virender Sehwag had a hilarious reply to Delhi University student Gurmehar Kaur's post on Facebook; however, twitterati had a bag of mixed reactions to this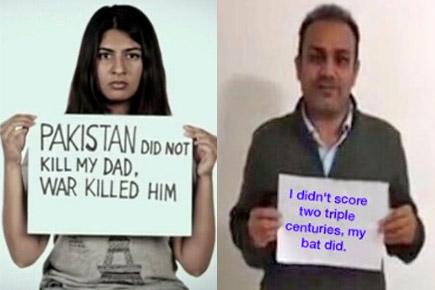 Virender Sehwag, Gurmehar Kaur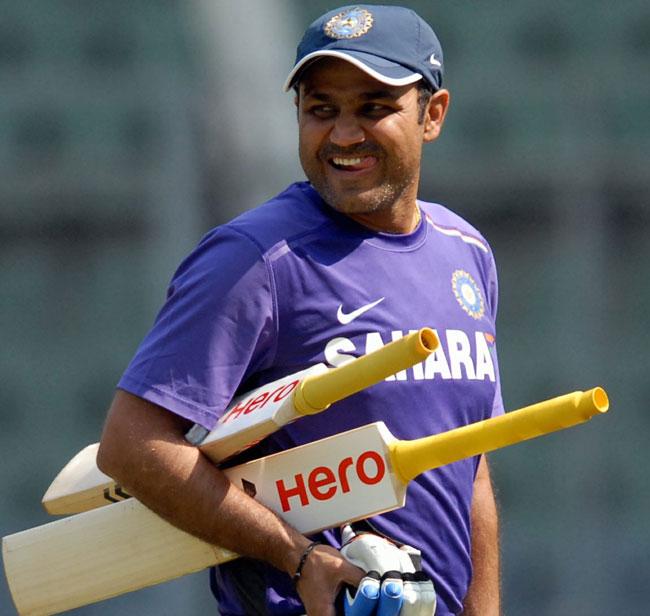 Virender Sehwag
Former Indian cricketer Virender Sehwag is famously known for his ability to hit various bowlers outside the park during his innings. Sehwag, who is currently retired from cricket, took to social networking site to comment on the Ramjas College ruckus.
Bat me hai Dum !#BharatJaisiJagahNahi pic.twitter.com/BNaO1LBHLH

— Virender Sehwag (@virendersehwag) February 26, 2017
His post was a sort of a reply to Gurmehar Kaur, the daughter of Kargil martyr Capt Mandeep Singh, who took to Facebook in May last year, to post a status that shows a picture of her holding a placard reading: Pakistan did not kill my dad. War killed him.
After the North Campus clash, Kaur had changed her Facebook profile picture holding a placard which read "I am a student from Delhi University. I am not afraid of ABVP. I am not alone. Every student of India is with me. #StudentsAgainstABVP". Bollywood actor Randeep Hooda reacted to the situation with his own tweet praising Viru Paaji. However, Twitterati had a bunch of mixed reaction to Sehwag's post.
u00f0u009fu0091u008fu00f0u009fu0091u008fu00f0u009fu0091u008fu00f0u009fu0091u008fu00f0u009fu0091u008fu00f0u009fu0091u008f @virendersehwag u00f0u009fu0098u0082u00f0u009fu0098u0082u00f0u009fu0098u0082u00f0u009fu0098u0082 https://t.co/IcxuewcPMP

— Randeep Hooda (@RandeepHooda) February 26, 2017
@virendersehwag by having a team tht thinks this is funny and then showcasing it , the jokes on u mister , pick on sum1 ur own age and size

— Salilacharya (@Salilacharya) February 26, 2017
@kukki1411 @virendersehwag if this is his idea of fun , he really needs to stick to commentary abt bouncing balls and crumbling pitches

— Salilacharya (@Salilacharya) February 26, 2017
. @virendersehwag : "My hand shook the hand of the dictator whose orders killed 100s of our Indian soldiers at Kargil, not me" pic.twitter.com/5K3Mrh5FjN

— Suryanarayan Ganesh (@gsurya) February 26, 2017
Person on left lost her Father in Kargil War trying 2 save country.

Person on right played 4 nation & minted money.

.@virendersehwag pic.twitter.com/OvqjVDRchL

— BharatPolls (@BharatPolls) February 26, 2017
Well done sir @virendersehwag. Still hitting centuries...even after retiring from International Cricket.. https://t.co/uQAvXCsKDV

— Paresh Rawal fan (@Babu_Bhaiyaa) February 26, 2017
@virendersehwag u00f0u009fu0098u0082u00f0u009fu0098u0082u00f0u009fu0098u0082u00f0u009fu0098u0082 nobody did nothing. It just happened. u00f0u009fu0098u0082 pic.twitter.com/cW98jE1GIc

— Arbia khan (@arbiakhann) February 26, 2017
@virendersehwag I didn't Type This Message Ji , My Mobile did u00f0u009fu0098u0086u00f0u009fu009au00b6u00f0u009fu009au00b6

— ViGnEsH HaRi (@vigneshhari1) February 26, 2017
@virendersehwag , I wish you thought with your bat too , there was a much better chance of a sensible tweet.https://t.co/1CmpoTTpcG

— DrVatsa (@DocVatsa) February 26, 2017
@virendersehwag sir ye tweet bhi tripple century se kuch km nhi tha.. virodhiyon ki bolti band:-)

— sakshi shrivastava (@shrivastavasak5) February 26, 2017
@virendersehwag retweets ke liye itni sasta mat bano viru.. don't judge so quickly.. not everything is funny! u00f0u009fu0098u008f

— MOUMITA CHOWDHURY (@immoumita) February 26, 2017
@virendersehwag Equating your inconsequential career in a team sport to a person's expression of grief and healing: lanat ap ki shakal per!!

— Uzma Khan (@OZwalik) February 26, 2017
Delhi University's Ramjas College had on Wednesday witnessed large-scale violence between members of AISA and ABVP workers. The genesis of the clash was an invite to JNU students Umar Khalid and Shehla Rashid to address a seminar on 'Culture of Protests' which was withdrawn by the college authorities following opposition by the ABVP. With inputs from PTI.