Former India captain Sourav Ganguly has warned Sachin Tendulkar that he would take the first flight back to Kolkata from the US if not allowed to open in the All Star T20 league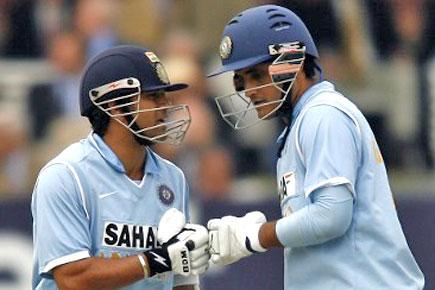 Kolkata: Practising ahead of the Cricket All Stars league in the United States, former India captain Sourav Ganguly joked on Tuesday that if he is not allowed to open the innings, he would take the first flight back to Kolkata.
The left-hander batted at the nets for around 30 minutes on Tuesday morning so that he can be ready to take on Australian legend Shane Warne's 'Warne's Warriors' in the first match in New York City on November 7. Ganguly will be turning up for Sachin Tendulkar's team 'Sachin's Blasters'.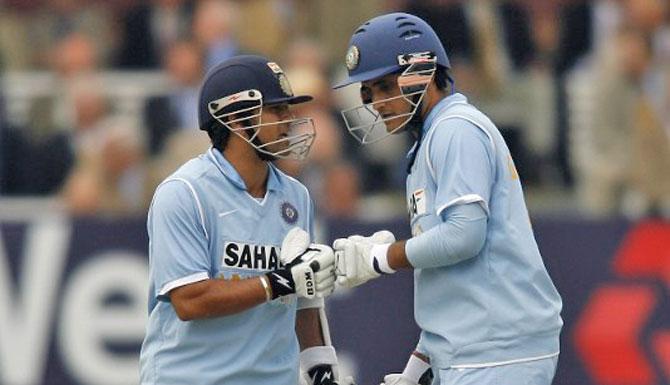 Sachin Tendulkar (L) and Sourav Ganguly (R) before their ODI match against England at Lords in London in September 2007. Pic/AFP
"I have told Sachin, if I don't open, I will catch the next flight to Kolkata. So that is a criteria for playing," Ganguly, who was in a jovial mood, told a news channel after practice.
At the nets, Ganguly turned back the clock and was seen stepping out to the spinners. He was also well balanced as he leaned into some of his trademark cover drives.
But when told that he seems to be close to the kind of form he enjoyed during his prime, Ganguly disagreed. "It is not possible," he said. "I was picking the ball late. But it was fun."
The southpaw also spoke about former India middle order batsman VVS Laxman who is struggling to get a visa for the US. "VVS Laxman has not got the visa yet, so he is a little worried. The US consulate are not giving him (laughs), but he will be there," he said.
"Asked him about his (Laxman's) batting but he said he can't quite understand as to when the ball is being released. This problem will be there. I hope we will come into the groove once we reach the US."
Ganguly also joked about his ageing body, saying "We will have to wait and watch how much strength is left on my hands, legs and hips."
However, Ganguly is sure that the matches will have quality cricket.
"No one one wants to get out, and the bowlers also don't want to get spanked. So it will be a good contest," he added.
Ganguly's application for opening position under process: Tendulkar
Responding to Sourav Ganguly's statement, Sachin Tendulkar on Wednesday quipped that the former India captain's "application is being processed".
"Dada your application for the opener's position is being processed!Hope the off drive is coming from the sweet spot," Tendulkar tweeted light heartedly.