Cristiano Ronaldo had an international airport in Madeira recently renamed after him in his honour. But it was a certain dodgy statue that actually went on to make headlines all over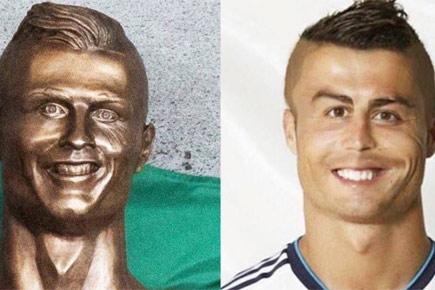 Cristiano Ronaldo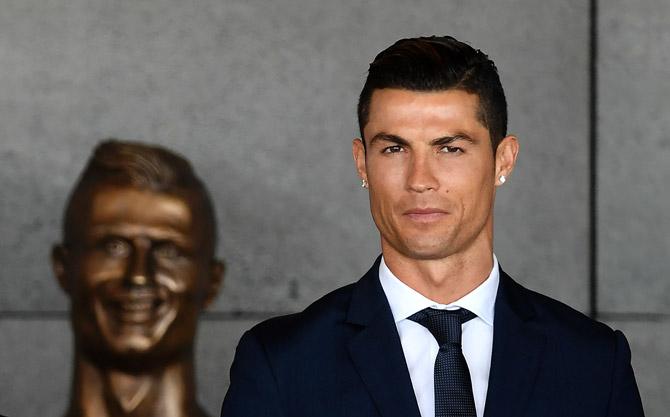 Cristiano Ronaldo stands past a bust presented during a ceremony where Madeira's airport in Funchal is to be renamed after him. Pics/ AFP
Cristiano Ronaldo had an international airport in Madeira recently renamed after him in his honour. But it was a certain dodgy statue that actually went on to make headlines all over.
The airport on the Altantic Island will now be knwown as 'Aeroporto Cristiano Ronaldo'.
Cristiano Ronaldo, 32, was accompanied to the airport renaming by his girlfriend Georgina Rodriguez and mother Maria, and heads were turned when a statue with a debatable likeness to the image-conscious Real Madrid forward was unveiled.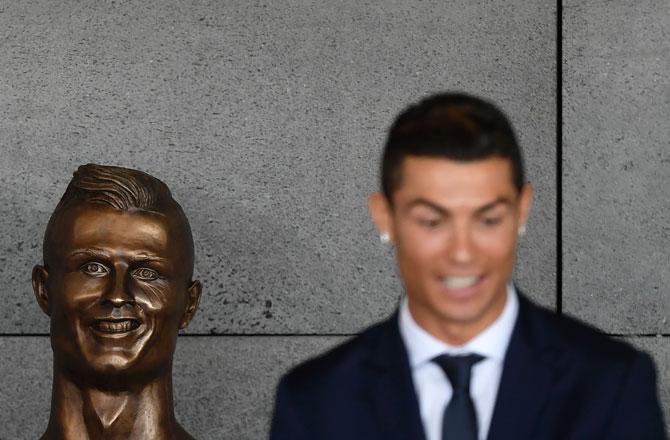 Cristiano Ronaldo was then at the receiving end as Twitterati pointed out that the statue actually does not resemble the Real Madrid star footballer. Here are some of the hilarious Twitter memes that followed.
What they promised Brexit would be vs actual Brexit #ronaldo pic.twitter.com/K33ZKEsNbV

— Jono Read (@jonoread) 29 March 2017
You vs the guy she tells you not to worry about #RonaldoBust #Ronaldo pic.twitter.com/FAjbv2rKLD

— Kanish Rajput (@Nomadic_Rajput) 30 March 2017
The Cristiano Ronaldo bust at the airport carrying his name. This is Art Attack... pic.twitter.com/tTVmQBMgms

— Simon Peach (@SimonPeach) 29 March 2017
Who did this ðÂÂu00c2u009fÂÂu00c2u0098ÂÂu00c2u0082ðÂÂu00c2u009fÂÂu00c2u0098ÂÂu00c2u0082 #cr7 #ronaldo #mj #jordan #futchamps #Fifa17 https://t.co/ZMhLSiIdR5 pic.twitter.com/273AjPqLrV

— Mark Bowley (@bowleym) 29 March 2017
Can't take much more of this ðÂÂu00c2u009fÂÂu00c2u0098ÂÂu00c2u0082ðÂÂu00c2u009fÂÂu00c2u0098ÂÂu00c2u0082ðÂÂu00c2u009fÂÂu00c2u0098ÂÂu00c2u0082 #cr7 #ronaldo #futchamps #fifa17 https://t.co/uiDmXPfSGI pic.twitter.com/cuOHJBDDMx

— Mark Bowley (@bowleym) 30 March 2017
WTF is this.... #lol ðÂÂu00c2u009fÂÂu00c2u0098ÂÂu00c2u0085ðÂÂu00c2u009fÂÂu00c2u0098ÂÂu00c2u0082
Seriously.... looks like a #Messi fan designed this master piece. #CR7 #RonaldoBust #Ronaldo pic.twitter.com/PqTZHEwS0g

— Shabg (@0_0fcuksgvn) 30 March 2017
Don't know what the fuss is all about with the new @Cristiano Ronaldo statue ðÂÂu00c2u009fÂÂu00c2u0091ÂÂu00c2u0080 pic.twitter.com/KIe5UwrTl4

— Martendo Wii (@martinaldo10) 29 March 2017
Hey you guys! @Cristiano pic.twitter.com/mLS8nCWGnA

— 15 Seconds (@15SecondsMedia) 29 March 2017