After emulating former captains Sachin Tendulkar and Sourav Ganguly on the cricket pitch, Virat Kohli has followed in their footsteps to become a co-owner of a football team in the Indian Super League (ISL)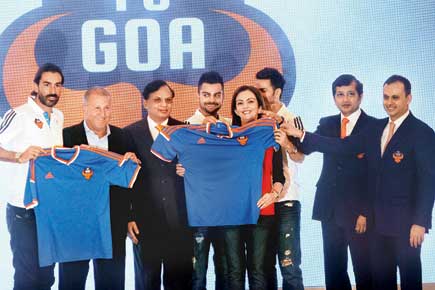 Marquee player Robert Pires (extreme left), coach Zico, Venugopal Dhoot, Virat Kohli, Nita Ambani, Varun Dhawan, Shrinivas Dempo and Dattaraj Salgaocar unveil the FC Goa jersey. Pic/Satyajit Desai
After emulating former captains Sachin Tendulkar and Sourav Ganguly on the cricket pitch, Virat Kohli has followed in their footsteps to become a co-owner of a football team in the Indian Super League (ISL).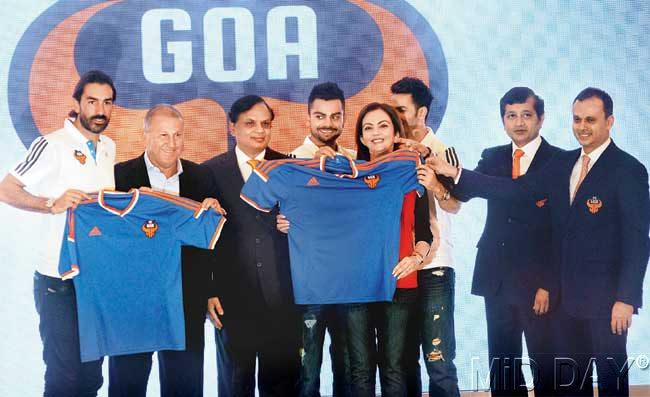 Marquee player Robert Pires (extreme left), coach Zico, Venugopal Dhoot, Virat Kohli, Nita Ambani, Varun Dhawan, Shrinivas Dempo and Dattaraj Salgaocar unveil the FC Goa jersey. Pic/Satyajit Desai 
The batsman was yesterday unveiled by the FC Goa franchise, which is among eight teams vying for the ISL title.
Although he refused to divulge financial details of his investment in the team, Kohli told reporters at a press conference in the city yesterday that the move to buy a stake in the Goa franchise was as much a business decision as an emotional one.
"Football is my second favourite sport. Some might think that me becoming a team owner is coming too early or that I'm too young, but nothing is too early.
If you believe in something, you have to put your 100 per cent commitment to it. It's a business venture for me for the future. Cricket's not going to last forever and I'm keeping all my options open after retirement," the 25-year-old said.
Kohli added that while he would like to be a hands-on team owner, his priority is his cricketing career.
"I've made a commitment to myself first. But I'll try and be as involved as possible even if that means travelling the entire day to watch an ISL match. I'll try and watch as many matches as possible."
Akin to IPL
Kohli admitted he was unsure of the ISL during its inception, but quickly added that the league had the potential to replicate the impact that the Indian Premier League has had on Indian cricketers.
"When the ISL was announced, I didn't how it would be run. But when I spoke to FC Goa owners, I liked the concept.
"A lot of people were against the IPL, but it has given a lot of young players a chance to play alongside great players. I hope the ISL does the same thing for young Indian footballers.
If you get a chance to play with legends of the game, you get a chance to feed off them. Your confidence will grow. That's how India's footballers can get better. I mean, it's gold-dust for them," he signed off.