Alves has yet to play for PSG this season as he is yet to completely recover from a knee injury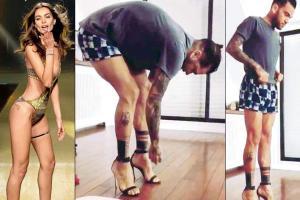 Joana Sanz and husband Dani Alves
Paris Saint-Germain star Dani Alves's model wife Joana Sanz's latest assignment, the ongoing Paris Fashion Week, seems to have inspired her footballer husband.
The hardworking defender recently posted a video on Instagram wearing his wife's heels (screen grab above) and doing a mini catwalk at their home in the French capital. He captioned the video: "It's fashion week, and I'm ready to fill in for my honey @joanasanz.... sorry but no sorry!!"
The Brazilian football star is no stranger to the glitz and glamour of the fashion world and is often seen accompanying his wife to various fashion parties. Last year, Alves even walked the ramp with fellow Brazilian star and PSG teammate Neymar. Alves has yet to play for PSG this season as he is yet to completely recover from a knee injury.
Dani Alves is a veteran footballer and has played for various clubs such as Bahia, Sevilla, Barcelona, Juventus in the past. He has been part of the Brazilian national team since 2006.
Catch up on all the latest sports news and updates here. Also download the new mid-day Android and iOS apps to get latest updates