Till about a year ago, chef Ram Chander of Asia Kitchen and Bar and would normally roast the chillies, make a paste of it and add the mixture to the meat or vegetables that he was cooking when he wanted to up the heat quotient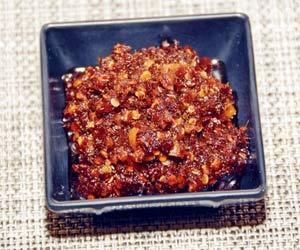 The sauce is hotter than the average roasted chillies blend. Pic/Sneha Kharabe
Till about a year ago, chef Ram Chander of Asia Kitchen and Bar and would normally roast the chillies, make a paste of it and add the mixture to the meat or vegetables that he was cooking when he wanted to up the heat quotient. But it was on owner Anjan Chatterjee's suggestion that he decided to whip up a smoked chilli sauce. Since then, he hasn't reverted to the old technique. And, for good reason. "Smoking the chillies has added a new dimension and depth to the flavour and heat level of the dish. Since Indians aren't afraid of spice and strong flavours, I thought the technique would work," he says.
ADVERTISEMENT
The real hot stuff
At the restaurant, the chef normally uses a blend of Thai bird's eye chillies and resham patti mirchi, which is later used to make dips and sauces. "Thai bird's eye chillies are extremely pungent. In fact, they're over 20 times hotter than a jalapeno. Resham patti, on the other hand, is used more for the colour and flavour," he explains. While Chander sources the chillies from Thailand, both varieties are readily available in Mumbai markets. The process begins with de-seeding every chilli peppers followed by washing and drying them clean. A cardinal rule to keep in mind at this stage is to ensure there's no trace of moisture on them. "The slightest moisture can impact the smokiness of the sauce. When we were experimenting with this, it took us at least five to six attempts to get this right."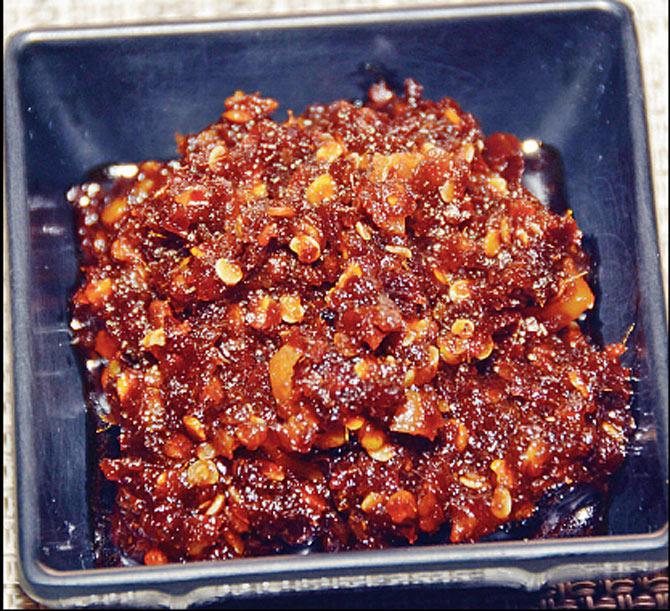 Get temperature right
Smoking can be done using flakes of wood, charcoal or a combination of the two. Chander vouches for the oakwood-chilli combination that works well with dips. He experimented with applewood but it did not yield desired results. "Set the chillies and wood flakes on a tray or over aluminum foil so they don't fall through your grates," he says. While keeping it at a very high temperature can burn the chillies, maintaining it on low heat will impact the aroma. He, therefore, recommends keeping it at a temperature ranging from 80 to 90 degrees. "Smoke it at least for three hours as it takes a while for the wood smoke to permeate the chillies." While the technique is simple, it requires patience, he warns. "You then grind the chillies, make a paste, add spices and condiments like lemongrass, galangal." The base is then cooked with oil for 45 minutes on a slow flame. The sauce can be then used in dips, vegetable and meat dishes.
Catch up on all the latest Mumbai news, crime news, current affairs, and also a complete guide on Mumbai from food to things to do and events across the city here. Also download the new mid-day Android and iOS apps to get latest updates