Narendra Kumar talks to Ananya Ghosh about heralding the revolution in menswear in India and why he believes in following his heart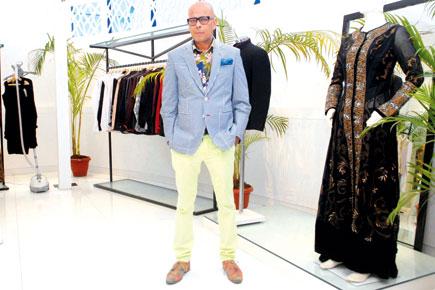 Designer Narendra Kumar at his newly-launched store in Khar
The lift stops on the fourth floor and as I step out, I notice wooden planks piled on one side as some construction work is underway. As I glance to my left, a glass door, with Narendra Kumar boldly written on it, welcomes me. It opens into a pristine-white world replete with an array of fresh summery clothes neatly arranged. Although, the official store opening is five hours away, everything is immaculately placed. Once inside, I find the designer dressed in a casual floral shirt and lime-green trousers sprinting across the store running last-minute checks. It is refreshing to watch a designer of his stature to be so hands-on.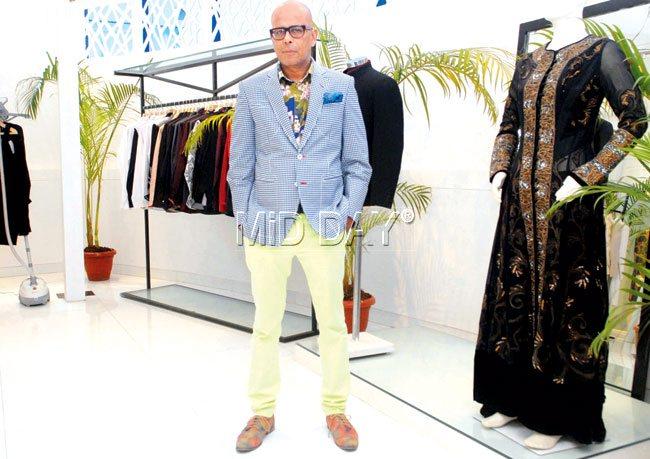 Designer Narendra Kumar at his newly-launched store in Khar. Pics/Shadab khan 
"I don't believe in sitting inside a cabin and giving orders. I still do my own illustrations. I like to be involved in every aspect of creating a garment. I have been working with the same core team for the past 15 years and I treat each member with equal respect," says the man who started his career as a photocopy machine salesman and is today the only designer whose store has been featured alongside iconic brands such as Tom Ford, Prada, Louis Vuitton and Valentino on Esquire's Big Black Book of style.
New store on the block
As we settle down for the interview, he reveals the idea behind this new store at Khar. "A store is an expression of the designer's world — the environment in which you want to see the designs. We looked at the idea of a white store as a symbol of purity of design. Also, white is a perfect backdrop to showcase any colour," he says. His new Spring/Summer collection, which is on display at the store, comprises midis, dresses, jumpsuits and floor-length gowns in floral prints for women and bright-coloured linen shirts, trousers and suits for men. He explains, "I'm trying to bring back that '70s look. I want today's youngsters to experience the high styles of that era—the flares, the bellbottoms, the hats et al. In menswear the emphasis is mostly on a sharp, sculpted, tailored casual look."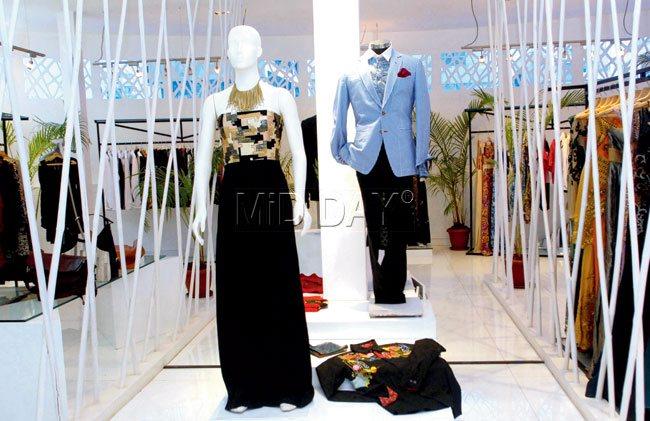 An Amazonian task
Although, the city is gearing up for the upcoming Lakme Fashion week, the designer, who has had a bittersweet relationship with the event, has decided to give it a miss this year owing to his other professional commitments. He has recently taken over as the creative director at Amazon.com. Elaborating on why he took the corporate plunge, he says, "You need to experiment with ideas. E-commerce is a huge phenomenon now. With my brand I can reach a thousand people but with Amazon, the opportunity is to reach a billion people and shape their fashion choices."
Kya? Darzi banega?
Kumar has always had a knack for following his heart and taking the plunge. In fact, this was the major factor that prompted him to pursue fashion designing. It was a Pierre Cardin show back in 1983 that became the turning point in his life. "After watching the show, I just decided to become a fashion designer and join the National Institute of Fashion Technology (NIFT). At that time, fashion designing was hardly considered a career option. My near and dear ones were shocked out of their own wits and asked me, 'Kya? Darzi banega?'
"The strongest reaction came from his parents who didn't talk to him for two months. "I understood their paranoia. But I hadn't decided to become a designer on a whim. I knew that fashion as an industry would become big in India as it was in the West and I wanted to be a part of it." But getting admission into NIFT required a year's experience in the design industry. So, he promptly left his job —from selling photocopiers he had graduated to selling industrial milk bottles by then — and took up one that would bring him closer to the fashion industry: "I used to match dupattas with kurtas at a store. I was willing to do whatever it takes. I have never treated any job as below my dignity. Thankfully, we were not required to bell the CAT back then, else I wouldn't have made it through to NIFT," he laughs, before adding on a confident note, "However, I would have certainly made it into the industry."
City of men
It is this confidence that prompted him to take the road less travelled. After graduating, and working with master couturier Tarun Tahiliani, as a design assistant between 1990 and 1993, he started concentrating more on menswear. In a country where fashion was still associated mostly with women's wear, it was another huge gamble. "I was always keen that we need to concentrate on menswear as much as women's wear. And although we did innovations in both the areas, menswear stood out, as nobody else was working on it so diligently. The rate at which men are getting fashionable now is phenomenal compared to what it was even two years ago. Now they want clothes that reflect their personality as well as show off the well-sculpted body," he says. There is a common misconception that men'swear doesn't call for intricate detailing and extensive work. But Kumar sets the record straight. He elaborates, "For men, the design is in the details such as how much do you shape the waist, how much do you detail the lapel, what do you do with the lapel. Menswear is based a lot on the classic as opposed to women's wear where you see more flamboyance."
The fourth show
It's been two decades since Kumar has joined the industry. In a world where trends change every six months, and a bevy of young designers burst into the scene every year, the designer works hard to ensure that he is at the top of his game. "I party a lot," he laughs, before adding on a serious note, "When you meet people you exchange ideas. I have friends of different age groups and am always up-to-date of their fashion choices."
As for most young designers fading away after making a great debut, he points out that the competition is extremely intense in the fashion world. "If you don't have a sponsor or the financial resources it is difficult to create your own business. Also, most youngsters focus on becoming famous rather than working to create a beautiful design. When you graduate from fashion school, you have idealistic visions, which seldom translate into saleable products. But the key is to catch the pulse of the industry and reinvent. It is not the first show, but the fourth that is the most important," he says, stressing the importance of being consistent.
Kumar is one of the few designers who rarely designs for films. He says, "While designing costumes for a movie, I want to contribute to the film as a designer and not just make certain number of clothes for some actors. Also, filmmaking is a tedious process. I can't wait a year to see what I have created on celluloid. I need instant gratification."