The owner of Catering & Allied, which runs four restaurants in Mumbai — Joss, Amadeus, Umame and Café at the NCPA, talks to Phorum Dalal about quitting his first job within a week, his love for diving and more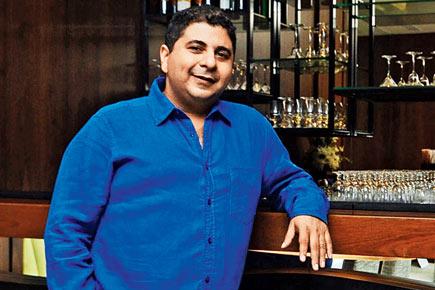 Farrokh Khambata, founder CEO of Catering & Allied
It won't be wrong to say that most restaurateurs in the world are avid foodies who derive great joy by feeding people. Farrokh Khambhata, founder and owner of Catering & Allied, the company that runs four city restaurants — Joss, Umame, Amadeus and Café at the NCPA, along with and a full service catering ourfit Joss Catering Services — is one of them. I meet him one rainy Thursday evening at the recently-opened Joss at Santacruz. The eatery is a finer version of his restaurant by the same name at Kala Ghoda, which shut down in May 2011, after a decade-long successful run. The food at the new Joss is created using molecular gastronomy, which Khambata prefers to call food science. Indeed, a margherita comes in a smoking pipe-shaped glass and prawns come with a sauce in a pipette. As I tuck into a piping Bibimbap, a signature Korean rice dish mixed with vegetables, an egg, and chillies, Khambata, dressed in a cobalt-blue shirt and black trousers, shares intricate details of each of the dishes with me. He prods me to try out different delicacies but abstains from eating anything himself. "I know what it tastes like," he grins.
ADVERTISEMENT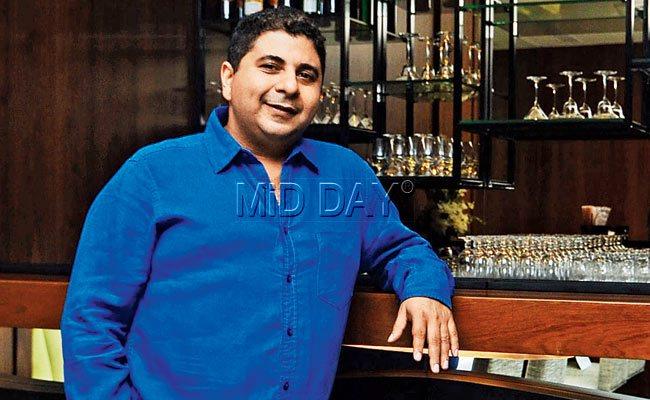 Farrokh Khambhata at Joss, Santacruz. A certified diver, he has taken plunges all over the world, including Seychelles, Mauritius, New Zealand, Australia, South Africa and Maldives. Pics/Kaushik Thanekar
A culinary career in food for the 40-something happened by chance. But, he says that architecture was his first love. After less than a year at the LS Raheja College of Architecture in Bandra, he dropped out of the course because he couldn't handle math. "I would have definitely made a good architect. But the numbers played havoc on my mind. I went for the catering college interview only when I was bored of architecture," he tells me matter-of-factly.
Living life on his own terms
Born in Altamount Road, the "townie" had a leisurely childhood. "My parents are accountants. I'm the black sheep of the family. I was a menace once I reached Class 10," says the portly restaurateur. During his college years, a typical day meant hanging out with friends, enjoying a good drink at Ghetto, Mondegar and Leo's Den, one of the first pubs in Mumbai and zipping around the city on his 100-cc Yamaha motorcycle.
After realising that he wasn't really cut out for architecture, he went to the Institute of Hotel Management, Catering Technology and Applied Nutrition at Dadar. Dressed in a full-sleeved, stylishly-torn shirt, he stood out from the crowd not because the other participants were dressed in formals, but because he managed to leave a lasting impression on Phillip Thangam, the college principal also popularly known as the mother of the catering industry.
"During the interview, I told her that I could rustle up a couple of dishes. She asked me whether I knew how to make dhansak. When I finished rattling off the entire recipe, she told me I was selected," says Khambata, who went on to bring Mumbai its first trophy at the All-India Student Chef Competition.
Paving his own path
Post the award, there was no looking back. After the completion of his course, he joined a five-star hotel in the city. But Khambata soon realised that he was cut out for better and bigger things. "I was always an entrepreneur at heart. I quit my first job at a city five-star within seven days. I didn't want to end up like the chefs I met there and get stuck in a rut making chutney or chopping perfect onions year after year. I knew I wanted to start my own business," says the Parsi. His first independent venture was a home-catering service. He adds that the biggest lesson he learnt in his life is to always follow his heart. "Do what you do with passion and you can never fail," he smiles.
Though Khambata grew up eating authentic Parsi food, he was also exposed to diverse cuisines, thanks to his father who worked as a consultant in Thailand and Laos. "When I travelled with him, I was introduced to Oriental food," says the businessman. The cuisine left such an indelible impact on his mind that when he opened his first restaurant, Joss, at Kala Ghoda in 2004, he decided to introduce Mumbaikars to authentic Asian flavours, sans the typical Indian Chinese flavours.
Patrons lapped up the Burmese Khow Suey, a one-dish noodle soup laden with coconut milk and topped with peanuts, spring onion, ginger and fired onions. An epicure I know claims his khow suey is the creamiest and most flavourful than any other she has ever tried.
His penchant for form and architecture gave the restaurateur an edge when it came to presenting his food. "I have a keen eye for texture, shades and finesse, which I can transfer into my dishes," says the foodie, who loves to visit Singapore for its food culture and can't resist Spanish and European delicacies.
One might think that Khambata loves to cook food even at home, but he shakes his head in denial and says, "I love to come up with new dishes and don the apron at work, but not at home."
A multi-faceted man
The father of one also enjoys diving. A certified diver, he has taken plunges all over the world, including Seychelles, Mauritius, New Zealand, Australia, South Africa and Maldives. Khambata feels that his 13-year-old follow his footsteps some day. "Hushaan looks like me, thinks like me and loves food, music and cars — just like I do. He took his first dive at the age of nine," beams the proud father. Since a month, the father-son duo has been taking guitar lessons every Saturday. "We strum rock hits by Guns and Roses and Aero Smith pretty well," says Khambhata.
The entrepeneur's love for cars has transcended into him driving at the F1 circuit at Budh International in New Delhi thrice. "I have been invited by BMW, Audi as well as Lamborghini for rides," he says.
Despite loving all things fast and furious, it's the calming effect of creating a new dish and plating it up for his patrons that gives Khambata an adrenaline rush of a different kind. He has plans to take his brand to other parts of the world, including Russia. "I am confident that with a local tweak, I can take my food anywhere globally.
But I am not taking my food for granted. As they say in the food industry, "You are as good as your last meal," signs off the restaurateur flashing his dimples.
"Exciting news! Mid-day is now on WhatsApp Channels

Subscribe today by clicking the link and stay updated with the latest news!"
Click here!