A massive new exhibition makes a date with history by chronicling landmark moments since Independence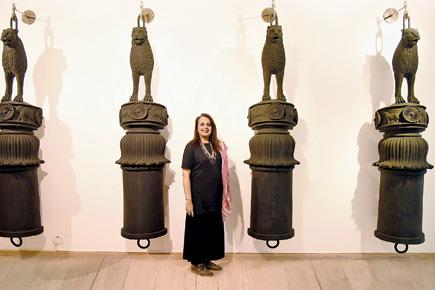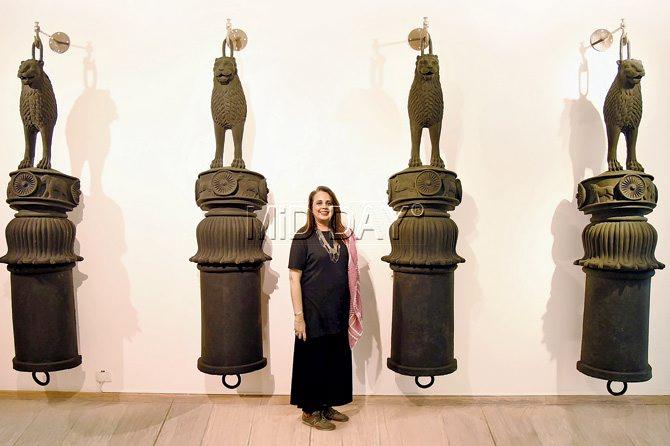 Curator Dr Arshiya Lokhandwala with Riyas Komu's installation Fourth World
The birth of a new nation has been the subject of great art and great controversy. As the country completed 70 years of independence last month, the significance of the occasion has found a new commemoration through an exhibition curated by Dr Arshiya Lokhandwala. The title, India Re-worlded: Seventy Years of Investigating a Nation, should give audiences an indication about the theme of the exhibition, which spans 70 works, including 40 new commissions, by artists across generations.
Lokhandwala, a curator and former gallerist, has retraced her doctoral thesis, on Postcolonial Palimpsests: Historicizing Biennales and Large-Scale Exhibitions in a Global Age, for this show. She refers to influential literary and postcolonial theorist, Gayatri Spivak. "Spivak revisited Martin Heidegger's original concept of "worlding" as a process of violence that emerges when territories get colonised by colonisers. In post-Independent India, artists have 'de-worlded' themselves and freed themselves of earlier colonial positions, dismantling their British colonial legacy. I coined the concept of "re-worlded" to encapsulate the postcolonial moment of artists which they adopt with a renewed connection with the world at large," says Lokhandwala.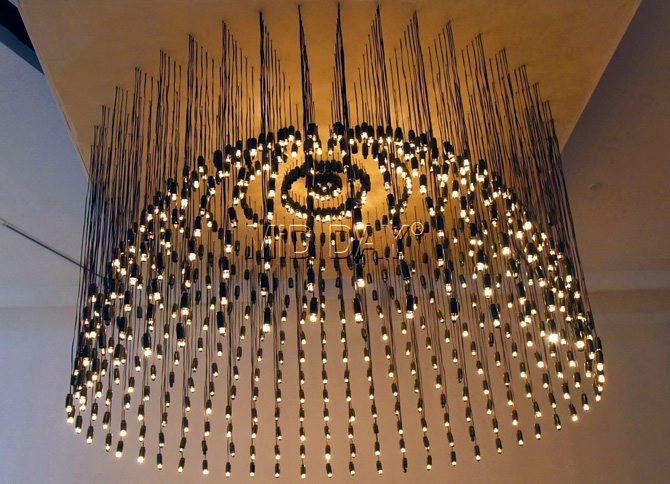 Missing Since 1992 by Anita Dube. Pics/Shadab Khan
If visitors are not familiar with postcolonial theory, then here is a dynamic, striking starting point. For the exhibition, which is sectioned under four themes, Lokhandwala has invited each artist to choose a year between 1947 to 2017 and respond to it. The selection is a personal one — some chose the year of their birth, while others chose pertinent historical events. "While the exhibition is like a calendar of sorts, the point of the exhibition was to not do a chronological survey, but an attempt to encapsulate 70 moments of India's history, viewed through a critical and personal lens," says Lokhandwala.
Hinging the exhibition on these ideas, Lokhandwala has brought together a range of artworks, right from paintings to video-works. She brings our attention to a light installation, Missing Since 1992 by Anita Dube, sculptor and photographer, which evokes the dome of the Babri Masjid. Contemporary artist Bharti Kher goes back to the year she was born, 1969, for a work titled Mother and Child: Amar, Akbar, Anthony. Riyas Komu's installation Fourth World, cleaves the Lion Pillar of Ashoka into four parts hung from meat hooks, allude to the current plight of the nation. " Atul Dodiya's work, titled 15th August 1947, wherein he culls a significiant but unknown moment with Gandhi, opens the exhibition," says Lokhandwala.
India Re-worlded, opens on September 11 to the public and is organised in association with Gallery Odyssey and India Bulls Foundation. Commenting on the dearth of museum-level shows in the city, Lokhandwala says that she prefers large-scale exhibitions. She has previously curated After Midnight: Indian Modernism to Contemporary India, 1947/1997 at Queens Museum in New York in 2015. "India Re-worlded is a huge undertaking that critically examines our history in these challenging times which we live in. I invited artists that I felt have contributed to the history of India art, which include a wide spectrum of ages, from the Modernists to contemporary ones," she says.
Where: Gallery Odyssey, Tower 2, Lobby Level, One Indiabulls Center, Parel
When: September 11, 2017 - March 31, 2018,
11 am - 7 pm (Sunday closed)
Call: 33685424