Female energy was the fuel driving the Dior Fall 2023 show last week that celebrated silai, bunai and Bollywood. What's not to like?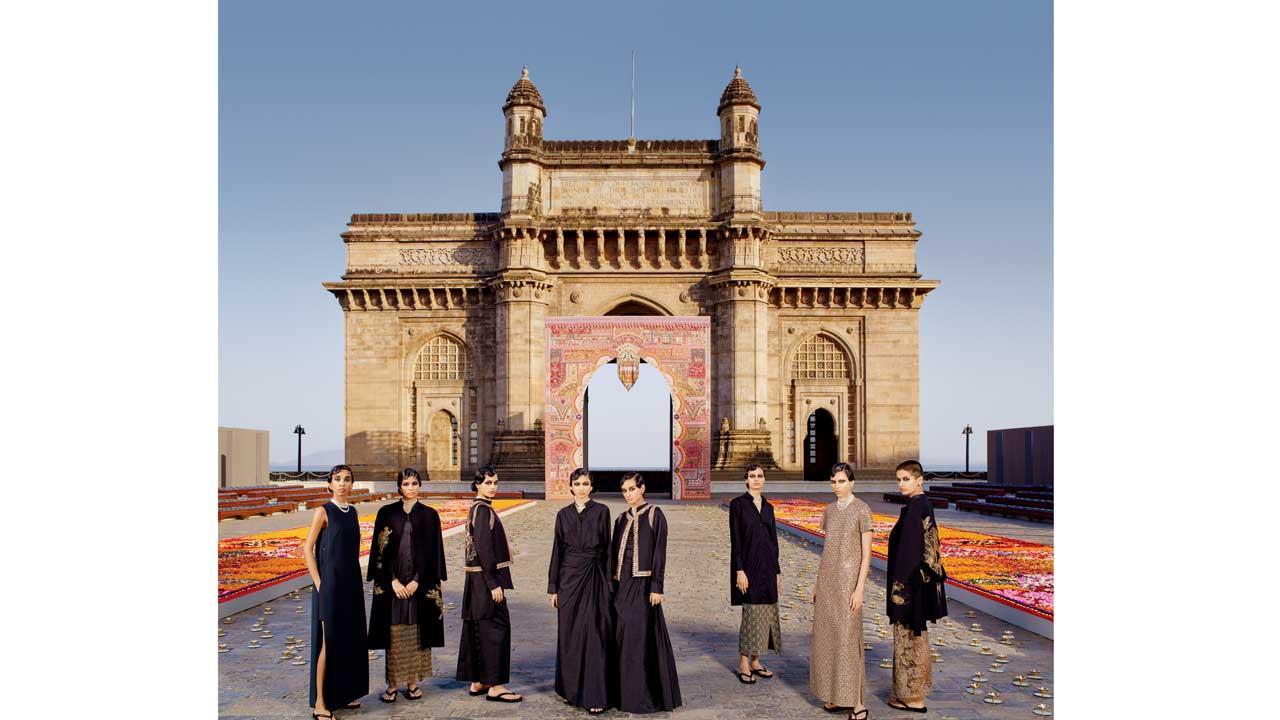 Dior Fall 2023
If someone had stood in front of the Gateway of India last Thursday night and asked no one in particular, "Where are the guys?", they wouldn't have been wrong. 
It was an evening that belonged to women. From Christian Dior's creative director of women's collections Maria Grazia Chiuri, who collaborated with Karishma Swali, creative director of Chanakya International and Chanakya School of Craft, to the hundreds of female artisans whose deft handiwork was celebrated in the glamorous setting of a fashion show to the unmatchable Rekha, who made heads turn in a Kanjeevaram even as the rest of the celeb crowd chose to serenade haute couture… the women were front and centre.  
The cast of models—all women again—walked under the canopy of the Toran, a 46-foot tall  site-specific archway made from Indian embroidery into an LED-diya lit trail lined with floor panels of flowers to imitate rangoli designs. Guests sat on carved wooden diwans plumped with cushions to watch models step out in pearl chokers and velvet flatforms to the rhythm of one of India's finest female tabla maestros, Anuradha Pal. The scenes from the Dior Fall 2023 show captured the essence of India's heritage, both architectural and artistic. "I am very emotional to realise this show in Mumbai," Chiuri told a few journalists during an interaction. "It is a dream that we have had for a long time. It is so important to celebrate the culture, creativity that is this country." 
ADVERTISEMENT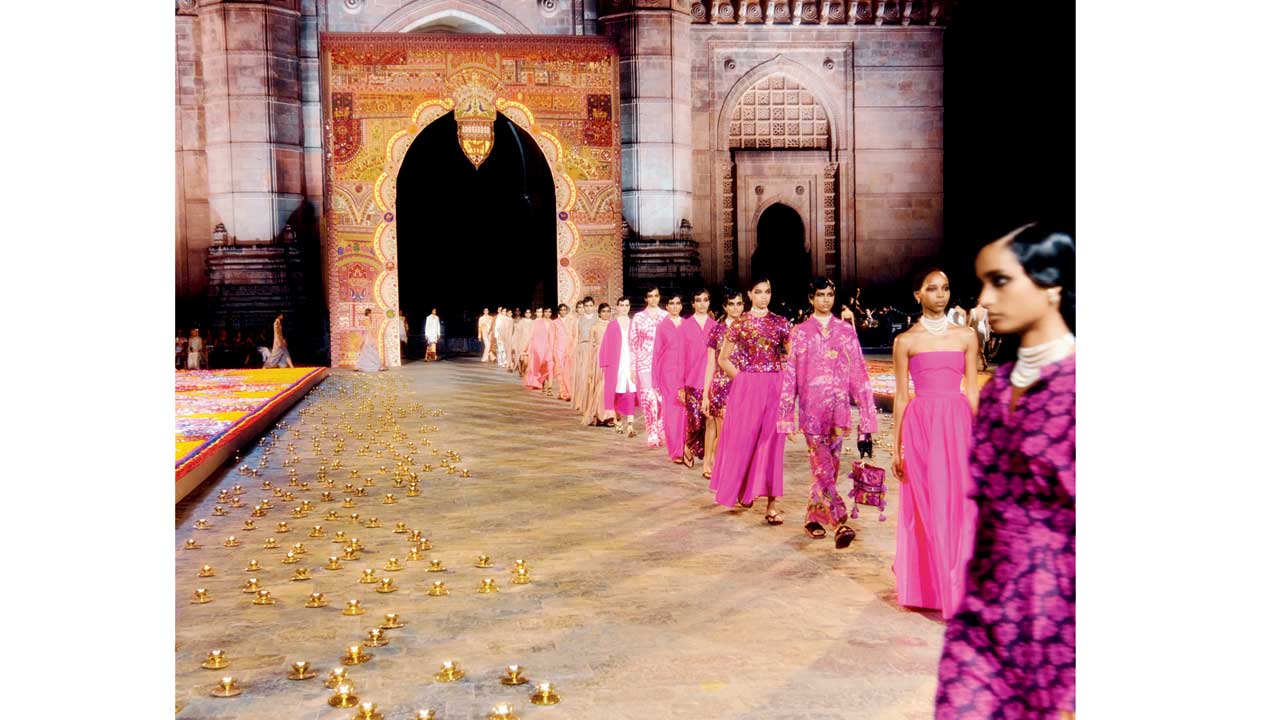 Dior Fall 2023
That an Italian woman, the first incidentally, to ever head Dior in 75 years, was saying as a pointer to a collection that came from a place of exchanges and crossovers. French minimalism waved namaste to plurality of ancestral Indian artisanship in saree-inspired skirts and kurta-referenced tunics and shirts that came together to remind us of the kurta-lungi combo that is a sartorial staple in most Indian states. The evening coats, boleros and draped dresses carried the quintessential Chiuri approach of functionalism and clean lines; at other times, they came embellished with updated zardozi, applique, mirrorwork or in chintz. We thought that the streamlined collarless shirts borrowed from the men's wardrobes, and the iconic Christian Dior Bar jacket reimagined with a Nehru collar, came across as potent weapons, whether for the boardroom or the boudoir. 
Starting with "We Should All Be Feminists" (the title of Chimamanda Ngozi Adichie Ted talk) written across a "couture" T-shirt that marked her first collection on the Dior Spring 2017 catwalk, Chiuri continues to smash fashion's glass ceiling with a good set of intentions, finding inspiration in the work of female painters, writers and collaborators.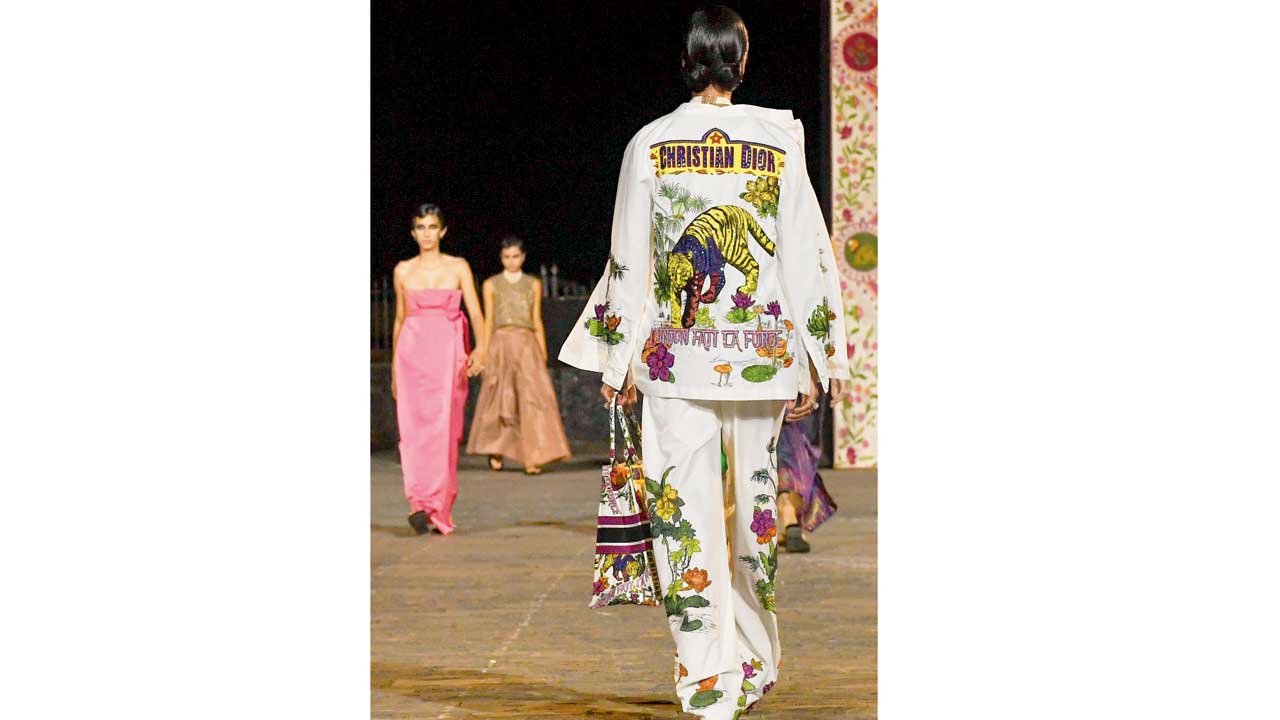 Maria Grazia Chiuri thinks this embroidered jacket looks like a Bollywood cinema poster, emblazoned with the luxury brand name and logo, L'Union Fait La Force, which translates to Strength Through Unity. Pic/Getty Images
Chiuri's familiarity and connection with India dates back three decades when she would develop embroideries with Indian haute couture specialists for Valentino. Since joining Dior, she has made it her priority above all to engage and deepen the friendship with India via partnership with Swali, whose atelier and non-profit outfit champions the inclusion of women into a highly-skilled artisan industry that has traditionally seen the men hold more powerful positions while the women have played the role of allied workers. 
The show was an opportunity then to deconstruct and question emerging conversations around the craftsperson's place in luxury, whether specifically to do with expertise, innovation, fragility or exclusivity. Like the complex craft of chand jaal (Kasab) reinterpreted as a delicate French lace using fine gold and silver threads that is one-fifth the diameter of human hair, there were multiple delicate strands at play that evening. "What we seek to do with the collection is really to explore the genres of craft across the country," explained Swali. "We have chosen Indian savoir-faire that is a combination of hand-woven and hand-spun textiles such as the Madras checks and relooked at hand block printing, and within hand embroidery, we have worked with different schools of skill and craft techniques to bring a new language that is fragile yet contemporary."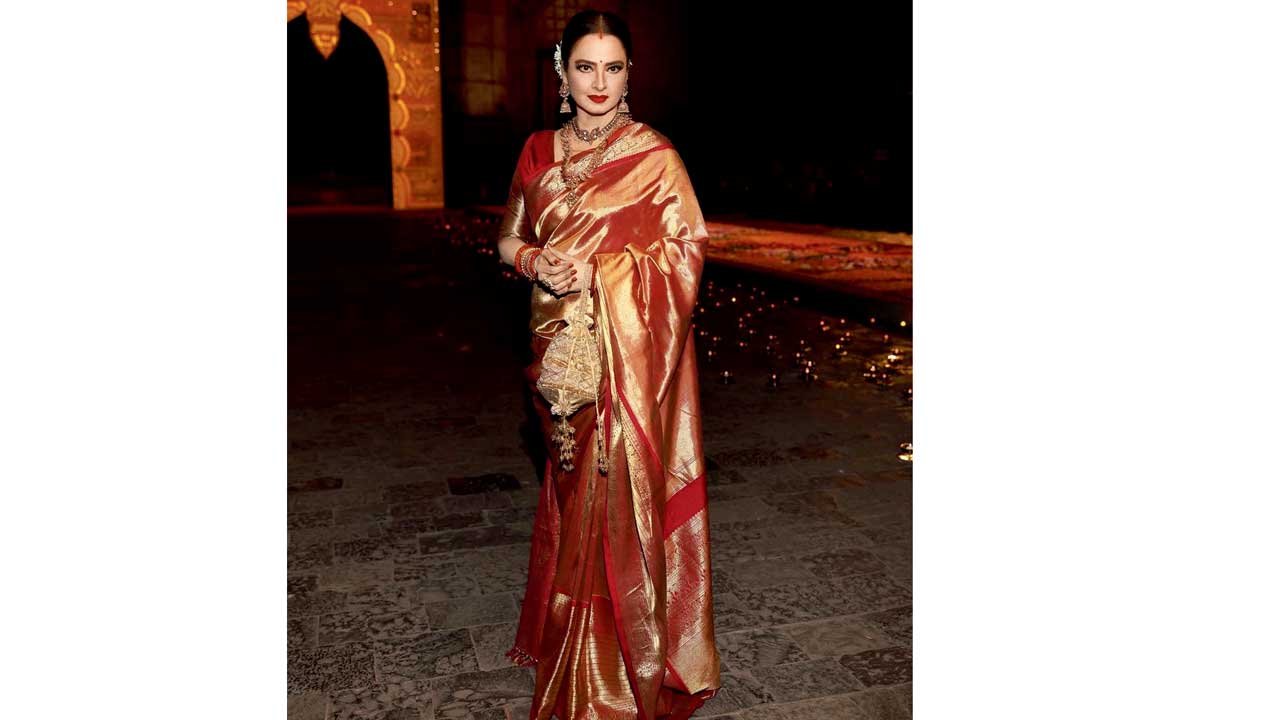 Kanjeevaram on the Dior Instagram: "I am interested in contemporary women. Rekha ji, for me, is so fascinating with a cool sense of tradition. She has an incredible energy; I would like to have that energy," said Chiuri, creative director of women's lines at Christian Dior about meeting veteran Indian actor, Rekha
In this collection, Chiuri proved that high fashion can fly without compromising on credit and respect. The silks, we were informed, had been woven according to hallowed traditions that stay alive to this day in Tamil Nadu. Indian handiwork, this time, was not a nameless, faceless service that couture brands across the world have hired. The artisans and embroiderers were collaborators, and with this event's symposium-style messaging Chiuri possibly addressed the industry's red-flag issue of cultural property. But it also prodded us to reflect on the freeing possibilities of a scaled-down silhouette with maximum louche elegance. At the after-party, Chiuri, dressed in trademark black—culottes and kurta—offset by kohl-eyes, heavy rings on several fingers, slipped in and out of Kolhapuri flats as she got comfortable on the floor surrounded by her team. We can tell she favours comfort over corsetry. 
Chiuri's can-do women are practical looking and their wardrobe is designed with an uncomplicated sense of tradition and contemporary freshness; not necessarily for drawing the eye. "I like it that every woman can transform things for herself. Each of us can wear every piece in a different way. You can mix daywear and evening wear," she had told Vogue Runway when discussing this collection.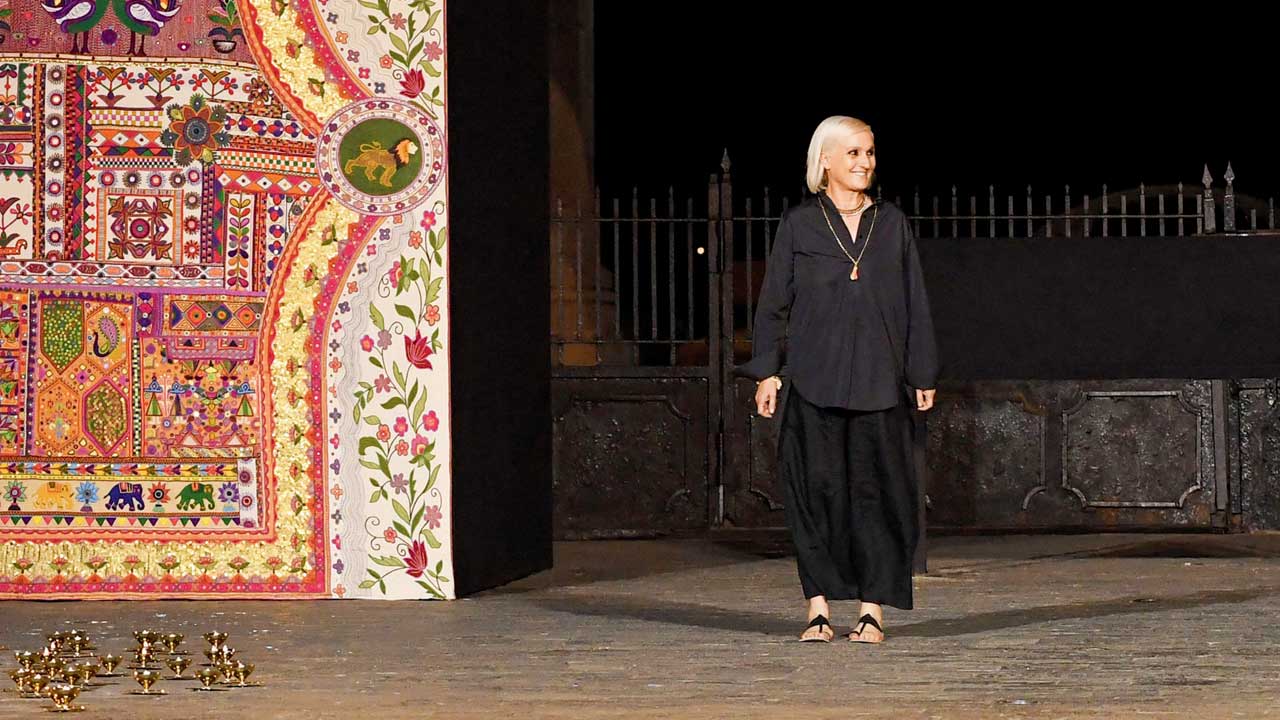 Maria Grazia Chiuri
To bring this collection of ensembles alive, Chiuri dipped into Dior's archives which revealed photos of former artistic director Marc Bohan along with a group of models arriving for shows to Mumbai and Delhi on an Air India flight in April 1962, to initiate a conversation between France and India. At Thursday's show, a colour block sequence dedicated to silks—in shades of green, yellow, pink and purple—stood as a sanguine homage to Bohan. 
"Exciting news! Mid-day is now on WhatsApp Channels

Subscribe today by clicking the link and stay updated with the latest news!"
Click here!