Abduction rumour hysteria gets bizarrely complicated by real cases of missing teens as mid-day goes to the epicentre of child kidnapping news where parents are in panic and police, helpless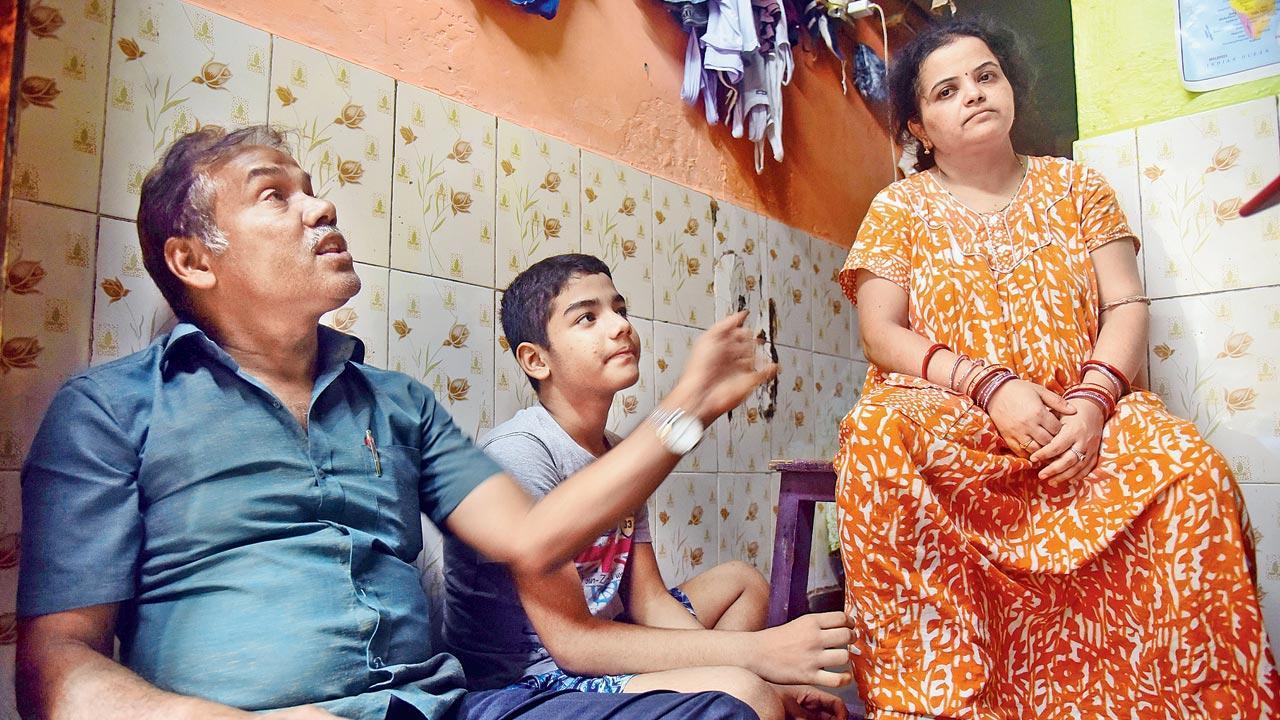 Shivaprasad and his wife Pinky Bishoyee at their home in Navpada, Kurla West. Their 15-year-old son, who is not seen in the frame, had left home on September 26, but didn't return that night. He was found the following day, near a cricket playground in Bhandup. Pic/Shadab Khan
Kurla West resident and social worker Anita Shetty is at her wits end. Where she otherwise spends a better part of her time helping families in need and conducting donation drives, she now finds herself grappling with rumours that have consumed her neighbourhood.
"Parents are a nervous wreck," she says, when we meet her outside the gate of Holy Cross High School, Kurla, at 2 pm on Wednesday. Shetty is here with a pair of volunteers, distributing food packets to lorry drivers and cart-pullers. A beggar in rags is hovering, watching from the distance. She calls out to him, and hands him a banana. "Everyone is a suspect," she says, as he crosses the road, disappearing into the crowd.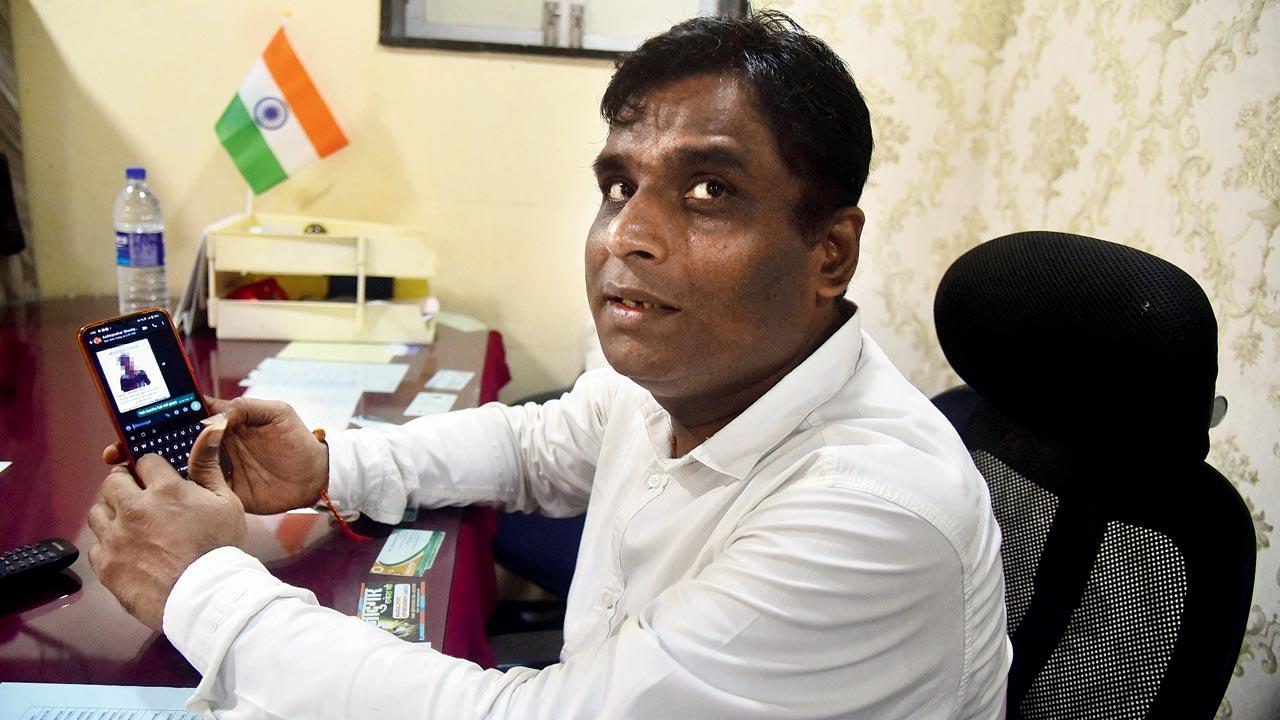 Surjya Narayan Gauda, who runs the Mumbai Utkal English High School in Kurla West, shows a WhatsApp message he received of a boy who went missing from the nearby Shingrewadi, Bail Bazaar on September 26. While he was found a day later, Gauda still continued receiving 'missing' forwards two days on. He has been personally messaging people, requesting them not to share old forwards. Pics/Shadab Khan
Only an hour ago, the place was brimming with chaos, as children from the school's morning shift left for the day. "Families arrived in droves to pick up their kids," says Shetty, a resident of the nearby Christian Village. According to her, this wasn't the case earlier. "Kids would walk back home on their own, or take a shared auto-rickshaw. Now, the school isn't letting students leave the premises, if a parent or guardian doesn't show up. This overcrowding leads to massive traffic jams near the junction."
For the last one month, the looming fear of child abductors has gripped the area, as it has, in several pockets of Mumbai. Fake and unverified video and audio messages doing the rounds on WhatsApp and social media, with wild claims about kidnappers being on the prowl, has left parents anxious. "All we needed was for someone to stoke the flames," Shetty says.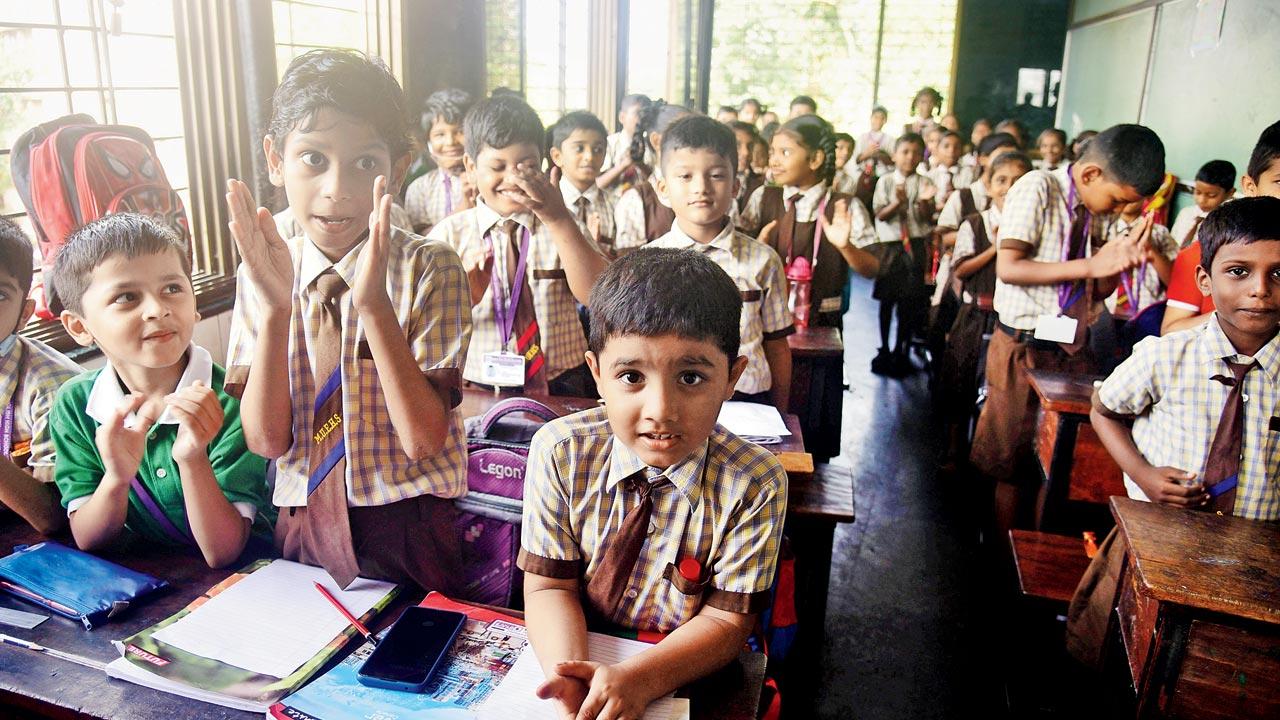 Over the last two weeks, awareness programmes have been conducted for students of Mumbai Utkal English High School; they've been told not to talk to strangers or take things from them
That finally happened on September 15, when the manager of a cooperative housing society on Premier Road issued a circular to the residents of B-Wing, claiming that two children from the basement of the A-Wing had gone missing. The circular cautioned parents against leaving their children alone, and directed them to have a photo ID and address proof of their house helps handy. "The circular went viral on many WhatsApp groups in Kurla," says Shetty.
Surjya Narayan Gauda, vice president of the Bombay Utkal Samiti, an organisation dedicated to bringing Odias living in Mumbai on a common platform, explains why the situation could have gone out of control. "The neighbourhood is home to a diverse group of communities—we have temples, mosques, a church and even a gurudwara within shouting distance. There's a school every few metres. Most of the people here are on different WhatsApp groups. Rumours about kids are bound to spread quickly, first within the community and then outside," says, Gauda, adding, "Everyone was only trying to spread the word, and warn others."
The truth was that it was all hearsay. "No kids had gone missing from the basement of the building... the letter had been drafted based on hearsay," Rajiv Chavan, senior police inspector, Vinobha Bhave police station, tells mid-day. "We clarified this by putting out a video [that was shared on social media and WhatsApp groups], and assured residents about the news being fake."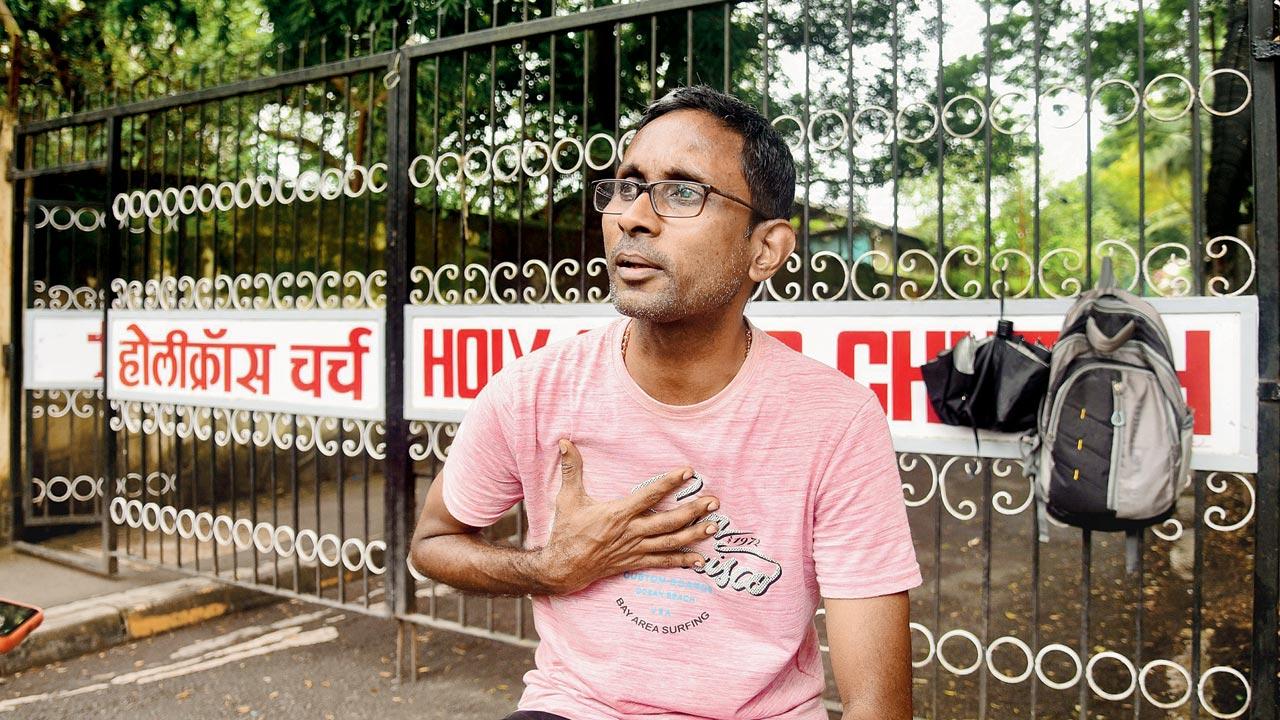 Manuel Correia, who has two sons, says managing kids in the present environment has proved to be tough
But, what happened two days later, left everyone flummoxed. Two girls, both Class X students from another wing of the society, didn't turn up home after school. A source from the neighbouring society told mid-day that the CCTV had captured the two girls leaving home around 6 am in their school uniforms. "But they didn't go to school, and instead went to meet a person they got acquainted with on Instagram. They were found the next morning, near a restaurant 
in Bandra. Nobody knows how they got there."  Senior PI Chavan clears the air: "One of them had an issue with her family, and had left home with a friend. Both of them had gone to Kharghar and returned home late that night. I think they did that to attract their families' attention. Nobody went missing." 
The development, however, had a ripple effect, with parents panicking about the alleged kidnapper who was roaming Kurla's streets. It's been over two weeks, but the atmosphere is still disturbed.  
Kamarunnisa Baig is a mother to a 23-year-old and 11-year-old. She confesses that her WhatsApp is flooded with voice notes and videos, some of which are deliberately meant to induce shock. "In one video, I saw this man using chloroform on a child... it took barely a second for the kid to lose consciousness. Another video showed a man extracting organs from a child's body. I could only see the ribs. It was very disturbing. I shared these with my family members and friends. As parents, we are concerned; it's our duty to inform others who have younger children."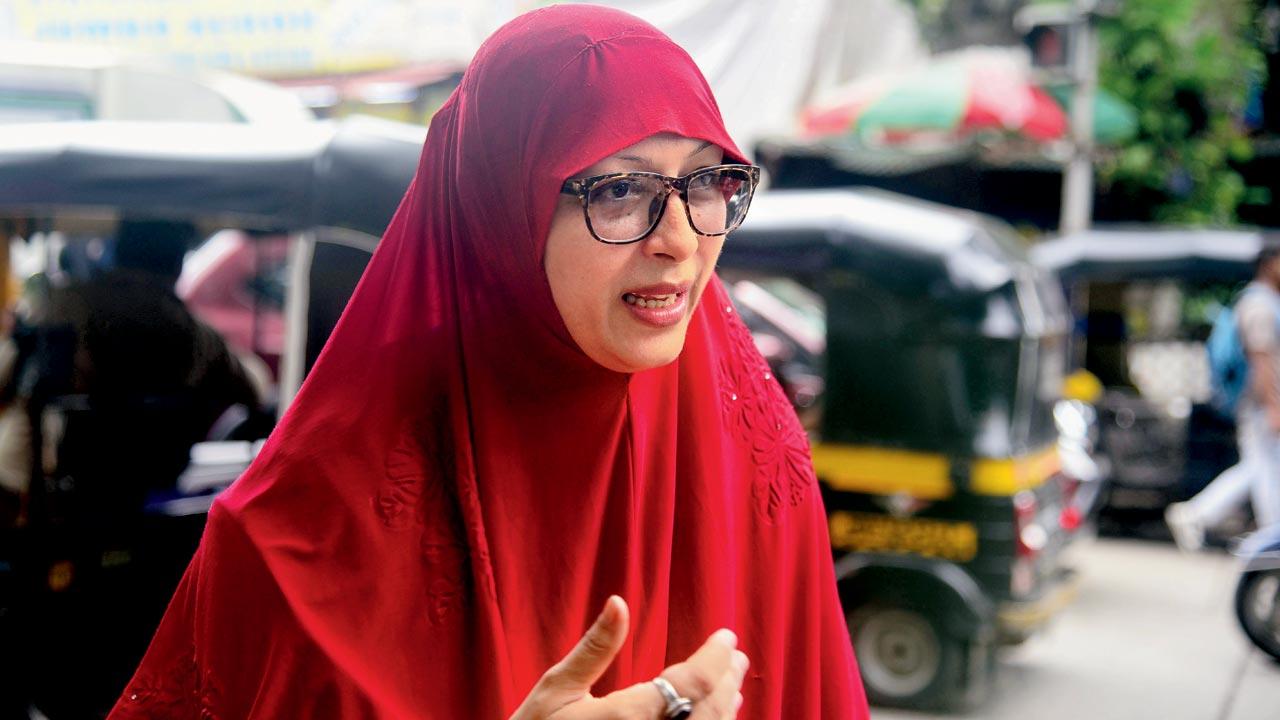 Kamarunnisa Baig has been sharing WhatsApp forwards related to child abductions, out of concern
Baig's son studies at Kurla's Karthika High School and Junior College, where stories of children going missing were circulating. Baig chokes up at the thought of losing her child. "My younger son learns taekwondo, and he tells me, he will fight the kidnappers, but only a mother knows the pain of losing a child."
Another parent Manuel Correia has two sons. "One is eight and the other is nine," says Correia, whose wife works abroad. Managing the kids on his own, and in the present environment has proved to be tough, he explains. In the area where Correia lives, there are four schools—Holy Cross, Karthika, Mumbai Utkal English High School and Michael High School. "Almost every day, I hear about a kid disappearing from so and so school. It's too close to home to not affect me."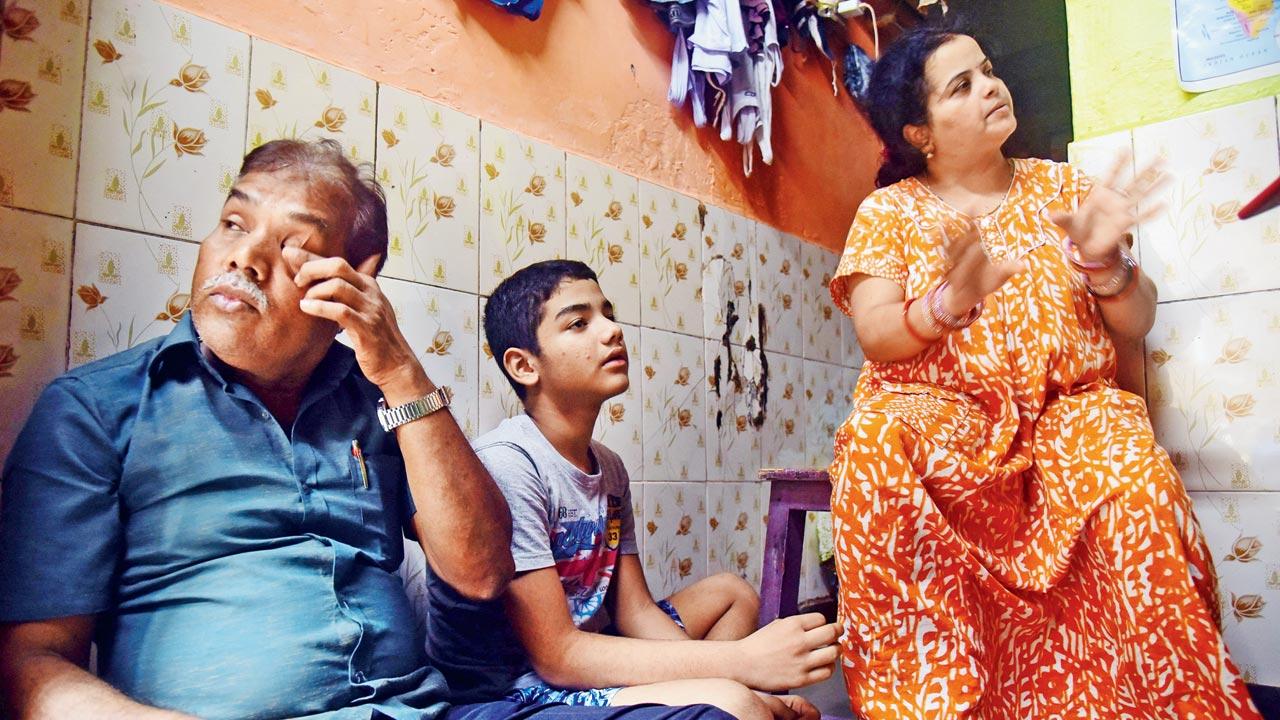 Shivaprasad and Pinky Bishoyee at their home in Navpada, a slum in Kurla West. Their 15-year-old son (not seen in frame) went missing on September 26, leaving them worried sick. His mother had initially assumed he had been kidnapped due to the rumours in the neighbourhood. They later learnt that he left home because his father wasn't allowing him to join a cricket coaching class
His solution is to pick up and drop off his children to school every day. "Even if all this is a hoax, I cannot afford to let my guard down. What if they step out during their recess?" he asks. Correia has instructed his kids against speaking to strangers, and to wait inside the school premises until he arrives. "These days, I am always on tenterhooks. If I receive a call from a teacher while they are at school, the first question that pops up in my head is, 'Are they safe'?" Shetty adds, "My beautician told me that from now on until the situation calms down, she is going to stop working, as she wants to watch over her kids."  
According to Gauda of Bombay Utkal Samiti, who also runs the Mumbai Utkal English High School, children are the biggest sufferers. "They are afraid and it is impacting their mind and ability to focus on academics. Parents are telling them to focus on being safe. Some are even refusing to come to school because of this." Gauda says the school has 800 students, both girls and boys. "We offer a lot of extra-curricular activities, like dance and yoga, after school hours. Over the last two weeks, the number of kids attending these have dropped to half." He has been inundated with calls from parents since the rumours first broke. "After a point, it became unmanageable, so I decided to hold meetings with select members of the Parent-Teacher Association [PTA]. We listed measures that could be adopted to ensure that the children are safe."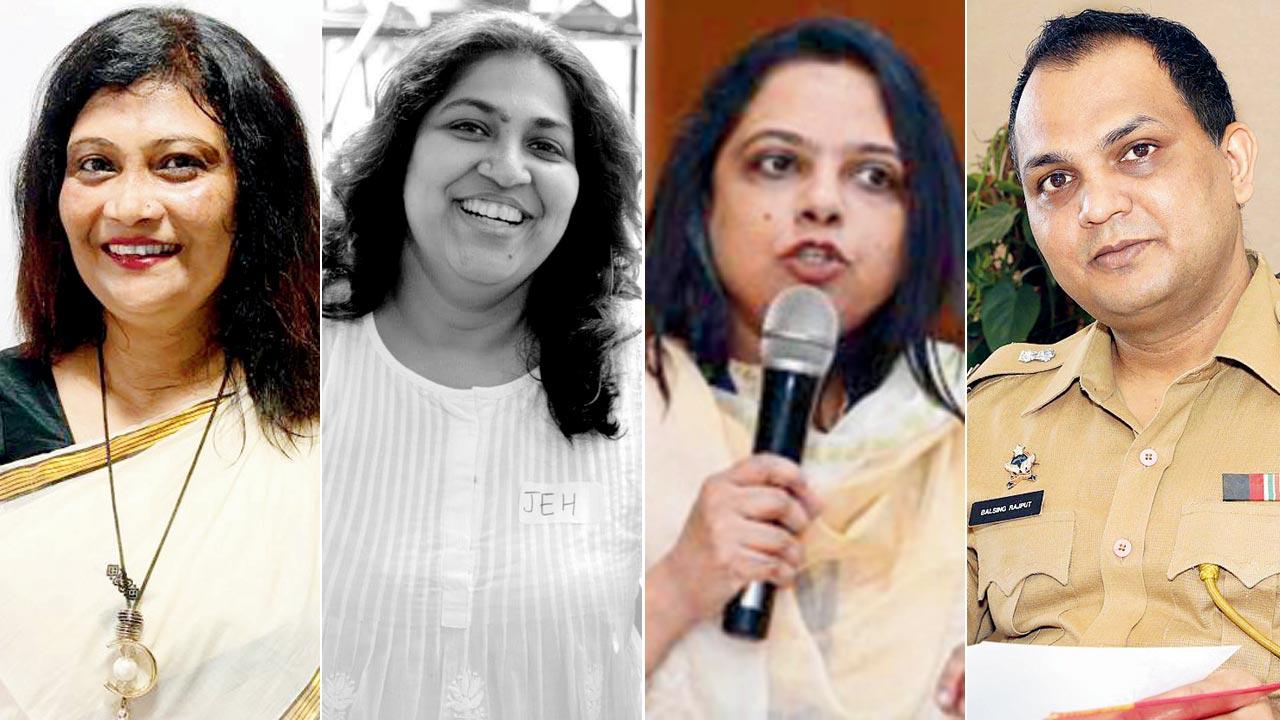 Anita Shetty, Jehanzeb Baldiwala, Masarrat Khan and DCP Balsing Rajput
While Gauda had previously installed CCTV cameras on the school premises, and the street outside, he admits that some of them were not functioning. "We got them repaired immediately," says Gauda, who monitors the CCTV network for suspicious activity. The gates of the school also remain shut during school hours, and the security guard only lets kids out after school, when their parents arrive.
Gauda has also been dropping into classrooms to check on the kids, and educate them about not talking to strangers. We join him during one such visit. "Have you heard about the kidnappers?" he asks kids of Class IV. They say in unison, "Yesss!" He interjects, "You don't have to be afraid... but what will you do if a stranger tries to hold you?"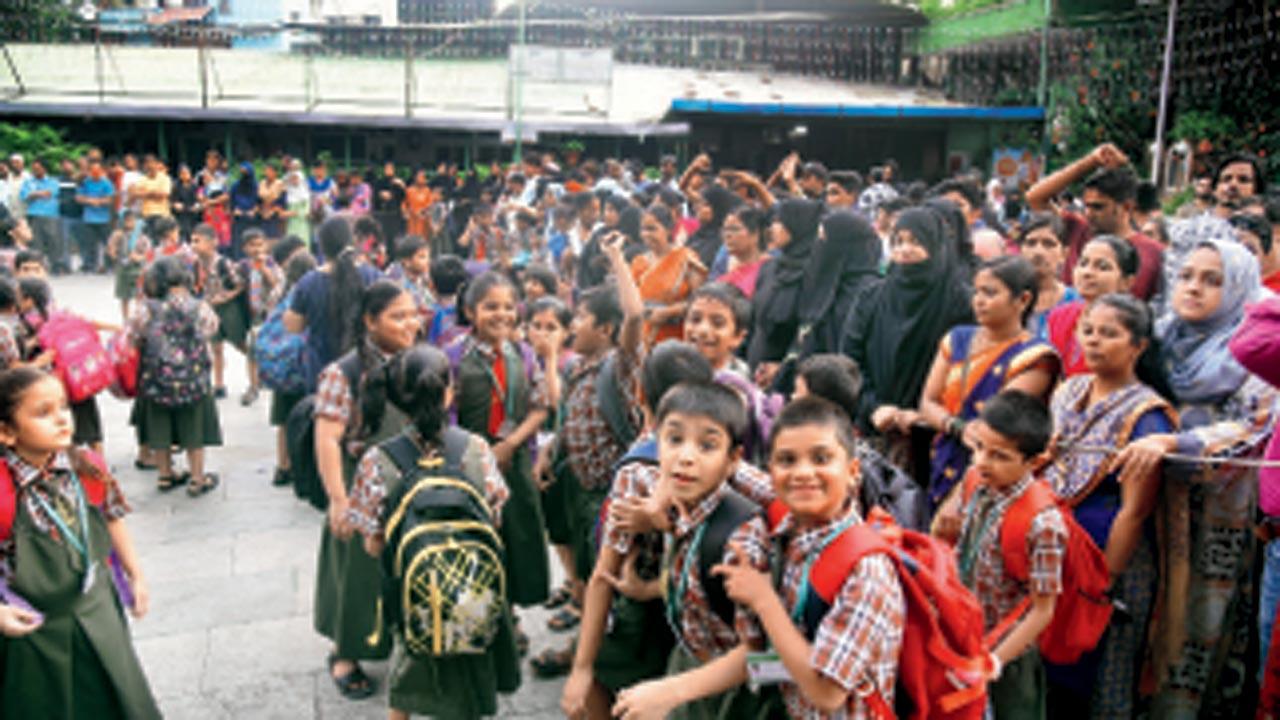 Authorities at Michael High School have used ropes to cordon off the area, to avoid chaos when parents come to pick the kids in the evening after classes end
The children shout, "Bachao, bachao!," and break into laughs.
   
On Monday, September 26, a voice note claiming that 15 children had been abducted from Michael High School went viral. Principal Jean M Gomes, who spent the entire day responding to parents' queries, eventually decided to file a police complaint. "I had been hearing this gossip every day, but when my own school was dragged into the mess, I got worried," she says. Gomes then shared a copy of the complaint with parents via WhatsApp. "Ideally, I would have wanted the police to write a letter stating that these are rumours." Gomes believes this could be the work of an outsider. "This is some mischief-maker who is trying to mentally disturb the children, who are already reeling from the effects of the lockdown." She says that most children who used to take the school bus are now going home with their parents, and that's added to the management's woes. "The bikes have increased on the narrow stretch... and the overcrowding has made it difficult for movement of traffic post 5.15 pm when school ends."    
Principal Jean M Gomes says that most children who used to take the school bus are now going home with their parents, and that's added to the management's woes
The panic is not restricted to Kurla. mid-day on September 21 had reported about the Mumbai Police being bombarded with queries from anxious parents. Joint Commissioner of Police (law and order) Vishwas Nangre Patil had told mid-day that it began with a message about "40-50 child abductors doing the rounds of the city", and that they were investigating how the hoax began. Apart from an audio clip claiming that three kids from Kala Vidyalaya were kidnapped in a van in Malwani, there were rumours of a man being beaten up after he allegedly tried to molest a girl in Vasai. In Andheri, things took an ugly turn when a paanwala told residents of a society that someone tried to kidnap his 10-year-old son. Speaking to mid-day, Ankur D, a resident of the building, says, "The paanwala's shop has always been around. When he sent a WhatsApp message to a few acquaintances, we had no reason to not believe him. We too started forwarding it, and alerted the police. But, it was a hoax. The paanwala had forwarded the same message he got from someone else."
News about the child abductors has spread as far as Uttar Pradesh. In Sultanpur, which is 135 km from the capital Lucknow, Salma Khan has refused to let her children go out to play. "We've heard of children going missing from schools in our neighbourhood," she says. "My kids are just six and five. They are too young to make sense of this. At one point, I was so scared that I didn't send them to school for a few days."
When contacted, Balsing Rajput, Deputy Commissioner of Police, Technology and Crime Prevention, shared that the Mumbai Police has already started reaching out to parents and students, and has been conducting awareness and sensitisation programmes. "We are also reaching out to others, like the transport providers [school bus and rickshaws] and tiffin services. If anyone finds anything suspicious, either online or offline, we are requesting them to call on our helpline 100." The police, he says, is currently trying to track the people behind the confusion. "If it's just a message, tracing how or who forwarded it becomes difficult. When it comes to video and audio messages shared over WhatsApp, we can try and track the persons seen in these images, but the possibility of finding them is very slim. Awareness and alertness is key," he says. Rajput suggests citizens approach the nearest police station, instead of forwarding messages and adding to the panic.
In the midst of this din, a series of strange events in Kurla, have made parents, who are trying to counter the fake child abduction narrative, second guess themselves.
Soon after reports of the two missing girls being found, surfaced, an eight-year-old went missing from  Shingrewadi on September 26. He was found at Kurla railway station a day later.
In another case, a 15-year-old disappeared on September 26 after telling his mother that he was going to see the pandals in the neighbourhood. He was traced the following day. mid-day met his parents, Shivaprasad and Pinky Bishoyee at their home in Navpada, a slum in the neighbourhood.
When Pinky opens the door, her face seems swollen and her voice is hoarse from crying. She had spent a sleepless night. "He recently secured admission to junior college in Bhandup, and had begun to attend it two weeks ago. On Monday, he left at 10 am, and never returned. He had also left his phone behind," she recalls. Pinky isn't active on WhatsApp, so she hadn't seen any of the child abduction messages. "But my younger son studies at Karthika, and when I went to pick him up, I heard the chatter about the abductors. That was the first thing that came to mind," she adds, teary eyed. Since the family had to wait 24 hours before filing a police complaint, their restlessness snowballed into full-blown panic. On September 27, after Shivaprasad returned from the police station, his wife informed him about a call she had received from an unknown number. "We tried calling back, and a person responded. We asked him about our son, and he told us that a kid had borrowed his phone to make a call. We reached the spot, and found him there," says Shivaprasad. Their teenage son had left home because his father had refused to enrol him into a cricket coaching class. He had spent the night sleeping near a cricket playground in Bhandup.
Jehanzeb Baldiwala, mental health counsellor and co-founder of Narrative Practices India, says, one cannot rule out the possibility of children making the most of an opportunity, especially when there's already panic around. "One of the more expected outcomes is that kids start getting fearful and feeling anxious. Very few would really take advantage of the situation, but it can happen among those in their pre-teens or teens, because that's the age when kids are trying to push boundaries and assert their independence; they are on the lookout for any opportunity that they can latch on to."
Psychologist Masarrat Khan says the pandemic has only emboldened kids to respond and react in a certain way. "One of the more harmful effects of excess use of digital devices among kids, has been the exposure to information that is not age-appropriate. The thrill in experiencing what is forbidden has always existed, but now they have easy access to it," she says. School  is now the least of their priorities. "While some of these children have either lost their social skills and prefer to be on their devices all the time, there are others who want to explore the world that they have experienced on their screens." In both the cases, there's a possibility of kids attempting something that would rattle their teachers and parents. "It could be for the sheer thrill of it. It could also be a perfect excuse to escape school and studies, even if for a short while."
Meanwhile, the Bishoyees have decided to go soft on their son. "Our world fell apart when he went missing... we were fearing the worst," Pinky says. His otherwise unrelenting father has agreed to cave in to his son's demands, and allow him to play cricket. "Let him do what he wants to. He is precious to us."
Sept 15
Day when manager of Kurla housing society issued circular claiming two children from basement of the building had gone missing
15
No. of children allegedly gone missing from Michael High School, according to a fabricated voice note