A new immersive theatre performance does a one-on-one with audiences — under the shower and in the bedroom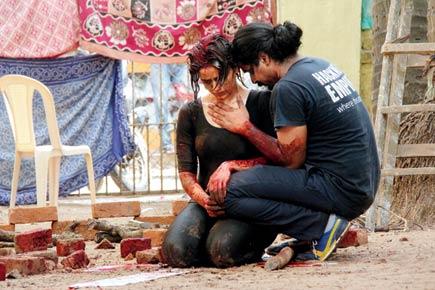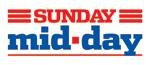 In 36 Questions in Proximity of a Conver-sation, actor-director Nihaarika Negi sits blindfolded in a room with a pail of water in front of her. The audience enters a-person-at-a-time into the room, where Negi will first wash their feet.
Then, they follow her to a shower. She invites them to make use of several domestic items that are scattered about — perhaps turmeric, flowers, or maybe a string of yarn — and apply those on her.

Performer Lucky Vakharia (left) and a participating audience member, during a show of 36 Questions in Proximity of a Conversation. "First touch and then sight," is how founder-member Nihaarika Negi describes the play. Pic/Asawari Jagushte
But, there is a catch. Negi will ask one question, which you must answer honestly. Uncomfortable or alleviating, you get your chance too, to pose a similar question to the actor. If this is not your usual theatre experience, then that is what Negi, a founding member of Accelerated Intimacy, hopes to achieve.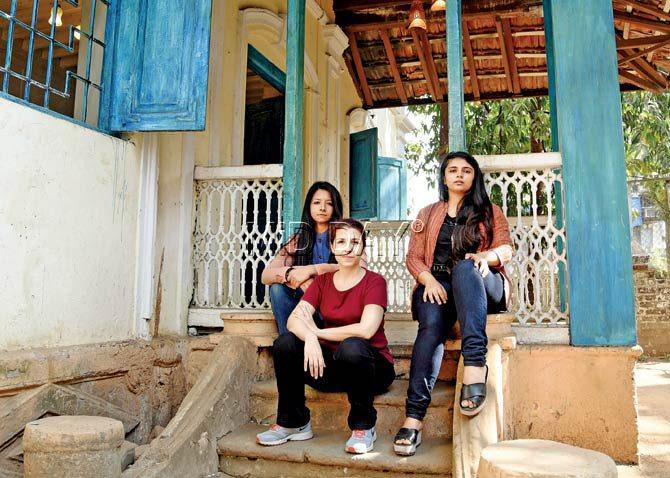 (From left) Nihaarika Negi, Scherazade Kaikobad and Aalisha Sheth from Accelerated Intimacy. Pic/Nimesh Dave
Taking place in secret locations (we got to know that there is a villa in Versova where they performed in October, and an earlier performance happened across three houses at Yari Road) over more than six hours, 36 Questions is just the second stage-less immersive theatre experience in the city.
"It's about making connections between people who haven't met before in a performative space. We get to the core of the experience very quickly," says Negi, 28. The title is based on a set of 36 questions designed more than 20 years ago by American psychologist Dr Arthur Aron, intended to make strangers fall in love, and fast.
What is your most treasured memory? What is too serious to be joked about? What is the greatest accomplishment of your life? Pretty intimate, right? The questions, spotted by one of the group's members, National Award- winning film actor, Anjali Patil, have morphed on the lips of these actors.
"We move away from these questions and open up other areas of life," says Scherazade Kaikobad, a product of Delhi's National School of Drama. "We invite each audience member to make certain conversations on childhood, upbringing, career, memory and so on."
In the last performance, 32-year-old Kaikobad called audiences to a meal of eggs and tomatoes at different stages of cooking, and chatted with them about "love, longing, loss". Aalisha Sheth, one of the newest members of the group, is planning to devise a performance along the lines of gender policing and body shaming in the next edition.
Each production of 36 Questions is different. Dependent on audience reactions at a very personal level, the theatre group spends about 10 days rehearsing before each performance. They use the psycho-physical awareness method, which uses yoga and tai chi to train the artistes.
"The approach is all about risk-taking, and putting audiences in positions out of their daily states of being and thinking. We think of all possible permutations and combinations — if the audience reacts like this, then how do we respond? But at the end of the day, it is more intuitive and less algorithmic.
The play morphs every time; I hope we never reach a stage where we 'come and do a piece'," explains Negi. How does the audience deal with all of this? Are they squeamish or forthcoming? Audiences are warmed-up a bit over email (asking them to wear clothes they wouldn't mind getting messy in and also revealing the secret location), and actors chat with them over a couple of days prior to the performance, getting them in that introspective mood.
"People sign-up and it's full disclosure. They are usually willing to engage in play. It is after all six hours that you get to spend by bringing attention to yourself," says Negi. And yes, we are allowed to take loo-breaks, grab a bite, wander into one of the six performance rooms as we like, and free to leave anytime.
But, considering you get to know of the performances only by word of mouth, you may want to make the best of it. The group is currently seeking "innovative" funding — maybe a farmhouse, a bungalow or an apartment — that will open its doors for their performances, each of which can cost up to Rs 50,000.
Sending out private emails and raising small campaigns, Sheth says, "It is difficult to sustain our kind of work since it is distinct from usual performances." Kaikobad chuckles and adds, "I think there is space for immersive theatre, although I don't see it becoming the next big thing. The audience has to be committed to it. Besides, who is going to offer their house for six hours?"