After Bottega Veneta disappeared from social media, in what's being called the ultimate power move in luxury fashion, India's top luxe players debate the meaning of luxury in a post-COVID, Insta-addicted world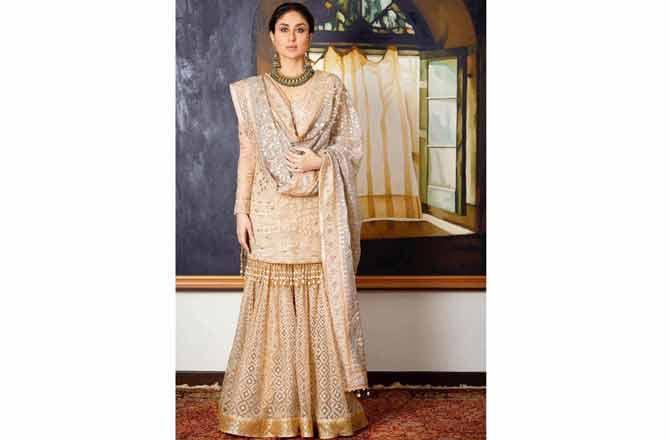 Actor Kareena Kapoor Khan in a gold Chanderi kurta with gota and sequins embroidery worn with panelled sharara and embroidered dupatta from Tarun Tahiliani couture 2016 collection
The idea of luxury has been diluted, it seems," Hanut Singh, designer of art nouveau jewellery, writes in an email about the click-bait frenzy of social media making the very definition of what counts as luxury fashion, blink.
In the month that the high-profile Italian fashion house Bottega Veneta quietly disappeared from all social media platforms without an explanation, an interesting discussion has been ongoing on the state of social media in luxury.

Tarun Tahiliani
The subject of luxury fashion is cool right now. When confronted with the global pandemic restrictions of 2020, brands had to decide which way to go: back to the dream, nostalgia, preciousness and exclusivity; fast forward into the world of digital technology; or strike a balance between the two? "We had no choice but to focus on social media, thanks to the pandemic. It's no longer about brides prancing in palaces... the mood behind real luxury has shifted. And, it's social media that has influenced this change," says Tarun Tahiliani. Instagram, and YouTube to an extent, now constitute a holistic social media ecosystem for designers.
As perceptions begin to shift regarding Instagram, the photo-sharing platform, as one of the most powerful marketing tools out there to engage customers, the communication around what classifies luxury fashion is so utterly unhinged that it's impossible to tell what's genuine and not. "Luxury becomes a troublesome word when designers who do not understand its ethos resort to constant validation by way of promotion, and of course, the logo. I don't understand the fascination around logo hai toh luxury hai!" says Tahiliani, whose eponymous brand turned 25 last year.

Nefertiti featuring blush gold, pearl and diamonds by Hanut Singh
Most confuse fashion with luxury. Fashion refers to the clothing industry while luxury is a broader term outlining both personal and abstract experiences. "Luxury is a pleasure. I love Prada boots, my experience of wearing them, and I don't care how many people own them. This exclusivity bulls**t has to stop now," recommends Tahiliani.
The word luxury is subjective, believes one of Indian couture's strongest voices, Sabyasachi Mukherjee. "I'm speaking of luxury from the consumer goods standpoint. The rarity of a product does not translate to rarity of communication. You can't grow a luxury brand by denouncing democracy and inclusivity." His army of Instagram public profiles includes five official Sabyasachi and four metro-specific handles. Their combined footprint: seven million.

Hanut Singh
He acknowledges that not all of his millions of followers can actually buy Sabyasachi. But that's beside the point. Instead, it is the ability of modern luxury fashion and jewellery brands to enter an Instagram dialogue—a direct and special relationship with their global audience—and to influence this existing customer base's future purchase potential that's critical. "If there are 100 casual browsers, there will be one serious buyer. I like the idea of luxury on a democratic platform; it gives everyone an equal chance to aspire," Mukherjee believes. "My product is the influencer, my product is the hero—not me." The man who turned the Royal Bengal Tiger into a status symbol ironically does not have an e-commerce presence. He also calls fashion weeks elitist.
Interestingly, Aditya Birla Fashion and Retail Limited acquired 51 per cent share in Sabyasachi brand for approximately R398 crore. The partnership will see ABFRL support the brand on its journey to become a global luxury house out of India, a press release said.

Archana Jain
Visibility and perception matter most on a platform like Instagram, and for all the major players in the luxury business, its flip side is also its audience—it's what drives the dopamine hit from refreshing feeds every 10 minutes. "Psychologically, it ages your new collections and campaigns faster. You refresh the page, and ask: what's next? It's an entirely different kind of beast," feels Tahiliani. Instagram's notoriety for plagiarism is also problematic. "[Plagiarism] It's one of the drawbacks, yes, but you can't shortchange a customer because of an occupational hazard," Mukherjee concedes.
Incidentally, Tahiliani and Mukherjee presently don't have personal Instagram accounts. Singh does. His account invites people who don't know him or his work into his world of deluxe living; music, dogs, vignettes of his home, jewellery designs (through embed website) intermixed with A-list celebrities Meryl Streep, Nicole Kidman and Amy Adams spotted wearing his jewels. "I post my work often; stuff that I have done in the past with a smattering of new designs. I don't overthink it [exclusivity]. I know my game."

Indrani Dasgupta Paul wears the Calcutta sling bag by Sabyasachi, featuring the Royal Bengal Tiger insignia
Archana Jain, founder and managing director at PR Pundit, an integrated communications agency, says social media is a great tool to crowdsource ideas and opinions, and champion a luxury brand or service. "In comparison to Facebook or Twitter, Instagram is elitist. But then, if I have to reach out to a customer in a two-tier city, I will use Facebook as a maintenance platform while Instagram stays as the primary content generator," explains Jain. Her agency's client list includes beauty giants Estée Lauder, Forest Essentials and L'Occitane, watchmakers Chopard and IWC, and Lamborghini and Lexus automobiles. In fashion, they represent Burberry, Christian Loboutin, The Collective, Sanjay Garg's Raw Mango and Eka by Rina Singh.
Tools like Instagram or podcasts allow brands to take ownership of real-time communication in a controlled environment, which they can influence, instead of letting others do it for them. The key is to find a balance between digital marketing and the brand story across products and concepts. It is a collaboration between multiple stakeholders, also one that requires market understanding and a pinch of science. "With luxury houses like Hermès or Louis Vuitton, you don't just post; you also promote your posts so they reach not only your aspirational customer but also the feeds of affluent clients," she says.

Sabyasachi Mukherjee
The Business of Fashion (BoF) and McKinsey report estimates 71 per cent of fashion executives expect their online business to grow by 20 per cent or more in 2021. But marketing alone can't sustain the brand if the product is mediocre. "Post COVID-19, luxury purchases are value oriented. Clients seek intimate value from the product, not marketing," says Mukherjee.
'A brand should be its own person'
Payal Khandwala on designing limited edition sarees, rethinking brand strategy and beginning on a clean slate on Instagram

Payal Khandwala
Last September, Payal Khandwala did something unthinkable. She cleared all previous posts on her brand's social handle and started afresh. It was part of a rebranding strategy; a new brand logo was created, backed by a fresh approach that involved a strong "Bombay" focus. The brand thrust remained resolute on women and clothes. "It doesn't make sense to have the ex-boyfriend hanging around when you want to start a new chapter," she laughs. What she will also tell you after gentle probing is how platforms like Instagram, with visually sophisticated tools, have allowed a packaged illusion to become more important than the product itself.

Khandwala's latest collection is a limited edition series of 10 Jamdani sarees in handwoven silk
"When a brand is reduced to reels of doctored pictures and disingenuous storytelling, there is a problem. I wanted to take a break from the maya of Instagram, and its personalised algorithm; designed to love and promote brands that post daily." Her personal login @payalisnotavailable was set up to follow accounts dedicated to dogs, cats and Bernie Sanders memes. Because Khandwala has a small-scale production unit, she designs fewer collections, and never puts her products on sale. The brand's recent launch is a limited series of 10 Jamdani sarees woven in silk by hand—an exploration of a craft typically done in fine muslin on handlooms. "It worked very well and I think its success has got to do with the fact that there was only one of each piece."
'Instagram was a blessing'
Karan Torani adopted a cost-effective, customer-first, micro approach to brand growth. And it worked

Karan Torani combines aari work (single thread embroidery) with delicate organza and Chanderi
When Karan Torani opened his official Instagram account in July 2018, it was because he had no business plan, financial support or privilege backing him. "I knew no one is coming to save me. I learned how to photograph my garments and post images on social media. If I hadn't done that, unlikely that I would've made an impression?" The Delhi-based designer turns 28 today. He is one of the upstart fashion businesses to attract a discernable following without spending a fortune on traditional marketing strategies.
He was clear that Indian craft and textiles would be at the core of his design philosophy when he launched his "everyday luxury" label two years ago. Handcrafted Chanderi chintz being a staple from his first collections, he has now achieved a technical feat of sorts by combining aari work (single thread embroidery) on delicate organza and Chanderi while also experimenting with antique zardozi and marodi work (twisted embroidery).

Karan Torani
Instagram is as much a creative showground for customer-centric homegrown content, images and videos as it is a business platform. Sometimes, a post receives 1,000 price requests and four transpire into actual sales, but then he also admits to have also sold 100 pieces through one Instagram post. He directs interest from social media to his website where a client has options to compare and choose. The trick, he says, is to push the product on Instagram and sell it via the website. "You can't ignore the young demographic that's navigating social media; they will be your clients tomorrow. More than 50 per cent of my business happens on the platform."
At the time Torani was struggling to launch his label, he recalls a senior fashion journalist's snub: India does not need another Indian brand. He thinks, "Fashion's you-can't-sit-with-us attitude needs to go. Those who say social media is mass belong to a mindset that finds gratification in the hierarchy of a fashion week."