Navya Naveli Nanda, who talks about love, health and life with her mother and nani in a new pan-generational podcast show, says it's a continuation of the evening gup shup at the Bachchan residence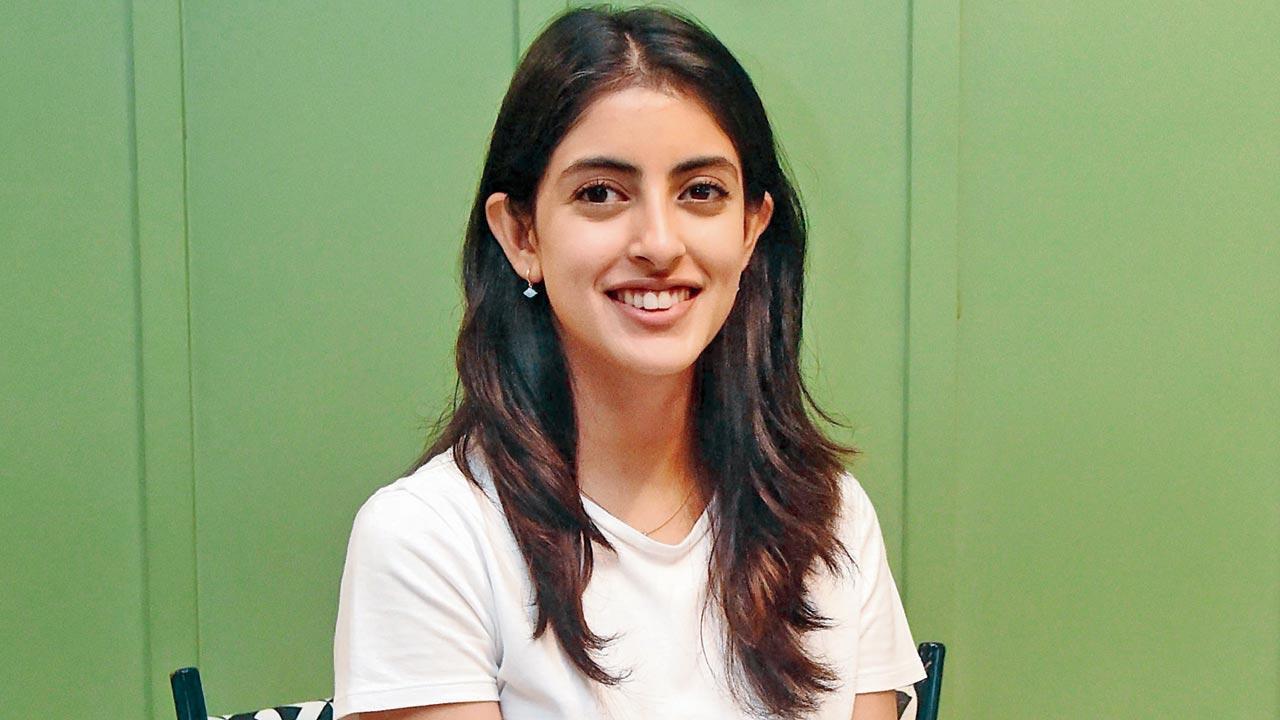 Nayva Naveli Nanda started her entrepreneurial journey two years ago with the health-tech company Aara Health. She is also the founder of non-profit Project Naveli. Pic/Shadab Khan
We've been curious about Navya Naveli Nanda's journey for a while, moreso because she carries the weight of two illustrious families, the Nandas and Bachchans. While enjoying the many gifts of this legacy, it often also gives someone like her little legroom to choose a career that's unusual. The easier path, in this case, would be to go with something familiar, mostly because of access—what is now being infamously labelled as "nepotism".
Navya, 24, seems a bit different. She has a LinkedIn account for starters, where she describes herself as co-founder of Aara Health and the founder of the non-profit Project Naveli.  
Yet, her privilege is not lost on her. "I was brought up being told that with privilege comes responsibility. I think that's something I have always tried to follow," she says, when we meet her at IVM Studios in Khar West on a weekday afternoon. Navya is dressed in a simple tee and black trousers, sans makeup. Nothing about her gives you an impression that she is trying too hard.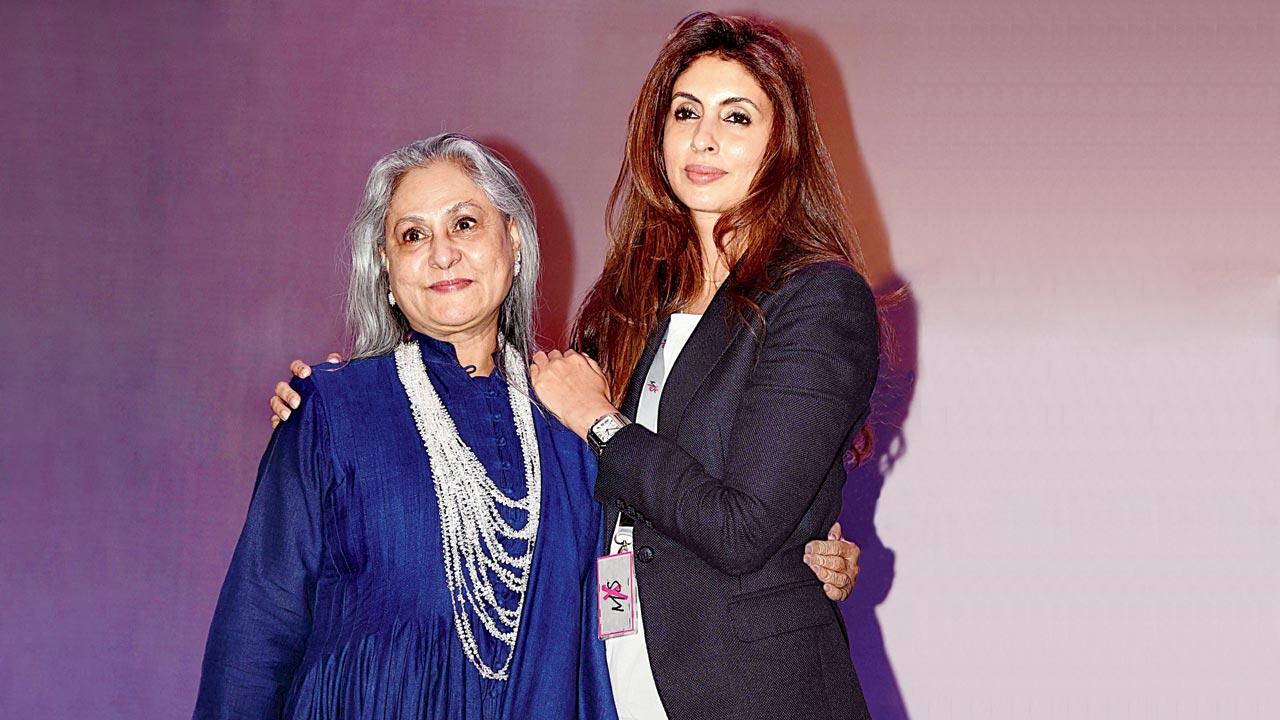 Navya says that the podcast allowed her mum, nani and her to speak "more authentically and candidly" about issues that concern women
As a young entrepreneur, she has been leading from the front, working with women and for women, especially the disadvantaged. Now, in a first, she has decided to put herself out there with the podcast, What The Hell Navya, where she will be joined by her writer-entrepreneur mother Shweta Nanda and grandmother, veteran actor and parliamentarian Jaya Bachchan. Created by IVM Podcasts, the 10-episode show, will see Navya, who plays host, and engage with the duo over a host of issues, again concerning women—from female friendships to financial independence, love, parenting, and women's health. Navya says what helped is that Shweta was already a big podcast listener. "My nani too, is a big sport, and is always excited about trying and doing anything new. She did not need a lot of convincing."
Kavita Rajwade, co-founder, IVM Podcasts, who has joined us briefly, describes it as a "pan-generational show". "Like any 24-year-old, Navya has a story to tell," says Rajwade. "While Navya has her own interesting journey—and she uses her social media to talk about it—I think she was really keen on doing something with the two women in her life. It was interesting to explore what conversations she wanted to have."
For Navya, the podcast was an extension of what she did at home every day. "My nani, mom and I sit and talk every evening. We did this a lot during the lockdown, when we spent more time together," she recalls, "I thought it would be interesting to put this out—how three different generations look at the same issue. What made it exciting is that we all have differing opinions, and while we haven't always agreed on things, we respect the other's opinion, which I think is important. It's always great to learn from other people's perspectives, and that's what we are trying to do here as well."  
She adds that through the show, she also wanted to urge "other girls my age, to sit down with their mums and grandmums, and talk to them about things that they are curious about".
While the Bachchans are a private family, Navya feels this podcast allowed them to speak "more authentically and candidly". "It's completely unfiltered. We've not held back, because when you are talking and in the flow of it [a conversation], you don't think twice about what you are saying. In terms of speaking about our lives and experiences, we were able to communicate like we have never done before, some of which involves personal anecdotes too."
Podcasting was a happy accident, just like her career in the social sector. "I don't think an entrepreneur decides to become an entrepreneur. There are a lot of problems that we can solve in the world, but the second you find a solution is when you know that you can become one," she says. Growing up, Navya says she was sure she didn't want to pursue acting. "But I didn't imagine I'd be doing what I am doing today." It was during the lockdown that she met her now co-founders, and "that's when we started talking about how difficult it was to get access to information about our bodies, because a lot of these conversations are still stigmatised, and we can't openly talk about it". "We wanted a platform that could do that. And that's what Aara Health is about. The goal was to create a safe space for women, and allow them to talk about their bodies."
Her non-profit Project Naveli took off sometime later. As part of the initiative, the team, along with Mukul Madhav Foundation, has built period positive homes in Fasi Tola, a tribal village in the Dhanora block of Gadchiroli district. "Here, they follow a custom of banishing women outside the village when they are menstruating. They are forced to stay in open fields with no roof over their heads, and no bathrooms. We built 'period positive homes' where the women now stay during their menstrual cycle. We have also built toilets, and provided them with sanitary pads. While our goal is to try and sensitise the community and discuss why such customs can be harmful, we also know that we can't change a mindset instantly." Apart from healthcare, Project Naveli also works in the education sector and helps women achieve financial independence with EntrepreNaari. There's also a legal awareness programme in collaboration with Pink Legal called Nyayri, where they provide pro bono legal counselling services for women. "[As a person of privilege], I am grateful that I have these opportunities and resources. But, when we talk about women's empowerment and feminism, it doesn't mean the empowerment and progression of one woman. Collective action is possible when people like me, who have opportunities, share. It wouldn't make sense if it was just me living my life, and doing what I want to do with my career."