This week's Bollywood release starring Hrithik and Saif relooks at one of India's oldest folklores about a righteous king and shifty ghost. The film's directors get talking with a children's book author about sahi, ghalat and everything grey in between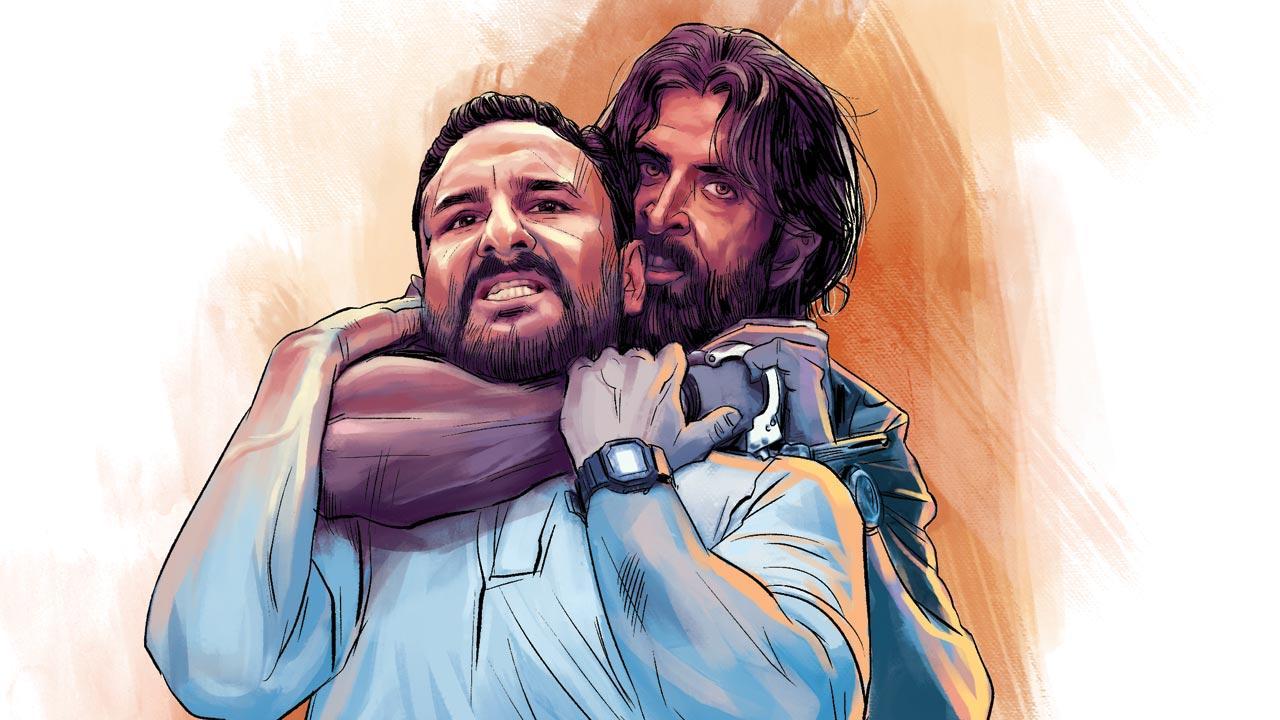 Illustration/Uday Mohite
Why did you choose the characters of a policeman and criminal to tell your own version of Vikram and Betaal?" children's book author Deepa Agarwal asks writer-directors Pushkar-Gayathri, whose movie Vikram Vedha hit the screens on Friday. Agarwal, who has 50 titles to her name, has penned her own retellings of the Baital Pachisi or Vikram Betaal—including, Listen, O King!: Five-and-Twenty Tales of Vikram and the Vetal, which according to her is the adult version of the subversive texts that make one question the good and bad.
The director couple, who has remade their own 2017 Tamil film, starring Hrithik Roshan as Vedha, the criminal, and Saif Ali Khan, as Vikram the cop, seem as obsessed as Agarwal with the collection of stories. Originally known as Baital Pachisi, the earliest version could have been compiled as early as the 11th century in a Sanskrit work by writer Somadeva. Many centuries later, it refuses to leave the imagination of the Indian mythology lover.
"We had thought about the landscape," Gayathri says in response to Agarwal's question. "Could it have been based in politics or business? But we wanted some action, drama, and so, the roles of policeman and criminal seemed apt." In the movie, Vikram sets out to track and kill Vedha, the gangster. After he voluntarily surrenders himself, he tells Vikram three stories that changes his perception of good and evil.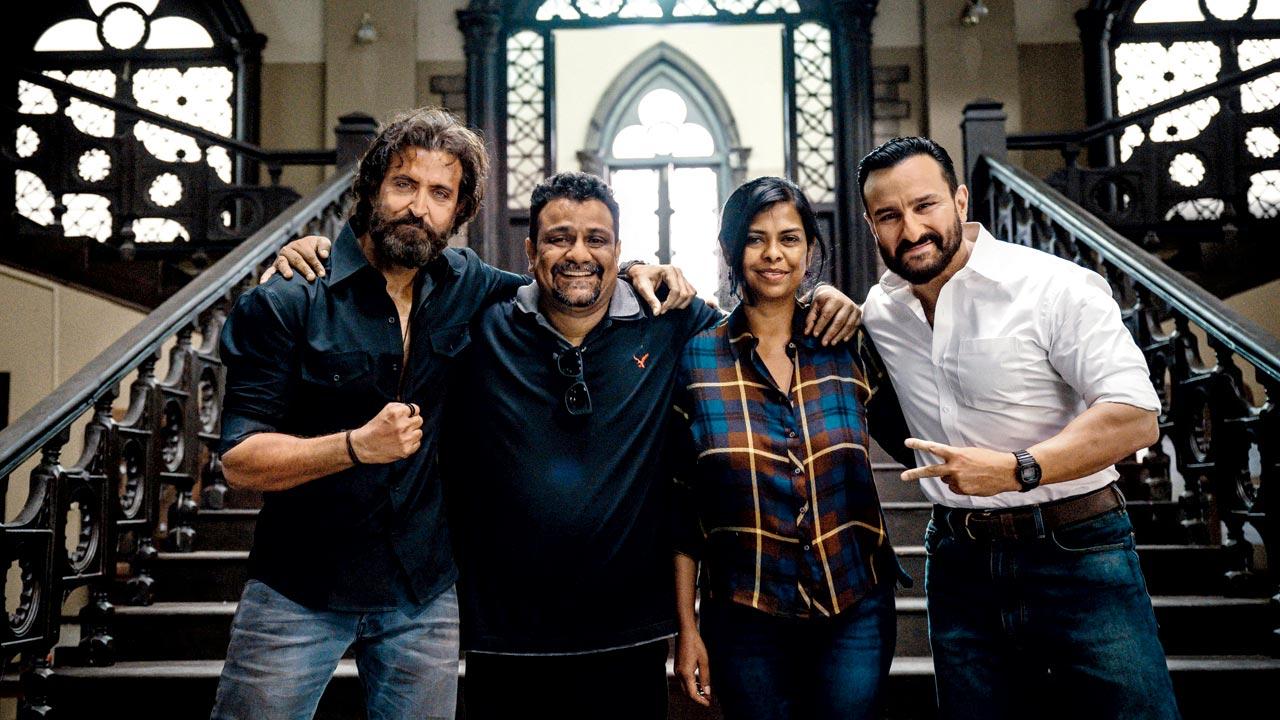 Vikram Vedha directors Pushkar-Gayathri with the film's stars Hrithik Roshan and Saif Ali Khan
mid-day is observer in a conversation between the three chatting about myth and truth, and why this folktale continues to stay relevant in a world where people are challenging established notions of how one must conduct himself, or what is considered the right thing to do. The directors say that their love affair with the stories started when they were younger, not very different from those of us who spent Sunday evenings watching the television show, starring Arun Govil as the good and just King Vikramaditya and Sajjan as the conniving ghost Betaal. Every time Vikram caught Betaal, the ghost insisted he hear a story that always ended in a question. When the king was flummoxed to offer an answer to a morally-ambiguous question , the ghost disappeared. "We were having a late-night chat about how all narratives always have a clear good and bad [angle]. Where are the stories of grey? How do we juxtapose good and bad with grey?" Pushkar says, thinking aloud.
In fact, the two say that the version of the Vikram-Betaal stories told in Tamil Nadu, ended with a choice that King Vikramaditya had to make. "That interested us—the question of moral ambiguity. We were interested in this intersection of mythical with modern storytelling," says Pushkar, as Gayathri adds, "Most of our folk tales don't have characters who are all white; they are a bit of this and that."
Because most of the policemen the filmmaker couple met pride themselves on instinctively being able to tell the innocent apart from the guilty, they wondered, what if that intuition went wrong, and you are in a position of power? "It's likely that this intuition rides on stereotypes, on certain characteristics that you expect a certain kind of person to have."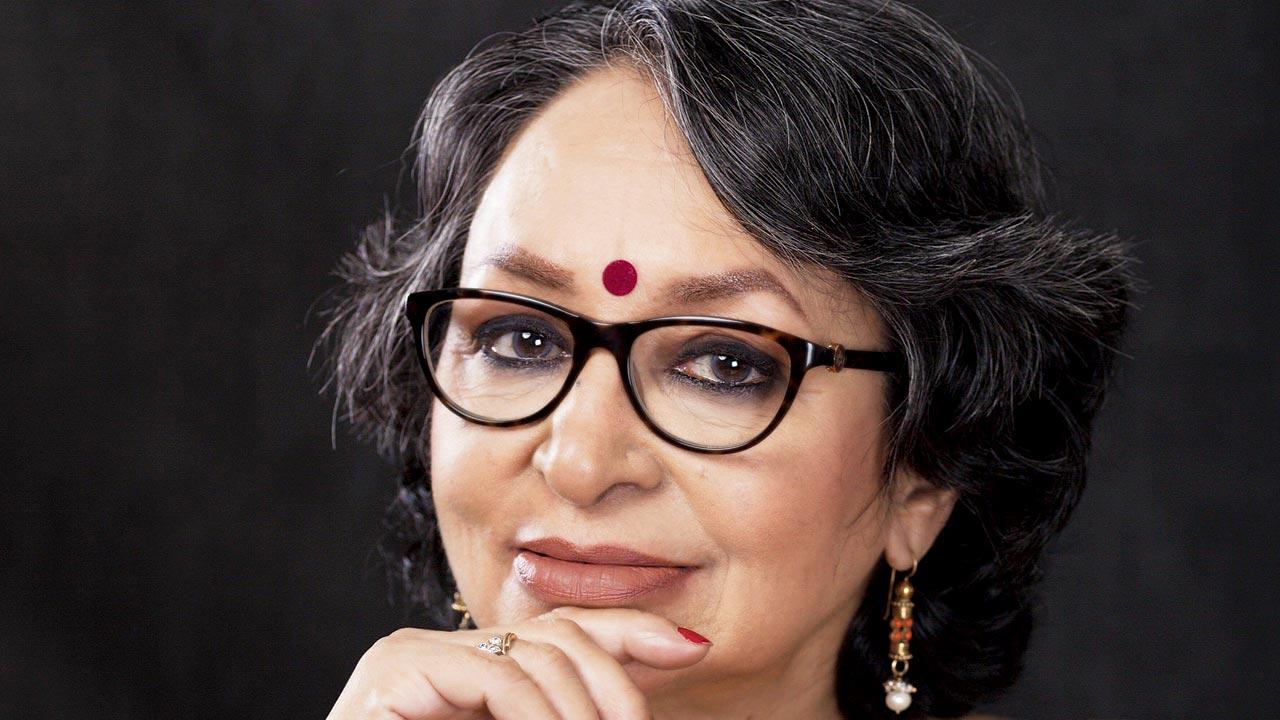 Deepa Agarwal
But they were clear that there was no redemption for their gangster character. "Vedha's character doesn't have a heart of gold. It was conscious [decision to portray him as all black]. And that's why Betaal is interesting; the devil changes in every story. He was a big inspiration for Vedha's character," 
says Gayathri.
Agarwal says what she finds fascinating about the premise is the accountability even a King must show. Pople in authority need to be questioned. "The ruler is supposed to make a good judgment, and that is something that Betaal consistently questions. That the gangster can pose questions to a policeman is important," she thinks. Pushkar agrees that the point of the story is to question the wisdom of the ruler. "It challenges the notion that the ruler is always right."
The intriguing part of the folk lore, and frustrating as too, is that Vikram allows this consistent questioning—he is always game to take on the challenge Betaal throws at him. "We had to create situations consistently in the script so that Vikram actually listens to the stories of Vedha." Deepa adds, "Cops and gangsters are inseparable, and Vikram and Betaal too. Often Betaal is perched on his shoulder. He mocks him even, 'you may be powerful, but I have you in my control!'"
Pushkar shares that they worked on the actual imagery of Betaal hoisted on Vikram's shoulders. "We have shot certain scenes in a way that makes it seem like Hrithik's character is hovering over Saif. It's that imagery which stays with the viewer."  
In the end, all three agree that the story needs to be told again and again, to children and adults over time. "Most of the time, children are told stories where the answer, and only one answer, is available and apparent. But they must understand that life is complex. This story challenges the dharma of the ruler," says Agarwal. Pushkar calls it critical that such stories exist in our culture to challenge stereotypes— "the wise king, the slimy hyena, the calm deer".
But, at the end of the day, the duo agrees that this is a film, an entertainer, and the audiences will come to theatres to enjoy the imagery and dialogue baazi. Gayathri says, "We also hope of course, that audiences think about the deeper message, of rethinking what's good and bad. There is a lot to ponder over."