Hum Log's Badki and House Full's Banta Singh rope in their theatre-possessed kids to pay a tribute to Bhisham Sahni. Chandrima Pal crashes breakfast at the Pahwas to eat-sleep-talk theatre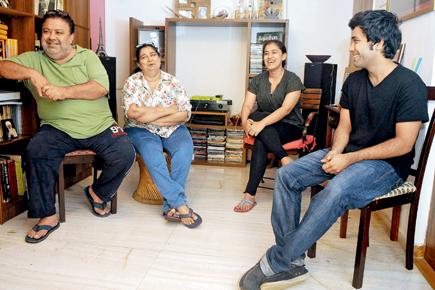 Manoj and Seema Pahwa say practical experience like running Kopal is the best education they can give Manukriti and Mayank. Pic/Nimesh Dave
It was during one of the shows for critically acclaimed play Mahabhoj based on Mannu Bhandari's Hindi novel. There were 11 members in the cast, and only seven in the audience. One of the actors cracked a joke about how their fate was worse than that of prostitutes, with more service providers in their midst than clients.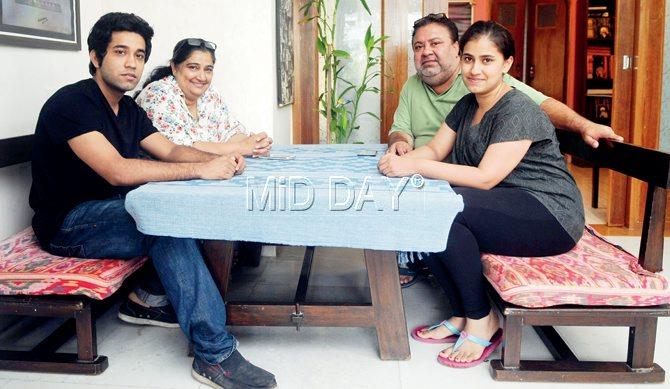 Manoj and Seema Pahwa with Manukriti and Mayank. Pic/Nimesh Dave
Television and cinema's favourite character actor, Manoj Pahwa's deadpan delivery of this rather mature and brutally honest anecdote has his wife clicking her tongue in good-natured disapproval. Their kids in the room — daughter Manukriti and son Mayank — are having a laugh at what is evidently one of the family's in-jokes. "That's theatre for you," says Manukriti, who has for the last one year been giving shape to the Pahwa family theatre group, Kopal. "Because there is no money in what we do, it helps us stay grounded."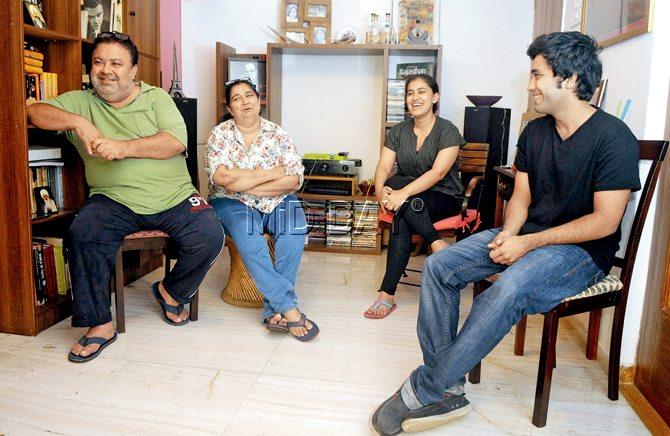 Manoj and Seema Pahwa say practical experience like running Kopal is the best education that they can give Manukriti and Mayank.  Pic/Nimesh Dave
We are in the green-thumbed Versova residence of the family of actors and writers — Seema, a television and theatre veteran who earned her stripes with Delhi's Sambhav Theatre, later, the seminal Hum Log mega TV series and more recently, Rajat Kapoor's well-received Ankhon Dekhi; her husband Manoj and their children — grabbing a few precious minutes from their grand rehearsal the day before Bhishmotsav. It's a tribute to late writer and playwright Bhisham Sahni on his birth centenary that falls on August 8. The production features a stage adaptation of his stories and snatches from his life, with veterans Naseeruddin and Ratna Pathak Shah, Yashpal Sharma and Heeba Shah taking stage, besides the Pahwas, who will perform solo acts.
"I have been an actor for 45 years, but this is the first time I have mustered the courage to direct," says Seema. The legendary author has been an important part of her education. "In Bombay and the rest of the country, most people aren't aware of his works, other than Tamas, perhaps. Bhisham's elder brother and actor Balraj Sahni was always better known. Delhi, where I was born and raised, has some idea of his work. It is unfortunate that a stalwart of Hindi literature is almost forgotten," says Seema, who speaks of her wish to pique audience curiosity about Sahni's rich and unexplored body of work. Maybe, she says, after watching Oob, Dholak, Yaadein and Samadhi Bhai Ramsingh, people will be drawn to his repertoire. "The works are as relevant today as they were when he wrote them. The human condition has not changed. Emotions, experiences haven't either. Perhaps technology has brought in some change."
The production sees each member of the family take up different roles: Seema as director, Manoj, as financer/producer, Mayank, as creative force and Manukriti as the livewire captain of the ship.
"There are no arguments, but disagreements, yes," say the siblings, insisting that the dining table is sacred space, where their intense work as actor, director, producer and writer is easily forgotten and differences amicably resolved.
This production is ambitious, admits Seema, who created a stir last year with her take on Sahni's Saag Meat, a satire on the middle-class. She chose to discuss meat for the privileged vs humble palak for the poor by cooking the dish live on stage everywhere she performed. "With actors like Naseeruddin and Ratna, and picking just five from a vast treasure of stories and plays, staging this was a task in itself," she says. This is also a test case for Kopal, which intends to get on the road with this production before branching out into documentary filmmaking.
"The idea of Kopal was seeded by my mother once we were back from graduating in dramatics from Baroda," says Manukriti. Adds her father, "Instead of trying to look for work outside, we thought why not do our own thing?" The arrangement seems to be working fine so far. "Seema is the director, both, at home and on stage," laughs Manoj. The kids say they are simply driven by the passion for theatre.
"It is an experiment," says Manoj. "The kids have just graduated and may pursue a Masters in Dramatics. But there can be no better training than a practical one. We consider this the best education we can give our children." The siblings nod
in agreement, getting wide eyed at the mention of the stalwarts who they are observing up close, and simply "listening" to them "express" as opposed to "perform."
While Seema has been an old hand on stage, Manoj says Naseeruddin Shah nudged him towards theatre. "We were at a party for Being Cyrus (Homi Adajania's film where they shared screen space). And I was telling him how, despite having made money as a TV and film actor, I was not having fun. He said, 'get into theatre.'"
Manoj took his advice seriously. "Naseer says film actors are the laziest lot around. Classical musicians start their day with riyaaz. For actors, who take their craft seriously, theatre is the only way to practice their craft."
The chat winds up with the family huddling at the low dining table one last time before leaving for Dadar, where they begin their mammoth nine-hour drill. Manoj has clearly not shaved in days; Seema smiles nervously while the kids look eager, raring to go. "For the first time in my life, I get to take the final call," says Seema. "I just hope I am able to do justice to both, the actors and the stories."