High street uniforms are for rule-followers; forge your own party looks using mix and match with the help of style mavericks before you step out to make heads turn this New Year's Eve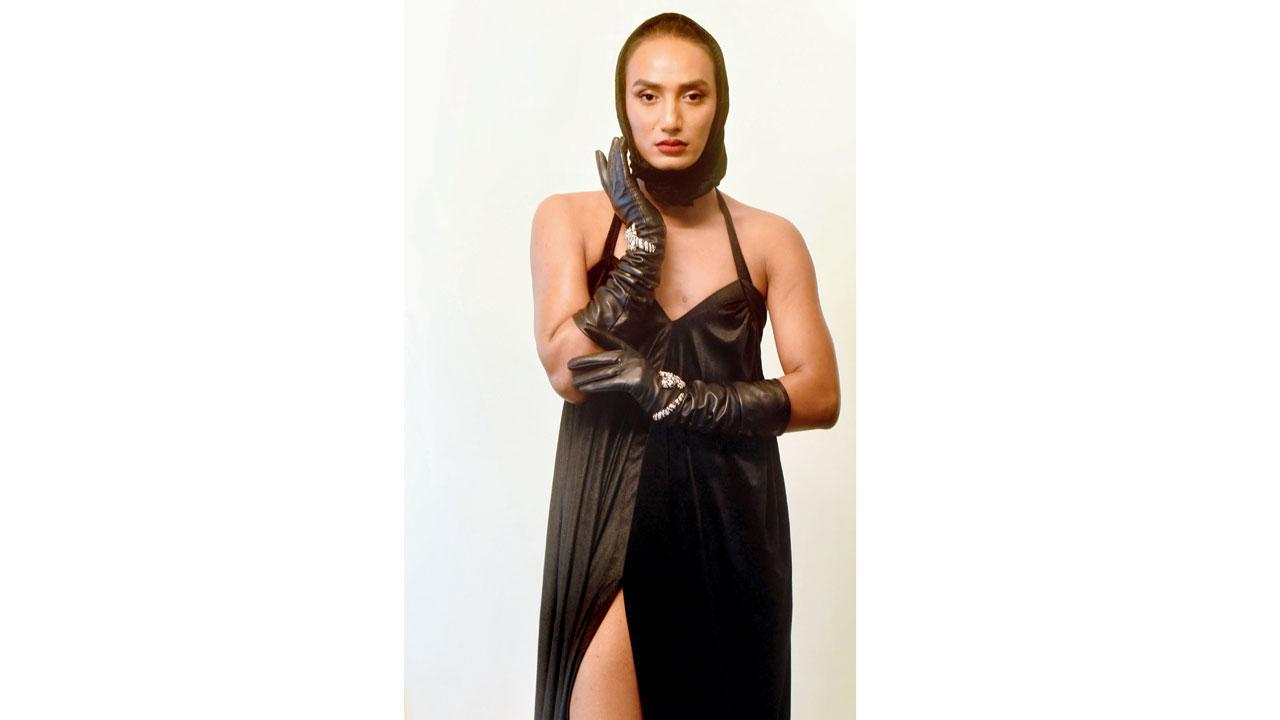 Pic/Sameer Markande
We carried the lassitude of 2020 and 2021 into 2022. Excited to dress up and meet people, but not quite ready to put on restrictive bras and tight pants. By the end of the year, we are just about getting the hang of going out with a bang. We asked five people, who make their own rules, how they would dress for year-end festivities. And they showed.
Suruj Rajkhowa a.k.a Glorious Luna 
Resident drag queen, Soho House Mumbai
ADVERTISEMENT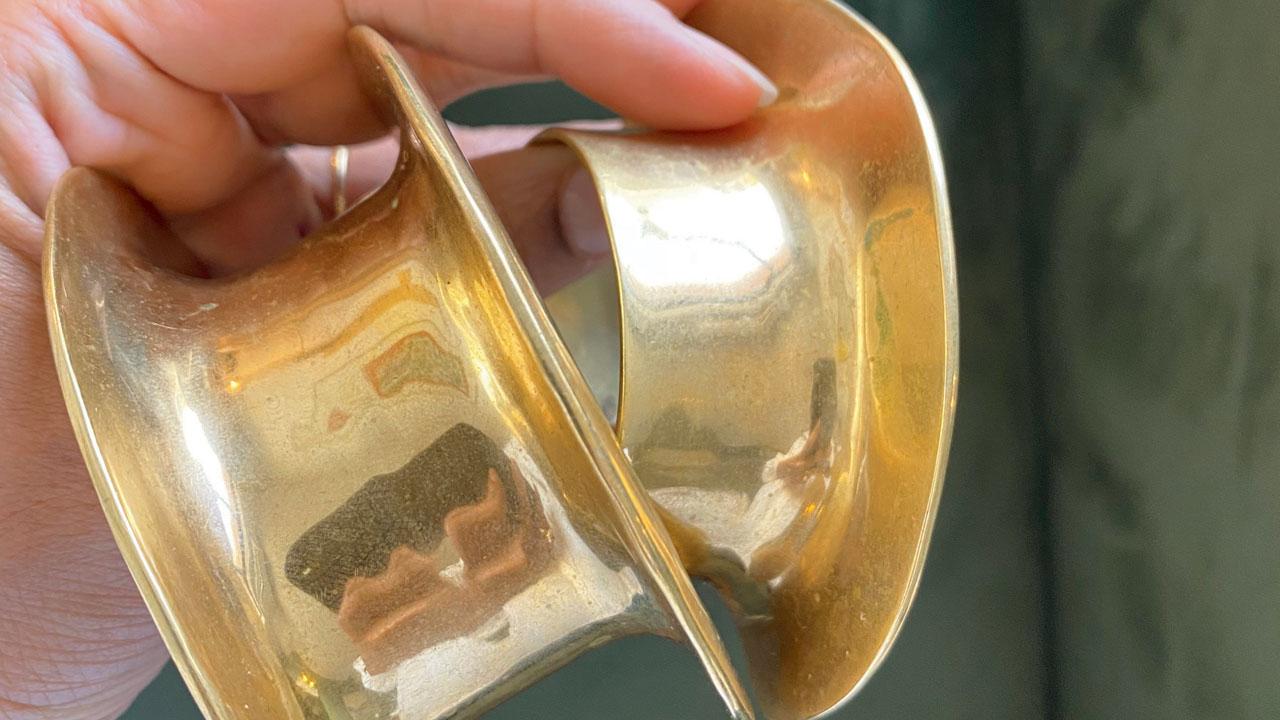 Suruj's drag alter ego, the drag queen Glorious Luna is a maximalist show girl who is into Vivienne Westwood and Punk rock; her altar ego, Luna, doesn't follow trends either, but is a bit more pared down and "edited".  "My drag look takes six to seven hours of hair and make-up," she tells us, adding sassily, "I don't do that unless I am paid for it." This New Year's Eve, she's reading the moment and going sustainable instead of heading to a high street store. Taking a velvet robe that she usually wears over her costume while working, she's stitched up the front, leaving a deep slit that will split at the thigh, and she's wearing it back to front. Under it are brown/taupe cowboy shoes. "Like a showgirl on tour," she says. A velour head wrap channels model Grace Jones from the '80s and Bella Hadid's look for a fashion award show in Qatar. All this to bring attention to the key piece: Leather gloves with bejewelled salamanders around the wrist. "I am not very conventional in terms of jewellery and accessorising," says the part-time model, "My gloves are my Schiaparelli moment. I've also kept my make-up minimal with a strong red lip." We think her enviable bone structure is the real focus point. New Year's done, the stitches on her gown will come off, as this ensemble goes back to being a robe.
Deepshikha Khanna
Creative director, Flow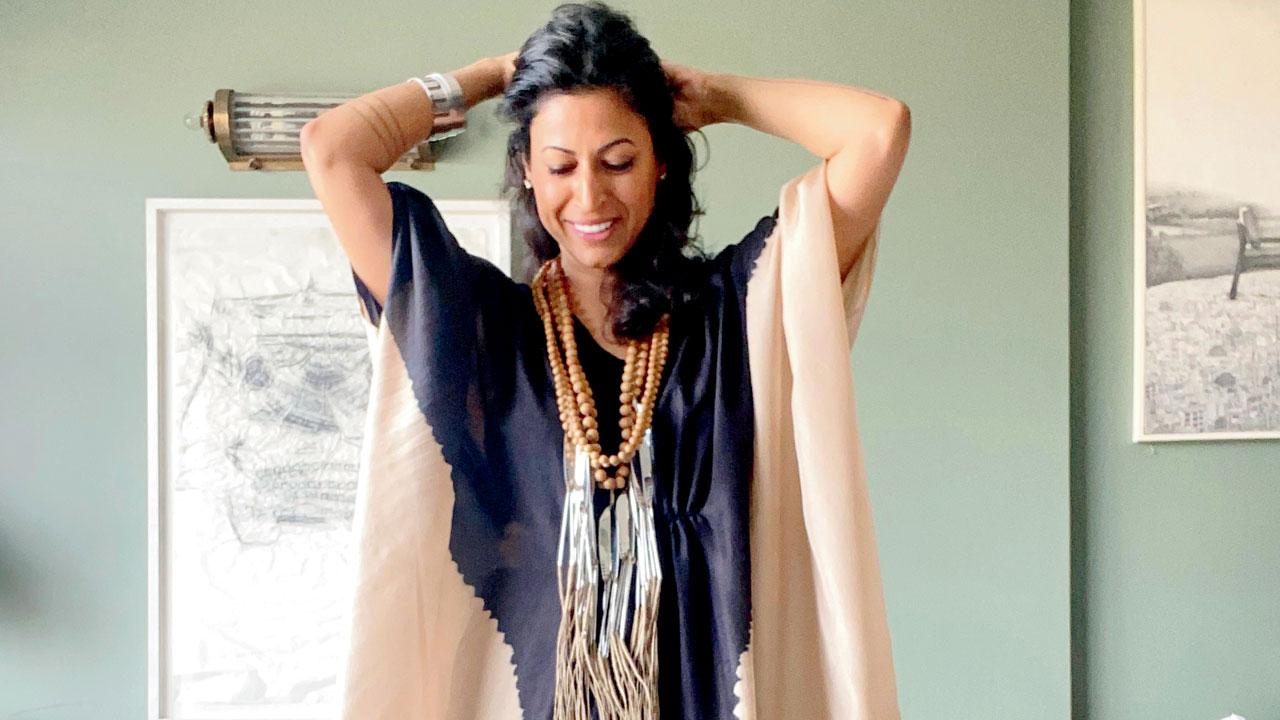 Deepshikha Khanna's aesthetics are chic casuals combining Indian weaves and techniques with easy-going silhouettes. For end-of-year festivities, she's going for comfortable chic, but not casual. This silk kaftan, tie-dyed in Bhuj, answers the call of duty. The dye pattern in hourglass shape is inspired by the curves of a woman and comes in light sufa or 'taupe' colour bordering on nude and complements most Indian skin tones.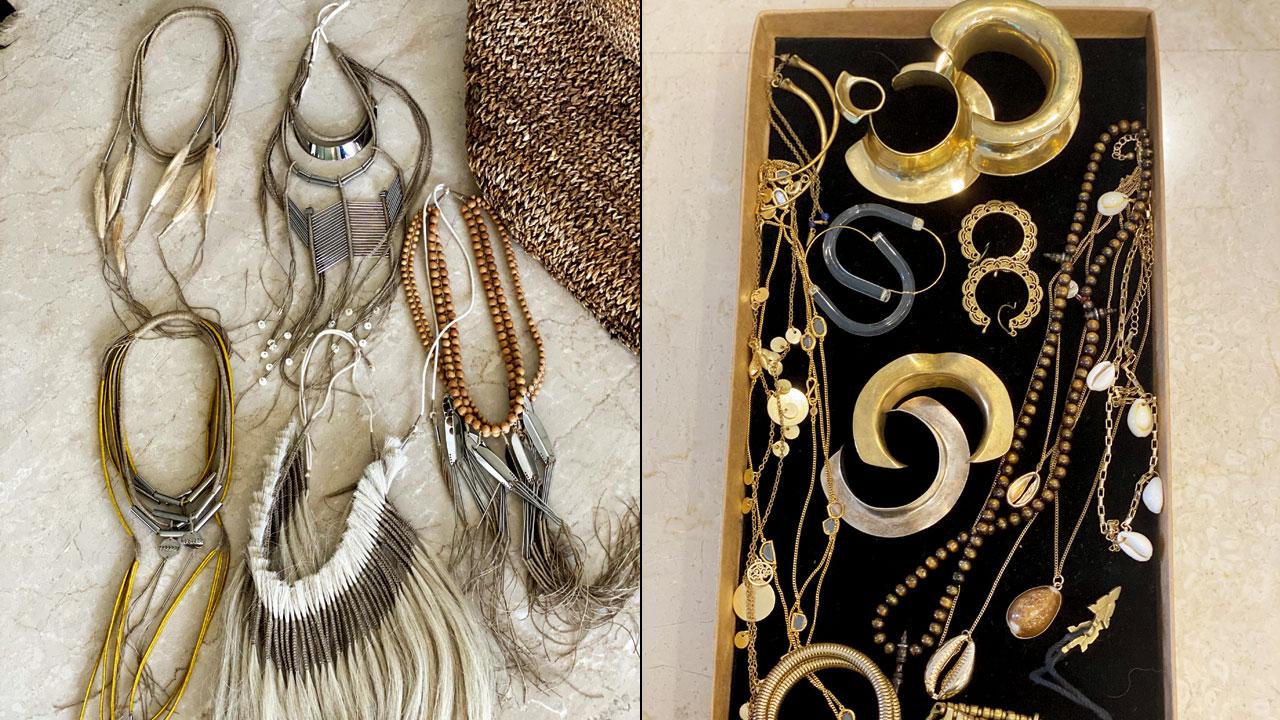 "The flowy silk silhouette makes me feel feminine and sensual. I hope to glide through the evening feeling comfortable yet luxurious," she says. Khanna also carries these on holidays as perfect resort wear, and switches accessories or go from day to night. At work, it would be silver accessories and Kolhapuris that give way to gold accents and strappy kitten heels for the evening. "Cuffs from Ariana Boussard-Reifel or neck pieces from en Inde are my thing. I'm most comfortable in a pair of gold or silver Kolhapuri chappals."
Aprajita Toor
Footwear designer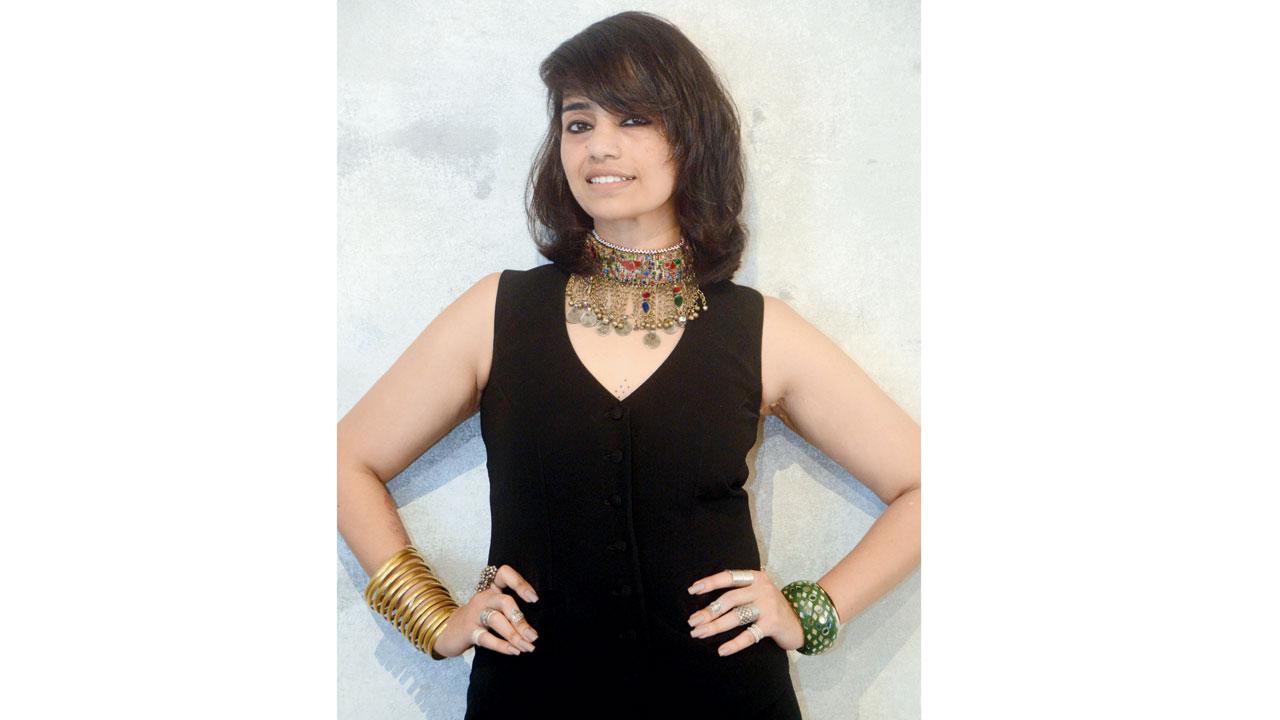 Aprajita Toor, the maker of colourful, modern Kolhapuris, calls herself, philosophically "an old soul lost in time, obsessively in love with all things vintage". True to form, she loves classic styles and gave us an urban gypsy look to end 2022 with. "My definite go-to is cord sets or jumpsuits," she says of her all-black separates—a classic waist coat with tapered trousers from The Label Untold. "I personally don't follow any trends. This always reflects in my work and personal styling. This is literally an AM-PM outfit… effortless, yet [making] a strong statement."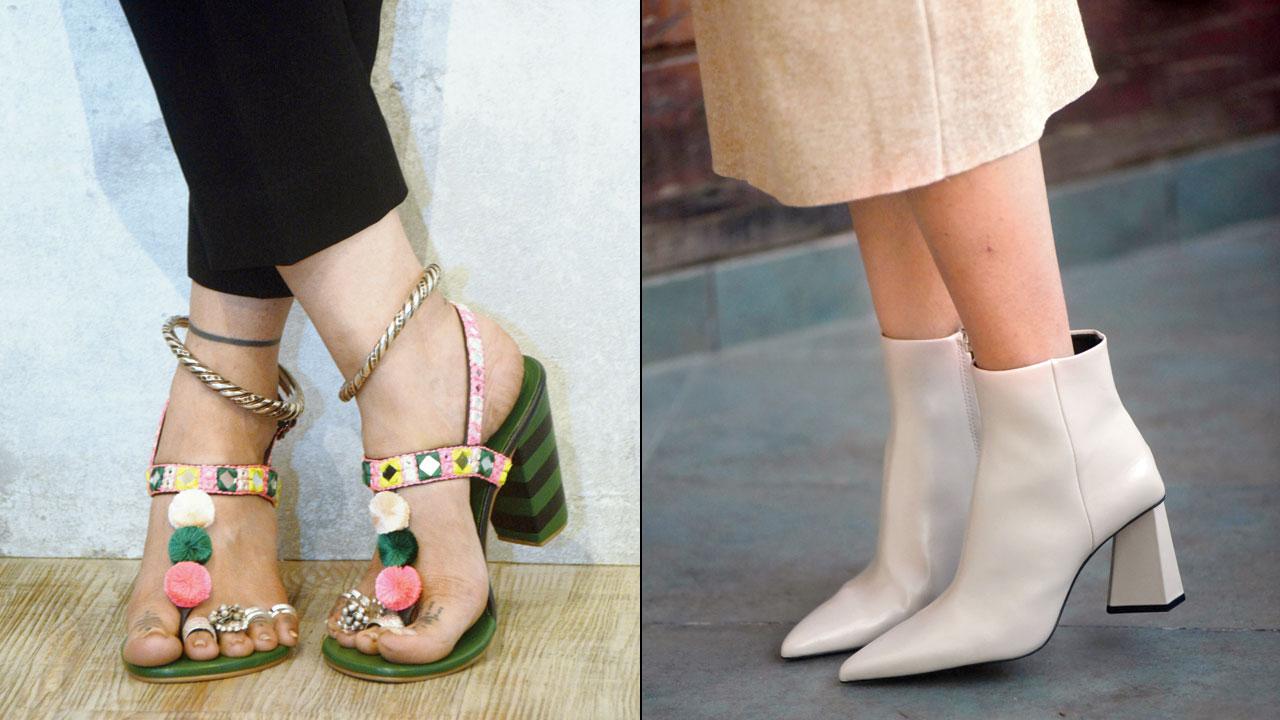 Her accessories come from her vast collection: An authentic Afghani choker from Dastakar exhibitions in Delhi, bangle from Nagaland, the block heels from her own label adding a dash of colour. "The silver accessories are permanent on my fingers, toes and ankles," she says. "I love shopping local and supporting indie businesses." 
Orhan Awatramani
Party peculiar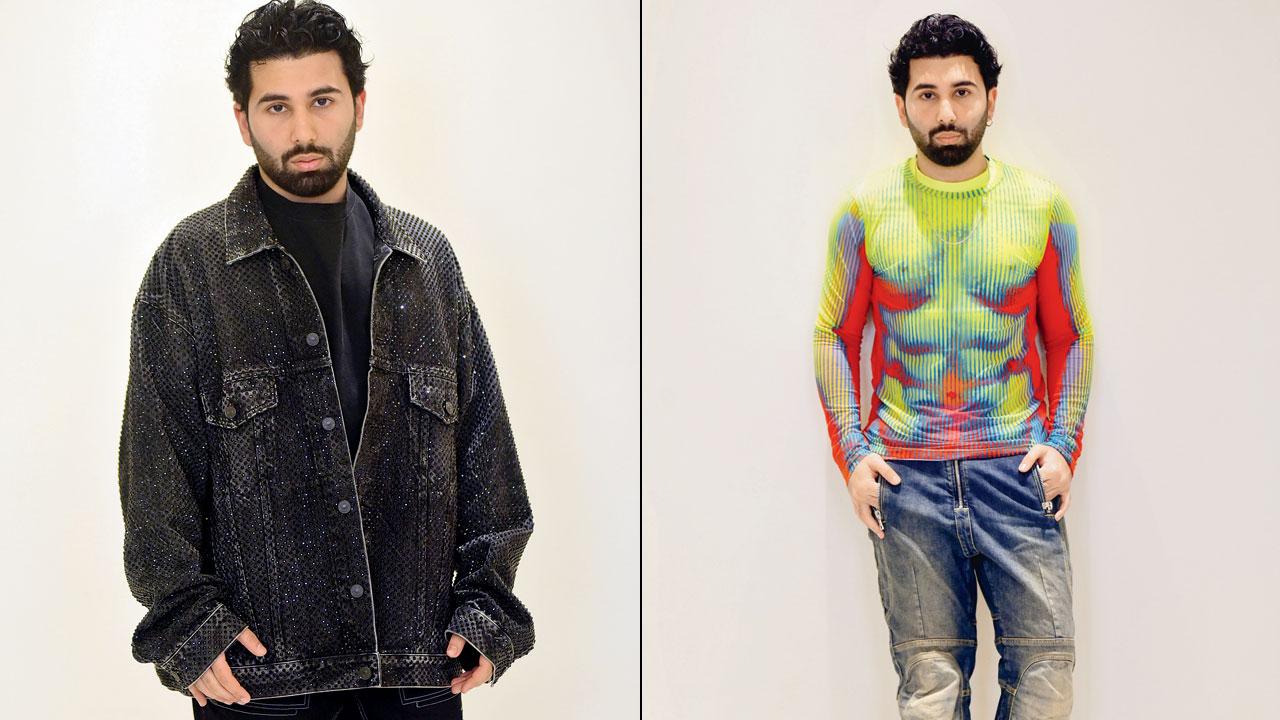 The theme for every New Year's Eve is bling," says Orhan Awatramani, the SoBo friend to every star kid—Janhavi Kapoor, Ibrahim and Sara Ali Khan, Suhana and Aryan Khan, as well as Ananya Pandey. He has two outfits at the ready (which mondain doesn't?), one black and one red-and-green. The red-and-green is a spillover from Christmas celebrations. "Electric Christmas," he calls it. "The vibe is unique. You have to wear what no one else is wearing, but it should not be irritating or scream for attention." He's going for "sexy and smooth" in biker jeans with a body morph top from Jean Paul Gautier that is "all the rave right now. It not your conventional red and green; it's electric." He dresses almost conventionally to bring in 2023, but not quite. "[It] doesn't matter where you are, what you are doing, who you are with… NYE equals bling. You have to be a star." His brief to himself for the look to bring in the new year is glam and controversial. "Balenciaga was the major rager brand of 2022," he says, "and it's ended in deep scandal. This outfit is head-to-toe Balenciaga bling. With rhinestones all over the jacket." He's referring to the dark-themed series of advertisements the fashion house released featuring children. "Black is the new black," he says about his night look. "It never runs out of style." The idea is to reach a party wearing this at 11.45 pm and "get carried home at 6 am".
Praful Makwana
Fashion Entrepreneur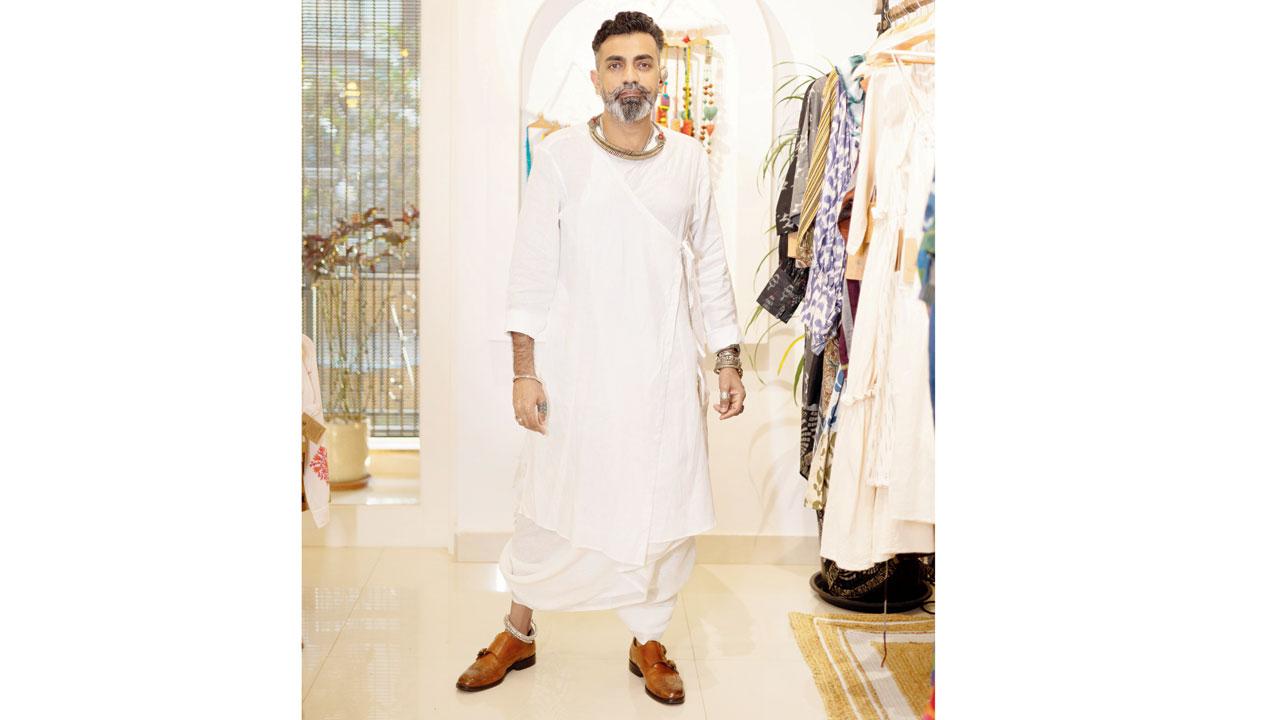 We turned to Praful Makwana, who champions the dhoti on Instagram, for night to day inspiration. And he gave us an angarakha and dhoti combination. "A drape always has an individual character, and it transcends seasons and weather," he says about his dhoti. "No fabric can be draped in a same manner twice. That's what fascinates me. A slight change with knots and pleats, and one can transition the look as required. I would go for a sleeker drape for the evening." It can also easily carry you to brunch on the first day of 2023. "Relaxed. Individualistic. Non conforming," is what he is going for. "The thought always is to stand out in a crowd with elegance." He chose linen fabrics to complement our weather (we are quite confident that winter won't be coming to the west coast), and silver accents. " The silhouette of the kurta is a relaxed angarakha [pacifying to a hangover] with asymmetrical ties. I love the elegant texture of linen on white and the sublime combination with oxidised silver accessories."
"Exciting news! Mid-day is now on WhatsApp Channels

Subscribe today by clicking the link and stay updated with the latest news!"
Click here!