Get up close and personal with many mysterious moths, be it at SGNP or the foothills of Sikkim, armed with a first-of-its-kind field guide by city-based environmentalist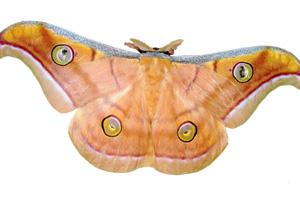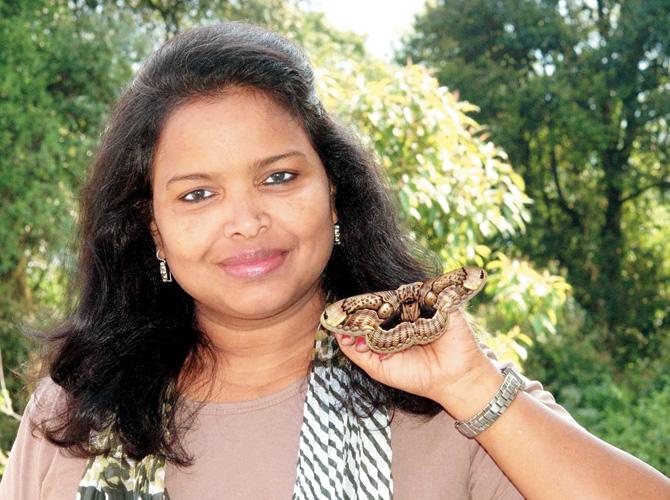 Dr Shubhalaxmi Vaylure
We'd all agree that in a beauty pageant involving butterflies and moths, the chances that the latter will win against their more flamboyant cousins are slim. But, that's only because most of us have little clue about the secret world of moths. They are best known as critters of the night, seemingly more ungainly than butterflies, and commonly associated with hole-ridden sweaters, naphthalene balls and Miss Havisham's musty wedding gown.
"Everybody talks about butterflies, the prettier ambassadors of the insect world. The discussion begins and ends there," says Dr Shubhalaxmi Vaylure. The Kharghar-based environmentalist and entomologist is set to give the introverted moths their share of the spotlight. Dr Vaylure, who previously worked with the conservation education department of the Bombay Natural History Society (BNHS) for 21 years and served as deputy director, is coming out with a new field guide to Indian moths this month end. This guide is the first-of-its-kind for Indian moths; their counterparts in Nepal, South East Asia and several parts of the world have already got their ready reckoners.
As it turns out, the last thorough survey of moths in the Indian subcontinent was led by "eminent men of science" from the colonising British empire. The Fauna of British India, Including Ceylon and Burma is a comprehensive series that was started in 1881. It includes five volumes on moths by George Francis Hampson and others. Since then, there hasn't been a significant publication on moths, says Dr Vaylure.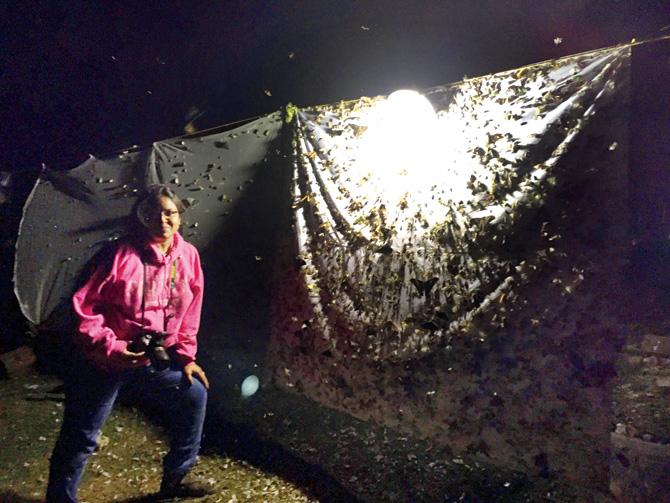 Dr Vaylure camps in Bhutan with a light sheet to lure moths as part of the research for the field guide
This meant that The Moth Lady, a title that she had earned, had to start from scratch. Her decade-long research was self-funded, and, she says, "There was nearly a century's gap since the survey in The Fauna of India and mine. I had no recent research to fall back on and had to keep up with changes in taxonomy." She adds that macrofauna [such as tigers] and other species that are more visible in an ecosystem are preferred as areas of study. There is not enough funding available to study moths, which come out mainly at night, making them hard to spot. "Yet, moths are more in number when compared to butterflies. Their numbers are almost 10 times more than those of the butterfly population, and there are more than 12,000 species. They form a bigger food base for predators, making them crucial to the diversity of an ecosystem," she says. And, these are the fellows whose cocoons yield prized silk. How's that for glam?
The Birdwing Field Guide to Indian Moths describes 700 species, those that you can spot right in Mumbai to those in Sikkim. Each moth, individually sought out by Dr Vaylure, has been photographed — an added advantage over the antiquated British series, which only described moths in detail sans illustrations. "There was a time when we would have to rely on those descriptions, without any pictorial support, to identify a moth species," says Dr Vaylure.
Each description in this 474-pager is accompanied by a legend on where they can be sighted, if they are day-flying or nocturnal, if they visit lights, and so on. It includes charismatic species, with colourful wings, thus busting the ignorant conclusion that moths are dull, grey creatures.
Knowing how to use the field guide is another matter altogether. If you follow Dr Vaylure's footsteps, it may mean holding up light sheets in the dead of the night and waiting for moths to gravitate towards you. But, you may be suitably rewarded for your intrepid effort and patience. After all, unlike the flighty butterflies, moths have earned the reputation of finding a flame and sticking with it.
Birdwing Field Guide to Indian Moths is available on www.birdwingpublishers.com for pre-order at Rs 3,500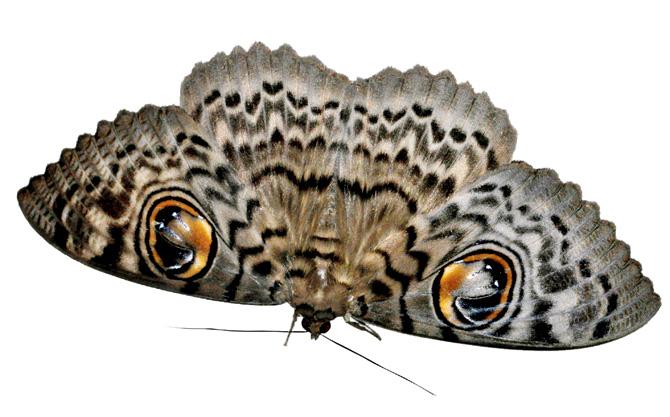 Owl Moth
This forest species is seen primarily in Sanjay Gandhi National Park and other wild areas of the city. It gets it name from the large eye markings on its wings and the feathery pattern that resemble a face of owl. It uses these markings to scare away small birds during the day where it rests among tree crevices, under trees or sheltered rock faces. It feeds on ripe fruits.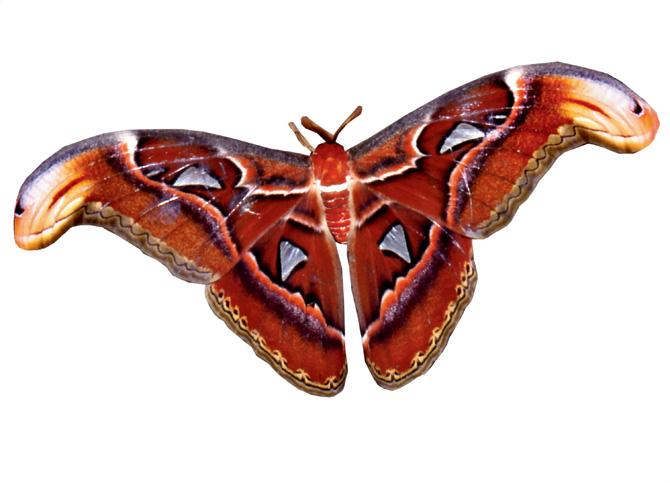 Lesser Atlas moth
This is the second largest moth in India with a wingspan of 18 cm. It is seen during the rains inside Sanjay Gandhi National Park. Belonging to the Emperor Moth group, they are gigantic. They do not feed as adults as they do not have mouth-parts, thus their lifespans do not exceed a week or two.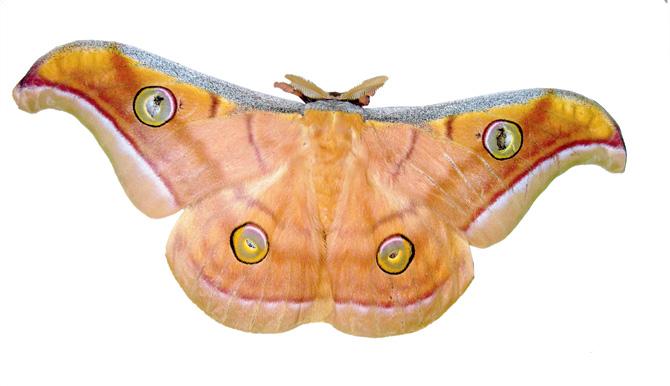 Tasar Silk Moth
Belonging to the Emperor Moth group, it is seen in both forested areas and city spaces where its favourite food-plant, ber, grows. One can see large egg-like structures hanging from these trees which are in fact its cocoons. Its uniqueness lies in its caterpillar which secretes commercial silk, Tasar and is India's own silk moth which is purely bred outdoors unlike Chinese Mulberry Moths which have lost the ability to survive in wild.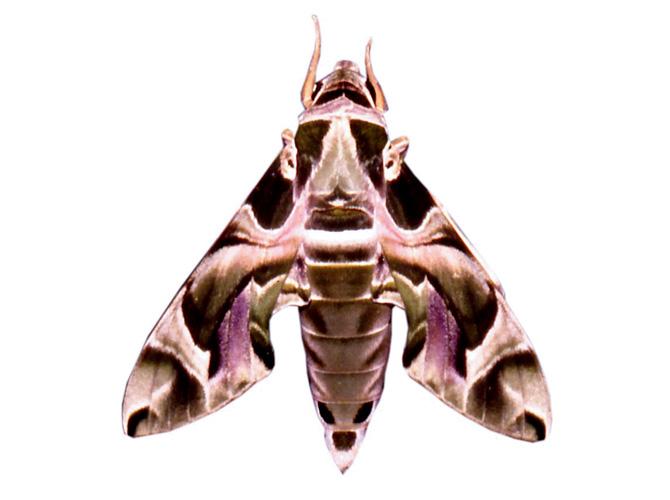 Oleander hawkmoth
This moth has camouflaging colour patterns which helps it to remain 'invisible' among foliage. It belongs to the group known as Hawkmoths which are known for their long proboscis. This is largely a city moth as it breeds on Tugor plants are commonly planted in gardens. The caterpillar is seen during rains.
Catch up on all the latest Mumbai news, crime news, current affairs, and also a complete guide on Mumbai from food to things to do and events across the city here. Also download the new mid-day Android and iOS apps to get latest updates