An innovative programme launched in Ohio to up physical activity among heart disease sufferers finds eager takers in Mumbai, with top doctors ditching their coats for sneakers, and meeting their patients for a long walk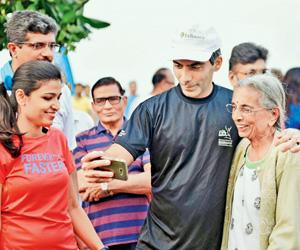 It's 7 am on a Sunday morning in December, and the air is fresh and crisp. Niranjana Mehta, 84, arrives at the Marine Drive promenade opposite the National Centre for the Performing Arts with her son Dr Hemant Mehta. This is the first time in over two months that she is going to walk outside her Nana Chowk home, and for long. In October, Mehta underwent hip hemiarthroplasty or partial hip-replacement surgery, a procedure where the femoral head commonly called 'the ball' of the damaged hip joint is replaced. Getting back on her feet hasn't been easy. Struggling with blood pressure, low haemoglobin and a cardiac issue, has made recovery challenging. She looks around for Dr Aashish Contractor, and breaks into a reassured smile when she spots him.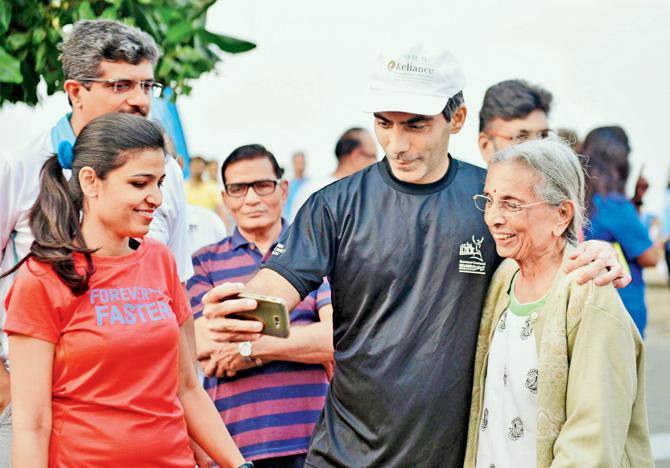 Dr Aashish Contractor takes a selfie with Niranjana Mehta, 84, who came out for a long walk for the first time after her partial hip replacement surgery, on Dec 3. His colleague Dr 'Y Bhamre is to the left
ADVERTISEMENT
Recognised as a pioneer of cardiac rehabilitation, Contractor heads the department of rehabilitation and sports medicine at the HN Reliance Foundation Hospital. Mehta, his patient, is one of 50 Mumbaikars gathered to walk with the doctor and his colleague and consultant cardiothoracic surgeon Dr Bipeenchandra Y Bhamre, five kilometres from Nariman Point down to Marine Drive. After a quick talk on why regular walking is significant to their health, the doctors lead what is called Walk With A Doc (WWAD), a social initiative that has seen seven walks organised across the city from South Mumbai to Navi Mumbai this year.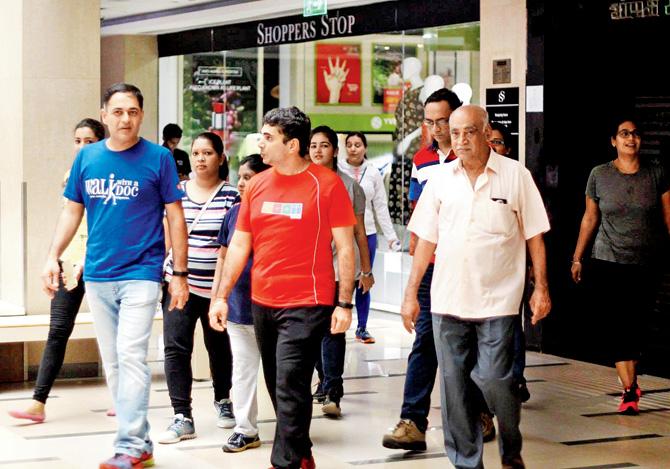 Dr Amit Thadani and GOQii founder Vishal Gondal (centre) kick off a walk at Inorbit Mall, Vashi, on July 30. Dr Thadani decided on a mall walk because it was raining that day and he didn't wish to cancel
From Ohio to Mumbai
The physician-led walking programme that aims to reimagine healthcare by involving both patients and medical experts was launched in 2005 by Dr David Sabgir, a cardiologist from Mount Carmel in Ohio. The origin of the idea lies in what Sabgir learnt by observing patients at his clinic for over a decade. As a cardiologist, he thought he was doing everything he could to help them. He spent extra time during appointments, gave the ill a patient listen and sent them off with advice on living a healthier life. But, in his own words, "In the end, I wasn't successful at encouraging them to get out there and be physically active." Sabgir tells mid-day in an email interview that heart disease is the number one killer in America although 80 per cent of cardiovascular disease cases can be prevented with a lifestyle change. Sabgir's research threw up more appalling figures. Only five per cent of his patients were getting the recommended 150 minutes of moderate physical activity a week.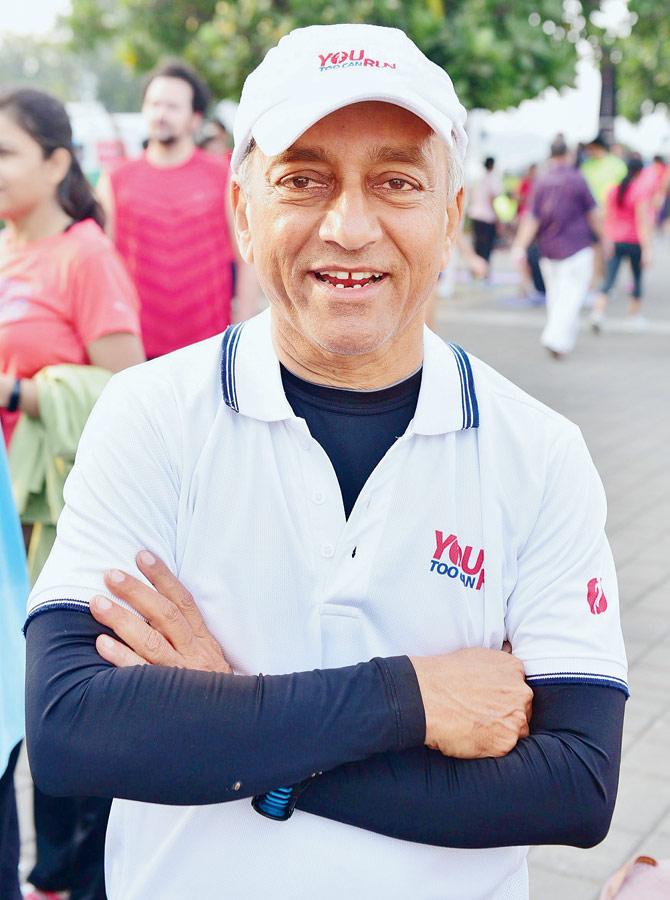 P Venkatraman, 60, Founder of You Too Can Run, an organisation that trains and promotes running among cardiac patients, survived a bypass surgery in 2007 and since then, has run 130 half marathons. Pics/Bipin Kokate
One morning in 2005, he reached out to his patients and asked them to meet him at a neighbourhood park. The first Walk with A Doc saw 101 participants show up. Ten years later, WWAD has spawned 331 chapters across 44 American states, averaging 22 walkers per walk. These are conducted on a weekly, bi-weekly or monthly basis. Dr Contractor can't stress enough that walking has miraculous benefits for cardiovascular health. "It helps the heart function more efficiently, and it controls sugar, BP and cholesterol, three of the main culprits for heart disease. Walking also has tremendous stress reduction benefits and helps make us feel better and improve the quality of life."
Several of the walkers who turned up for the December 3 meet had undergone a coronary artery bypass surgery, while others were hip and knee replacement patients.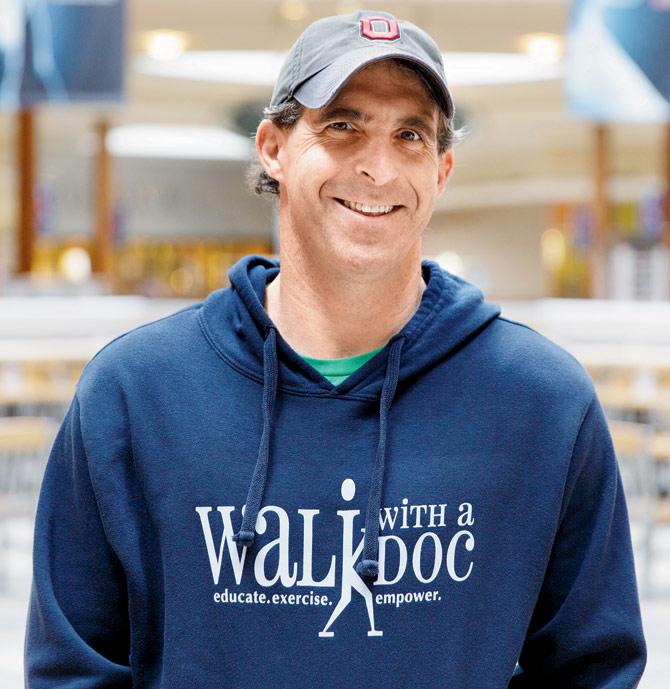 Founder of Walk With A Doc Dr David Sabgir is a cardiologist
Why India needs docs to walk
Global figures peg heart disease at the top of the lifestyle disease pyramid. World Health Organisation's special scale to measure the loss of 'healthy' years, DALY (Disability Adjusted Life Years), rated ischaemic heart disease at number one position in 2016 as against the sixth position in 1990. Ischemic heart disease and stroke are responsible for more than 80 per cent of deaths caused by cardiovascular disease (CVD). And India unfortunately, isn't shying from hogging top honours.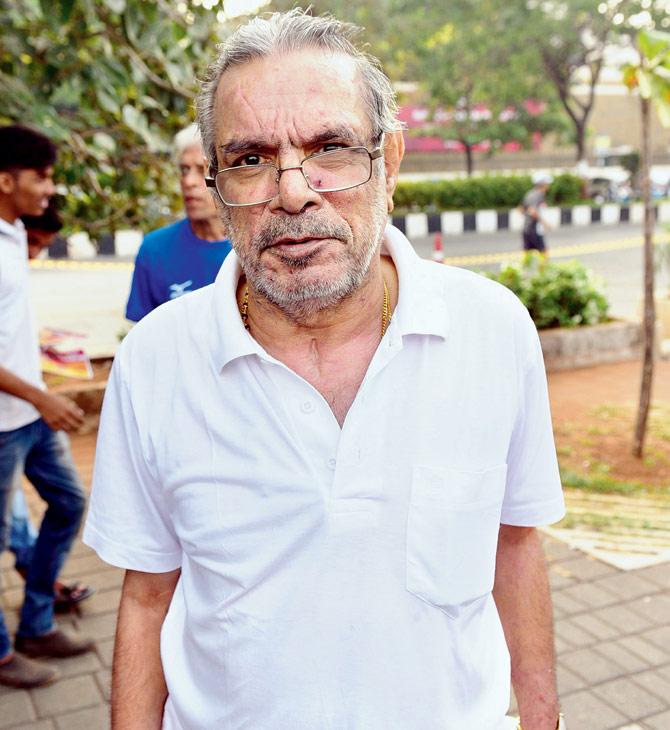 Sushil Tulsiyan, 67, who was operated after he suffered a head injury, spent a fair bit of time in bed. But he is back on his feet, battling neurological hiccups with walking. He accompanied the group that walked on Dec 3 at Marine Drive
The Global Burden of Disease, the most comprehensive worldwide observational epidemiological study that describes mortality and morbidity from major diseases, estimates that age-adjusted death rate from CVD in India (272 per 1,00,000 population) is higher than the global average of 235 per 1,00,000 population. India is also topping the charts in the incidence of stroke — WHO estimates suggest that by 2050, 80% stroke cases in the world will occur in low and middle income countries mainly India and China — and, as per figures with the Indian Diabetes Federation, there were 69.1 million cases of diabetes in India in 2015. Medical experts agree that the single most important lifestyle factor to contribute to these statistics is the lack of physical activity. They also concur that it's tough to convince a patient to make a change and take on a form of daily exercise.
WWAD, then, helps them circumvent that hurdle, inspiring patients to join their own medical expert, lured by the chance to meet them outside the clinic.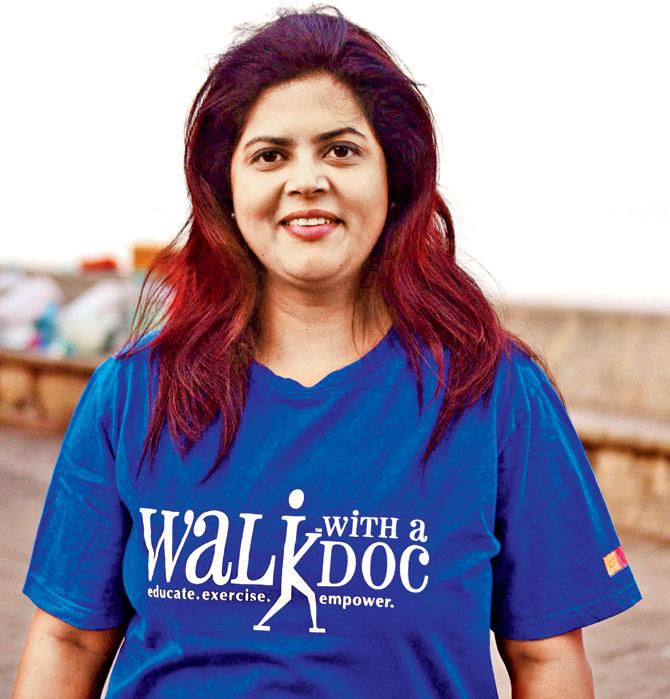 Founder of WWAD India Rajashree Menon
Making its India debut
Mumbai owes its WWAD debut to Rajashree Menon, formerly a pharmaceutical industry professional, who was contacted by Sabgir to start a chapter here. Menon, now the India representative of the movement, realised that the walk could do wonders for doctor-patient relationship. India's first walk was conducted with Contractor in June this year, enabled by Vishal Gondal of GOQii, the makers of a fitness band. "We advocate making a permanent shift to a healthy lifestyle. So, when Rajashree asked us for support, we agreed. WWAD resonates with what we do," says Gondal, who joined the patients on the December 3 walk.
Last month, endocrinologist Dr Manoj Chadha, lead a walk with his patients in Navi Mumbai. "Walking is one the best ways for diabetics to lower sugar levels. It can also help pre-diabetics reduce the risk of developing the condition. What can be more effective, easy and affordable than walking?" he says. Walking with Dr Chadha was his patient Vinod Chandra Agarwal, a retired corporate professional, who claimed that his regular morning walk and dietary control had helped him control Type II diabetes.
Neurology specialist Dr Shirish H Hastak has seen how walking has produced results among stroke patients. "Older adults run the highest risk of stroke, and they also grapple with the lowest levels of physical activity. Clinical trials have proven that the time spent walking is associated with reduced risk of the onset of stroke independent of the walking pace. Walking could form an important part of stroke-prevention strategies in older people," says Hastak, who is busy leading his patients down Worli seaface this morning as you read this paper. Shirish, Ganjawala, a 62-year-old patient who has undergone two bypass surgeries, admits to leading a sedentary lifestyle. The health scare motivated him to take up regular walking. "Initially, I'd walk slowly and cover two to three kms a day, but now I am able to jog between four to six kms without difficulty," he says while walking alongside Dr Contractor at Marine Drive.
Getting the steps right
Surgeon Dr Amit Thadani, who has conducted two walks in Navi Mumbai, calls WWAD a "refreshingly new concept to encourage people to walk". He thinks the idea is effective because the three Es of WWAD resonate with doctors — educate, exercise and empower. "We share tips with our patients, join them in exercise and also empower them by offering them an opportunity to throw queries at us and share their views." Agarwal talks of being introduced to warm up and cooling down exercises. "Just five minutes of very simple exercise of twisting of the wrists, shoulders, waist, and bending exercises can prepare your body for a brisk walk. And the stretching exercises post the walk, help you destress," he adds.
Dr Chadha adds that patients are advised on what to eat before the walk — nothing too heavy, but they shouldn't arrive on an empty stomach either. Post the cool down session, the doctors distribute a fruit along with bottles of water. Dr Bhamre says, "When we ask our patients to walk and exercise, they seldom follow the advice but, when we said, we will walk with you, the turnout was overwhelming." Each session lasts around 45 minutes. While everyone walks at their own pace, the patients are monitored as a group. Bhamre says that the team of doctors from his hospital who were present at the walk know all the patients and their health condition. This means they know how much and at what pace each one must walk. For example, one patient who had recently undergone a bypass surgery, was advised to not walk more than 150m.
He took his time and rested for the remaining period. In another case, a walker, who had undergone a cardiac surgery a couple of years ago, decided to go for a comfortable jog. The patients, says Bhamre, were all pre-screened for safety. "We also had an ambulance stationed at NCPA, although we knew we were not going to need it."
Bettering a strained relationship
Sometimes, the doctors are accompanied by family members. Dr Amit Thadani, for instance, was accompanied by his 16-year-old daughter and wife, Anjana, a pediatrician. WWAD India has two chapters in South Mumbai led by Dr Contractor and Dr Hastak, and more in Bandra, Vashi and Kharghar led by Dr Roshani Sanghani, Dr Manoj Chadha and Dr Alka Chadha, and Dr Amit Thadhani respectively. We hear that the outfit is currently in talks with Global Hospitals Group and KEM hospital's cardiac team to rope them in to conduct their own walks in the new year.
Getting doctors on board a fitness programme designed for patients will also, Dr Chadha hopes, help build a better relationship between the two. "Instead of just advising, the doctor is finally walking the talk and seeing the doctor exercise alongside, the patients feel highly motivated to continue," he adds. Menon says that WWAD India representatives spend reasonable time discussing the vision with the doctors. Once they are on-board with the idea, they make time for the walks, one-hour-long on one Sunday of the month. "Creating a walk schedule does take time considering the various other assignments that doctors undertake. They realise the walks are not episodic or annual in nature like a World Heart Day walk," says Menon.
She adds that the doctors make their own walk chapters' schedule and run it accordingly. "They inform us about the dates and we attend all the walks. In case there is a clash, one of the doctors usually adjusts his or her dates. We do realise that soon there will be multiple walks on a given day. We will figure then how to manage them all." Till now, WWAD India has seen upto 35 walkers turn up for every walk. That is 6,12,500 steps walked cumulatively by a group in one morning. We think that's more than taking a baby step to stay fit.
8 Number of Mumbai doctors who have joined Walk With A Doc
331 Number of chapters WWAD has spawned across America
"Exciting news! Mid-day is now on WhatsApp Channels

Subscribe today by clicking the link and stay updated with the latest news!"
Click here!