How do three of a family all become filmmakers? Kashyap siblings Anurag and Anubhuti didn't watch movies when growing up. They played Cinema Cinema, and making up stories was their favourite pastime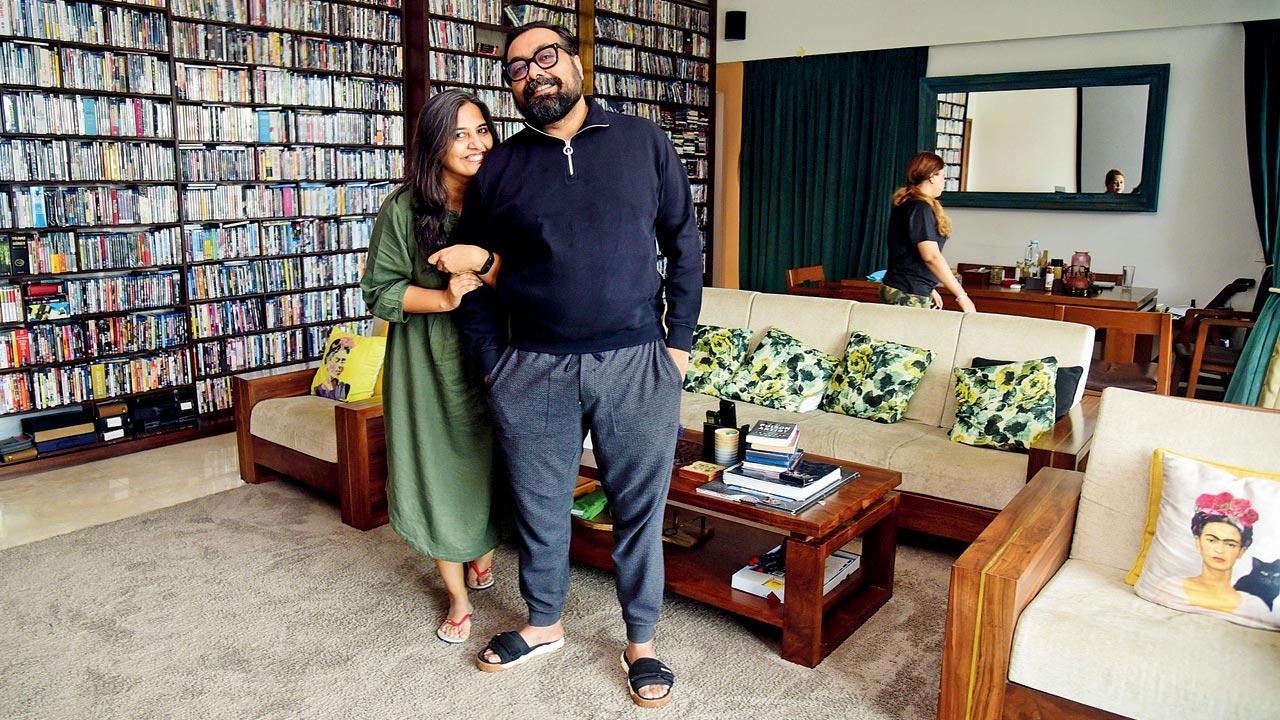 Pic/Shadab Khan
When most children their age would play ghar-ghar, the Kashyap siblings played cinema-cinema. "Carrom board coins would become my audience, and board games would turn into a make-shift auditorium. Sometimes I would cut out film posters [to make it more realistic]," recalls Anurag Kashyap, the eldest of three siblings, over a phone call.
What about the plot? "A magazine called Sarita carried a review section called Chanchal Chaya. I would read the review, make up the story and they [Anubhuti and Abhinav] would think that I watched all the films," he laughs. "He would create random stories… ones with shock value," adds Anubhuti, the youngest of three siblings. "He would also draw and turn them into comics and novellas. These would be circulated among all the cousins during the summer vacations." "One was titled Mr Huge Ho Gaye Fuse," pipes in her eldest brother. "I had also created a character called Wonder Man. This was back in the 80s, much 
before Marvel."
ADVERTISEMENT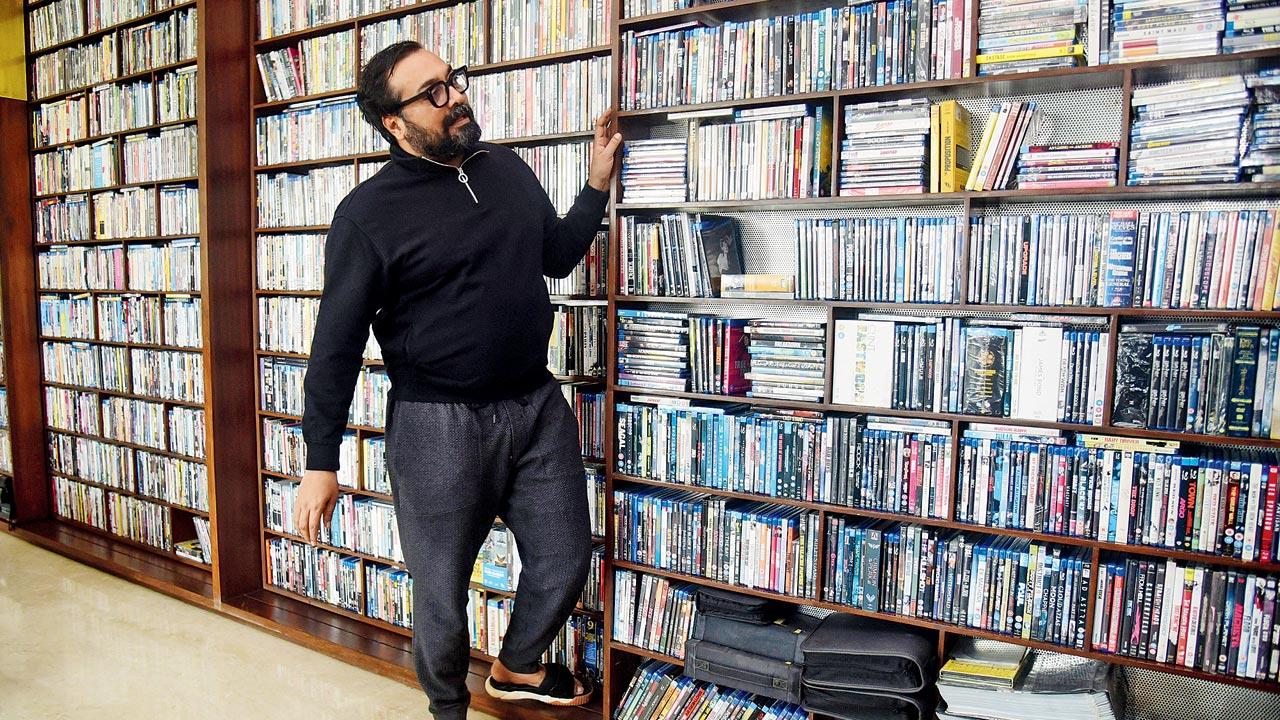 Anurag Kashyap stands beside a wall stacked with DVDs. He says he's inspired by world cinema, Anubhuti by real life events
All three siblings—writer, director and actor Abhinav is the middle child—had very little exposure to cinema, partly because their father, an engineer with the Uttar Pradesh energy department, would be posted in remote areas. As a result, the trio grew up in Obra and Anpara, small thermal power colonies near Benaras. Also, cinema was considered a bad influence.
"Besides an occasional Amitabh Bachchan movie on screen," shares Anurag, "we watched most films on VCR, with pirated cassettes. In fact, the version of Mr India [1987] that we saw was without the climax." Anubhuti was the first among them to explore her creative side; she co-wrote a play in college and acted in it. "It also travelled to some festivals, but that was it," she says, adding that her options for adulthood were simple: Either study and make a career for yourself, or get married. "None of us actually aimed at getting into movies," she says. "An MBA seemed like a good option [for me]." After graduation, Anubhuti worked in the corporate sector in Pune and Mumbai for a few years.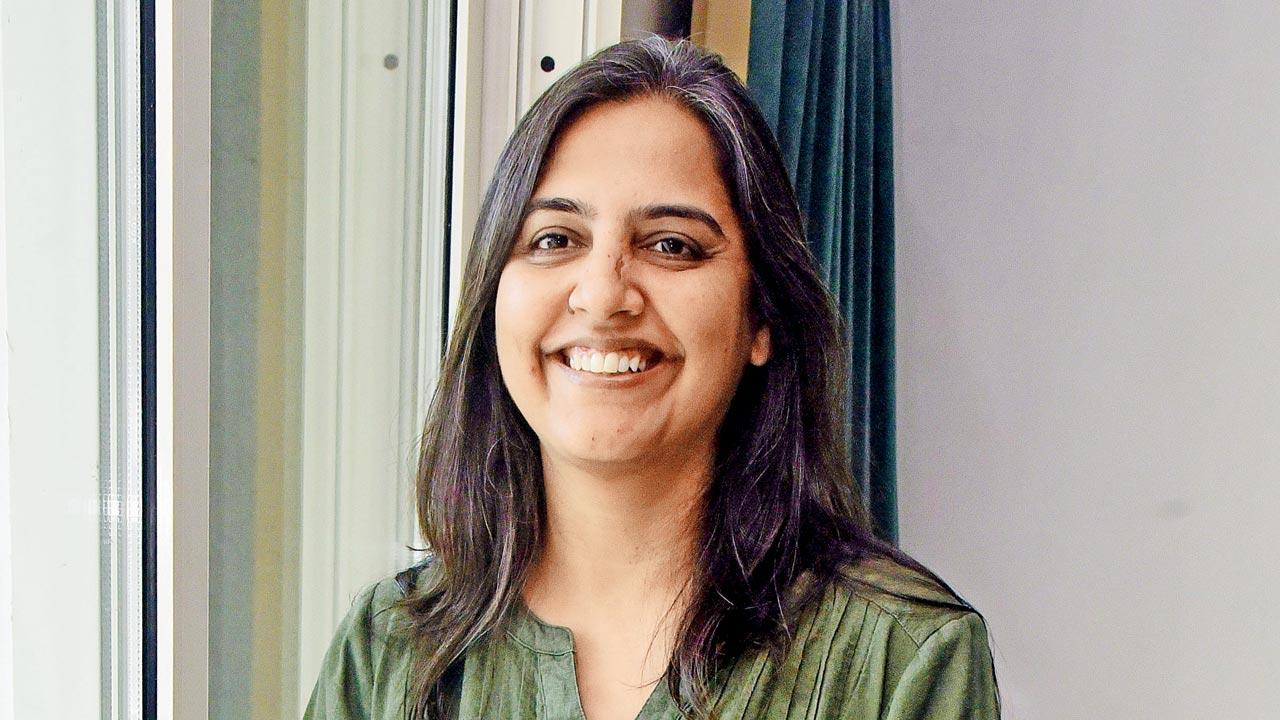 Anubhuti Kashyap's first movie Doctor G was stalled for nearly five years, but she didn't let her brother Anurag know. Pics/Shadab Khan
Meanwhile, Anurag enrolled in a zoology course at Hansraj College in Delhi, but was exposed to world cinema at a film festival. He moved to Mumbai and was soon writing scripts for television serials and films. "I was young and arrogant," he recalls, "and turned down a lot of work that came my way, thinking this was not what I wanted to be known for." But Abhinav, who was in Mumbai to prepare for an MBA degree, saw it as a great opportunity and became a mainstream scriptwriter.
However, it took several years for Anubhuti to quit her job. "I had reached that point where I knew that if I didn't realign [with my creative side], it wouldn't happen later," she says. "So I took a sabbatical. Anurag [who was wrapping up No Smoking in 2007] recognised my talent much before I did. He subtly nudged and manipulated me into joining films." Anubhuti joined the team of researchers working on Bombay Velvet, which released much later in 2015. "It involved watching many films," she laughs. Around the same time, scriptwriter Raj Kumar Gupta was making his directorial debut with Aamir (2008), and was looking for an assistant director. Anubhuti came on board. Later, she assisted Anurag on Dev.D (2009) and Gangs of Wasseypur (2012). 
"All the people who worked with me and went on to become directors—such as Neeraj Ghaywan and Vasan Bala—stayed with me only because of Anubhuti," says Anurag. "I am chaotic, but she would handle me as well as them."
After Gangs of Wasseypur, Anubhuti stopped assisting and moved in the direction of short films. "The first was Let Stalk, my take on stalking, which never saw the light of day," she says. "Then I wrote and directed Moi Marjaani [about a single mother and her encounter with love]."
It took almost a decade for Anubhuti to stake her claim to the spotlight. It came with the Ayushmann Khurrana-starrer Doctor G, which released earlier this month. The movie revolves around a male medical student stuck in the Gynaecology department. "The script came to me in 2016, but the following three years saw a lot of ups and downs in the production company Junglee. We were just about to start shooting when the pandemic happened," she says. Anubhuti also directed the web-series Afsos (2020).
Has Anurag been a support system in Bollywood? "He would have, had he known," she confesses. "But I never shared any of it [struggles] with him." 
"We are the kind of siblings who hug each other a lot, but never really talk," says Anurag. "Actually, it is not easy to talk with me around," interjects Anubhuti, mentioning that during conversations, she is more of a listener than a talker. "I am the one who talks a lot," explains Anurag.  "She is usually worried about me, and wants updates about my life."
Their style of cinema also differs from each other. While Anurag's work is best described as dark, Anubhuti's lens sees shades of grey; Abhinav makes mainstream potboilers. "Anubhuti is far from the cancel culture," says Anurag.  "She sees everyone as a work in progress, and believes everything is forgivable." Similarly, their personalities are different too. "While I grew up on world cinema," says Anurag, "Anubhuti feeds off on real experiences. I have mad energy, while Anubhuti is calm." "I am also very lazy," interjects Anubhuti, adding that Anurag can write endlessly, but she needs a lot of pushing. "I am very independent, but I'm also happy doing nothing and I have no hurry in life." 
In an industry where nepotism is brought up every Friday, the Kashyap siblings wanted nothing to do with each other. "I have produced a lot of films," says Anurag. "Anubhuti could have made a film [with me] long ago, but she wanted to make it on her own. Even Abhinav chartered his own path; he is very enterprising. The credit goes to our parents. We were all told that once we complete our education, we would have to make our own living. And we did."