For those with speech impediments, navigating communication wearing a face mask is posing a challenge. A bit of patience from the listener would help, they say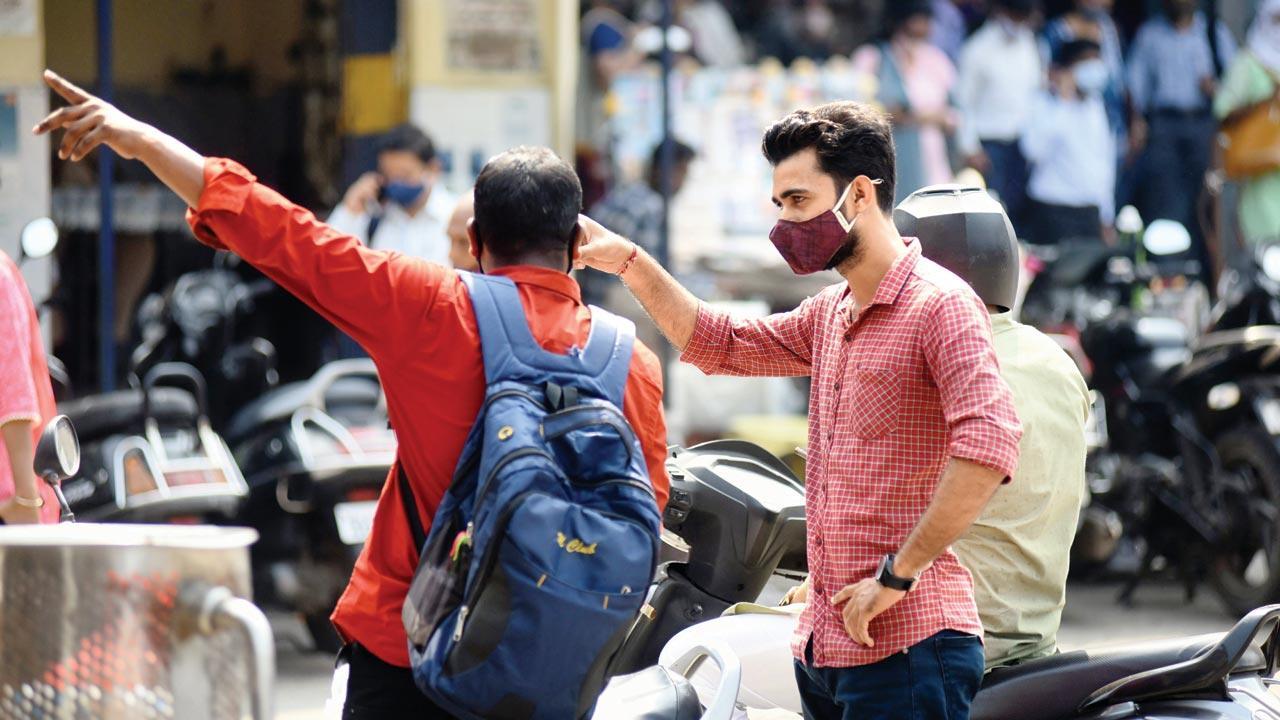 Sunil Kumar, a civil engineer, asks for directions at Andheri West. He says sometimes, buying a train ticket can also get difficult since time-bound situations trigger stammering. Pic/Sameer Markande
Sunil Kumar has trouble pronouncing vowels, especially words starting with the alphabet A. "When you mentioned your name on a text message, I was wondering how I'd be able to say it without a verbal stumble," he tells this writer over a phone call. The civil engineer from Mumbai has had a stammer since childhood. Stuttering or stammering is a disorder that affects the flow of speech. "Let's say, I have to buy a train ticket to Andheri; I mentally rehearse saying, 'Andheri' a dozen times in my head before the actual situation unfolds because time-bound situations are a trigger." 
Since the Coronavirus pandemic that made mask-wearing mandatory, Kumar's challenges have increased. The protective layer that's aimed at limiting  the volume and travel of expiratory droplets dispersed when talking and breathing, has made daily communication harder than it was. "I sometimes struggle to get my point across. My job involves supervising design on construction sites and dealing with labourers. People can't tell if I have something more to say, or I am choosing not to respond, because they can't read my lips anymore or see my facial contortions given that half my face is covered."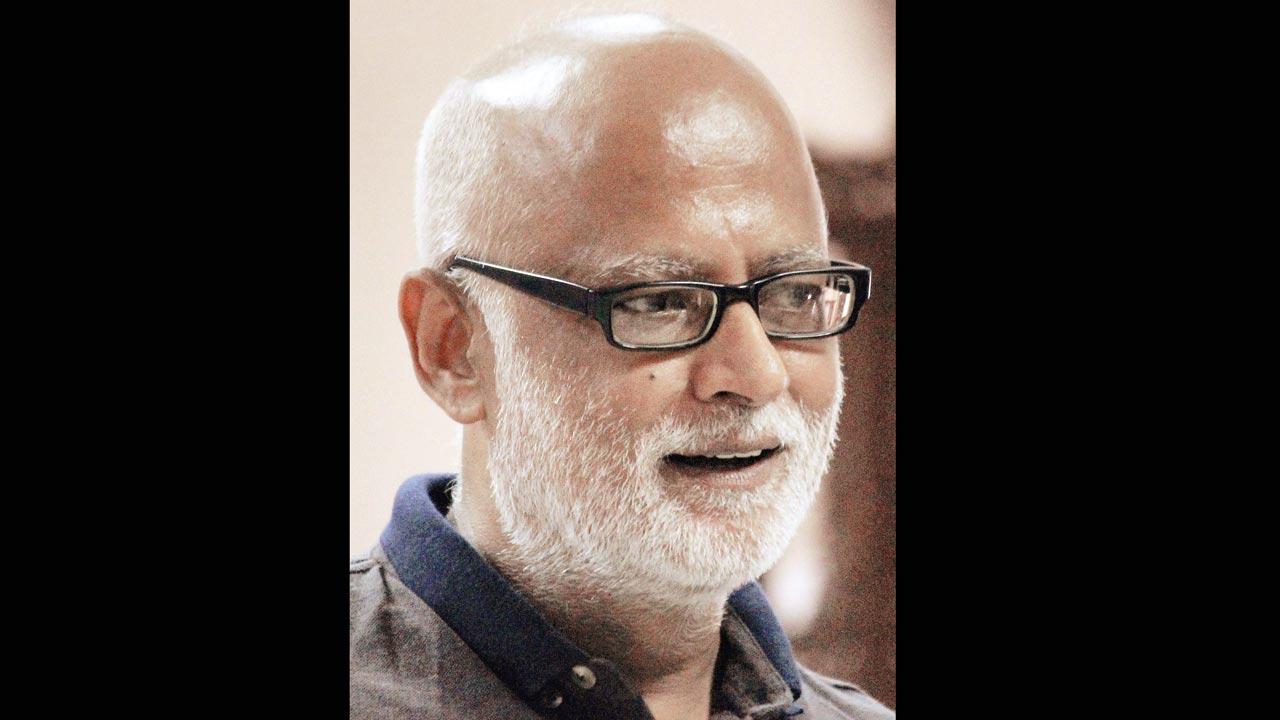 Dr Satyendra Srivastava is the founder of The Indian Stammering Association. He says masks perform the role of barrier, or even a protective shield for stammerers depending on their experiences
In the UK, The British Stammering Association has created an 'I Stammer' exemption card, and issued advisories for people to use it in public, while also offering transparent face masks as an alternative. The masks come with a clear mouth panel, which experts say will reduce the likelihood of people being interrupted when you are visibly blocking, or moments when the mouths is in a position to say the word, but no sound is emitted. Additionally, the organisation is offering free online workshops for parents of children who stammer, and for 12 to 18-year-olds who stammer, led by specialist speech and language therapists. In India, there's a need for more awareness, thinks Kumar. On his Instagram account, @stammer_positive, he has been documenting his daily struggle, while also discussing ways to help stutterers communicate better,  and reduce the stigma surrounding speech impediment. 
An estimated one per cent of the world's adults stutter. Their numbers include presidential candidate Joe Biden, actor James Earl Jones and actress Emily Blunt. In India, the figure is pegged at 1.25 crore.  Research done by the University of Illinois Stuttering Research Programme showed that the number of female adults who stutter is significantly lower because they have a higher chance of natural recovery at a young age. The gender ratio is skewed towards males at 4:1, shares Dr Satyendra Srivastava, who started The Indian Stammering Association (TISA) in 2008. The organisation has been proactively working across cities to inform, motivate and empower people with tools and techniques to build self-confidence. According to Dr Srivatsava, masks can have a binary effect on stammerers. "On the one hand, for some it provides a protective layer that prevents people from noticing the trembling of the lips, the visible anxiety and embarrassment. For others, it is yet another barrier in communication that requires them to repeat certain words more than usual. So, it's a mixed scenario." Kumar  agrees. "Sometimes, it's a relief when people can't see how hard I'm trying to say a word." He feels stammering cards will help give people a head's up about the condition. Stuttering typically begins when children first start stringing words together into simple sentences, around the age of two. 
Anita Singh, 26, is a member of the Indian Stammering Association. Singh and has been practising mindfulness techniques to reduce blocking; (right) Rohit Zalke
Stammerers are affected more by judgement, mockery and tendency to speak over them than the challenges posed by masks, thinks Dr Srivatsava. "Open bullying and imitation take a toll," he says. It was with the launch of his blog Haqlana (Hindi for stammer) in mid 2000, that Dr Srivastava spoke in public about his condition for the first time. The blog went "viral" at the time. "People began writing to me and sharing their experiences and the shame that they had internalised. I thought it was time to step out of the margins and stammer in the open," he says, recounting the physical meetings they have been conducting since the inception of TISA. More than 10 chapters of TISA are active across cities including in Bengaluru, Hyderabad, Delhi, Gurugram, Mumbai, Bhopal, Kolkata and in Goa and Assam. Ever since the pandemic broke, the weekly meetings have gone virtual. 
Nagpur-based engineer Rohil Zalke, who is also part of TISA, uses the pausing technique to deal with his stammer. It involves pausing briefly at natural points in conversations, such as commas, periods, and prepositional phrases. With this technique, Zalke says he is able to give the brain time to plan, and deal with "blocks". "Due to the mask, I've to increase the speed of my speech because if I pause, people tend to complete my sentences and it can get unnerving." But Zalke has been trying to find a way around it. Colleagues in his organisation are aware of his disability, and are supportive and empathetic, which helps, he adds. 
Nikhil Iyer
There are differences from person to person regarding which particular sound people will stutter on, and there's no predicting when it might strike, observes Kumar. Anxiety can also be situation-specific. Anita Singh, a Bengaluru-based physical design engineer, recounts how she would avoid situations that required her to display her projects at work. Her stammer became an inhibitor and opportunity-reducer. "Although I was good at my job, I suffered professionally because there were times when people would wrongly pin blame me for goofups, because they knew I'd never speak up. My appraisals were not at par with my peers despite being good at what I do." For Singh, the mask initially proved to be a protective shield, but she soon realised that she can't keep hiding behind it. Her attempt to speak without blocking was becoming a stressor and the dormant emotions were manifesting in anger issues and mood swings. "I'm working on myself and my blocks have reduced." Singh says patience is the need of the hour. "People with a stutter know what they want to say. Just give them time."
Although there is no consensus on the most effective treatment for stuttering, speech and cognitive therapy are used to address anxiety. "I've come to think of it not as a disability, but just a different form of behaviour, like an accent or a skin colour. It's just another trait," shares Nikhil Iyer, who works as an IT manager at a bank and is associated with the Mumbai chapter of TISA. He feels it is all about accepting yourself.
1.25 
Estimated number of people in crore in India who stammer
What's the fix?
Dr Santosh Bangar, senior consultant psychiatrist, Global Hospital, Parel, says  the combined effect of anxiety on part of the stammerer and awkwardness of the listener can impact social interaction and worsen the stammering. "As a result, they may talk over the person, move on, or misinterpret what they believe is a non-response as disrespectful or worse," he says. Dr Bangar lists a few ways to deal with the situation for people who stammer.
Self-disclosure You may choose to tell people or carry a card stating the difficulty. This may allow extra time and it can reduce the anxiety around speaking.
Wear a clear mask By doing so, others will be able to see if you are experiencing a block.
Practice at home You can de-sensitise yourself by practising in front of a mirror with a mask on.
Everyone can help people who stutter by doing the following:
Be patient Give the person a chance to speak. Don't try to finish their thought or speak for them.
Ask for clarification If you don't understand what a person is saying, let them know. Do not keep guessing or ignore them.
Be flexible Ask a person if they need more time to speak. Be open to other ways of communicating, such as reading a written message.