Ronnie Screwvala, founder of UTV Group, Unilazer Ventures and Swades Foundation, is a man who believes in dreaming big and dreaming with his eyes open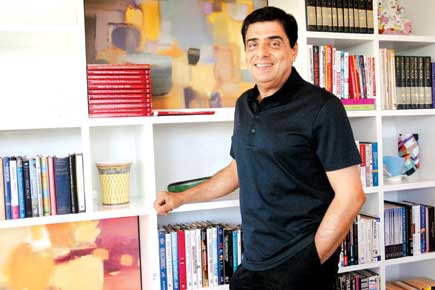 Ronnie Screwvala at his office in Worli
Ronnie Screwvala, founder, Unilazer Ventures
He started a toothbrush-manufacturing business with a machine that was on its way to the scrap yard. He brought the concept of cable television to India at a time when people hardly knew how to use a remote control. He started UTV Software Communications — a television company with a meagre capital of a R37,500 and landed a deal with Rupert Murdoch of News Corp. He came up with the first Hindi daily soap that went on to become a milestone in the history and evolution of television industry.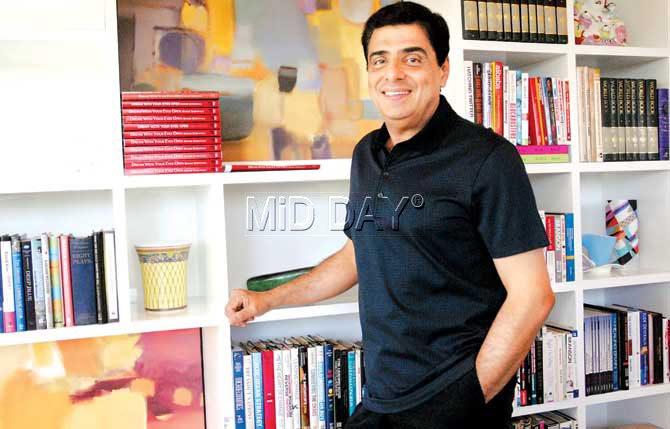 Ronnie Screwvala at his office in Worli Pic/Suresh KK 
He launched the first Hindi channel for kids and young adults that became so popular that Disney came calling. And he made a foray into the film industry as an 'outsider' and went on to produce some of the biggest box office hits of the decade. Rohinton 'Ronnie' Screwvala is a man of many firsts and a man who has entrepreneurship embedded in his DNA.
First generation entrepreneur
He vehemently refuses to believe that some special talent is responsible for his success. "I don't believe in any kind of 'X-factor'. I am a first-generation entrepreneur. I came from a lower-middle class family where everyone had 9 to 5 jobs. All I had was the clarity of thought and confidence. My initial failures as well as my theatre days helped me gain perspective," says Screwvala. However he quickly adds, "Not everyone is cut out to become an entrepreneur. You don't have to be born with it, but you need to really want it."
Morning shows the day
When still in school, he would gather all the kids of his building and organise what he calls 'play-cum-concerts'. Handbills would be circulated in the locality inviting audiences. And of course, the entertainment came with a price tag. He remembers earning his first buck by organising such a performance when he was merely 10 years old. He would soon graduate to more innovative ventures—like collecting money to let people in their verandah to watch the stars gathered in the cinema hall next to their house. Ask him about these initial entrepreneurial ventures and he laughs, "When you look back and reflect on these now, it seems I always had this keeda in me to become an entrepreneur. However, trust me, at that point in time, I did them just for fun."
All glory is fleeting
In 2008 Esquire named him among the 75 most influential people of the 21st century and a year after, Time magazine put him on it list of 100 most influential people. However, to Screwvala these are merely tags. "Of course you feel good when you receive such honours. But does it really change anything? Moreover, by the time a recognition comes, I have already moved on to a different project and I don't like looking back," says the entertainment czar who after stepping down as Managing Director of Disney UTV(Disney acquired UTV in 2012) and turned his attention towards Unilazer Ventures Pvt Ltd, a private equity firm that invests in start-ups.
However, in-between cementing the base of this newly launched company, Screwvala also wrote a book in his 'free time' — Dream With Your Eyes Open. Published by Rupa Publication, it is an autobiography of sorts aimed to inspire young entrepreneurs.
In the book, he talks about his first failure, which was quite literal. Always a good student, Screwvala had flunked his first year BCom exams. Reason? Over confidence! It was a huge blow, but he not only reappeared for the exams and came out with flying colours, but also learnt a lesson he never forgot—"All glory is fleeting." And since that day Screwvala, who is credited with many first in the entertainment industry, has never let success get into his head. Nor has he let failures stop him. "Failure only meant I had to try harder and not that I had to retreat," he says The 'serial entrepreneur'
It is a tag that makes Screwvala extremely uncomfortable. "It is not like dabbling in non-related industries like salt and steel. All my ventures have been in the same industry, apart from of course the toothbrush manufacturing one. All I have done is just taken the next logical step!" he says. From television that 'next step' was the movies. And UTV Motion Pictures was born. However, what Screwvala initially didn't take into account that they will be the 'outsiders' in the industry swarming with veterans. "We realised that we had to do something different from what everyone was already doing, and doing so well. We would have failed if we would have thought of competing with a Yash Chopra or a Karan Johar. Although Chalte Chalte was still a formula movie, we followed it up with Swades, Lakshya, Rang De Basanti—each a breakout movie. It was a chart we wanted."
While the company was not hesitant to put its money on the edgy, trembling-on -the-brink-of-bizarre DevD, it took up the simple story of Khosla ka Ghosla with equal enthusiasm. "Khosla ka Ghosla was a story many of us had lived and all of us can identify with. People go to movies for all the song and dance, but they also go to see their stories." However, Screwvala was always sure of one thing — the movie had to resonate with the audiance, and make money. "At the end of the day you have to keep in mind that you are doing commerce and not arts," he points out.
You wake up with an idea
How does he manage to come up with such pioneering ideas? "You can wake up in the morning with a new idea. If you are pioneering something, you can't do much research before starting it. The research part comes after you have launched the business in order to fine-tune it. But, at the end of the day, you have to size up the market and go with your gut feeling. And by 'gut feeling' I mean an evolved thought process based on the sum total of
your experiences."
New frontiers
And today armed with this gut feeling he is poised to take some huge steps in sectors as diverse as education, sports and digital media. USport, UEd and UDigital are his three new babies. But why this tectonic shift? "I had built a production house from scratch and worked on it for twenty long years. It would have been an insult to my intelligence if I would have stuck to the same industry after leaving Disney UTV.
It will prove that I have no fresh ideas and can't think beyond media. Every new venture is difficult in the beginning. You can say I get a kick from the difficulty level of a project," says Screwvala. And the last sentence explains his CV.
While UDigital provides digital brand services including multi-genre and multi-lingual content, UEd is focussing on providing online post-graduation and specialisations which have a demand but is still not available in the country. The company plans to tie up with government universities and apart from providing the technology, will also create content for the courses. On the other hand, USport already owns UMumba—the team that grabbed many eyeballs in the last Pro Kabaddi League."Kabaddi will be phenomenal in India, although it is football that will become the international sport eventually," prophesies Screwvala whose company has big plans for football, which he is reluctant to divulge.
The company is also looking a mobile sports — the bike-related ones to be precise. Again an uncharted territory in India. "More bikes are sold in India that anywhere else in the world. We are going to combine tourism with sports. With bikes you can go to the most exotic of locations such as Ladakh, Diu, Pondicherry. It will boost the tourism industry of these places as well. Also, imagine watching a sport on television with such scenic backgrounds! These are all fun and disruptive things I am doing, why would I even think of going back to media?" he smiles.
The other side
However, not every venture he takes up is with the aim to make money and Swades Foundation, which is today working in six blocks of Raigad — is the other side of this astute businessman. "It is an execution foundation working in rural Mahrashtra to provide water, sanitation, education and livelihood. The aim is to elevate one million people from poverty every five to six years. And we are already into our third year of the first cycle," says Screwvala, who believe is leading from the front and makes frequent trips to Raigad — the base camp for all the activities of the foundation.
And indeed it is quite different from doling out instruction or taking crucial business decisions sitting in an air-conditioned office ensconced in greenery. "It is rough and tough. It is 20 times more challenging than figuring out how to launch a cable TV network or produce a movie," he agrees. But it is not the heat and dust he is referring to. "Our main challenge is to build trust among the local community and educate them. We want the farmers to have a second crop, we want all expectant mothers to deliver their child in a hospital…but it is not easy to convince them," says Screwvala. Then 'easy' things hardyinterests this man!