After flamingos, bird watchers and photographers can go chasing the blue sunbird in Navi Mumbai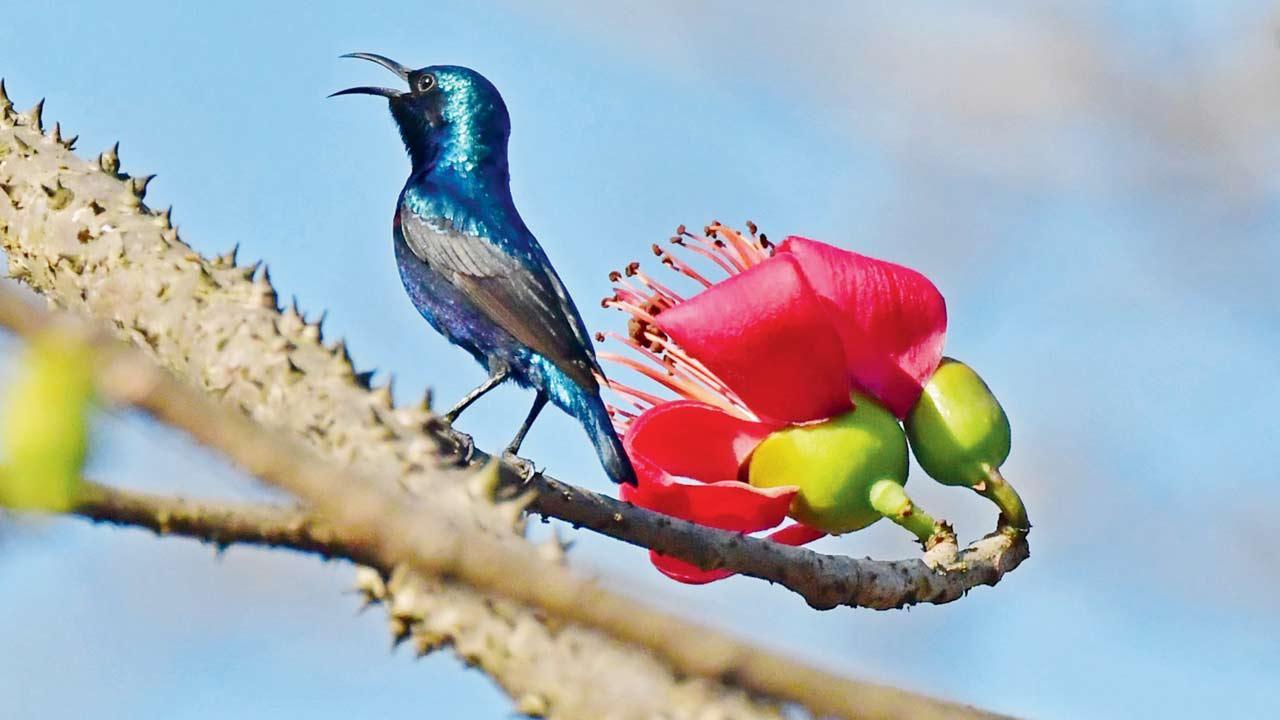 The male purple sunbird is deep bluish-violet, especially around the crown. The female is yellow and brown. PICS COURTESY/SUNJOY MONGA
The best time to catch a glimpse of the tiny, bluish male purple sunbird is at early mornings in summers. You might have to wait for hours until the shy bird rests upon a dry tree. To the uninitiated, it looks like a tiny black bird until the sunlight hits it at the right angle, making it, especially its crown, appear a splendid blue-purple.
The blue sunbird has had a long relationship with the city. Back in the '70s and '80s, it was frequently spotted in the greener areas of mainland Mumbai. But now, it is mainly seen outside the city in Navi Mumbai, Thane and adjoining areas. "Different species of birds usually compete with each other for survival in a particular place. In the case of sunbirds, the rump sunbird has retained its supremacy in Mumbai and the blue sunbird has made its home in the outer limits," says Sunjoy Monga, a wildlife photographer, conservationist, naturalist and writer.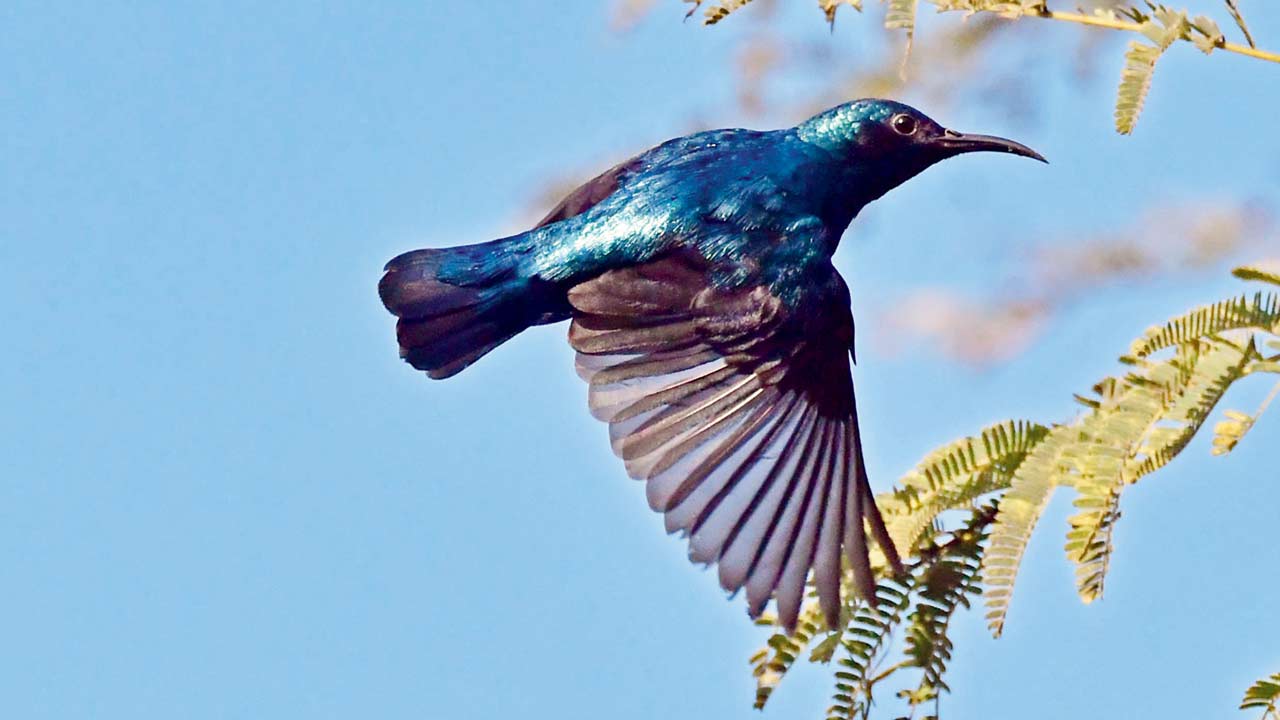 We caught a glimpse of the blue sunbird at the 50-hectare urban forest, Green Valley Park, in CBD Belapur, Navi Mumbai. "In summers, when several trees shed their leaves and the jungle becomes brown from green, is the best time to photograph the little bird," says 20-year-old Vidhu Sharma, a student photographer. "The only problem is that it doesn't stay still."  He would know: Vidhu has been chasing the bird for three Sundays, waiting for hours on an uneven small rock a few hours after sunrise, dodging flies and ants. Like most tiny birds, the purple sunbird tries to stay clear of people. "But this one's different," V Subhalaxmi, founder of iNaturewatch Foundation, tells us. The charitable Trust works for environmental protection and animal welfare conducts walks in Green Valley Park. "It is one of the few birds that feed on the nectar of flowers, helped by its long and curved beak. It plays an important role in pollination. Sometimes, it's spotted hovering around flowers, giving the impression that it's the foreign hummingbird." Fun fact: The purple sunbird makes a very peculiar nest from forest waste that looks like a waste bag.
"The green urban forest," informs Monga, "has been preserved by the locals. For years, they have been placing small birdbaths across the park, attracting several resident and migratory birds, such as red spurfowl, flycatchers and orange-headed thrush… and photographers."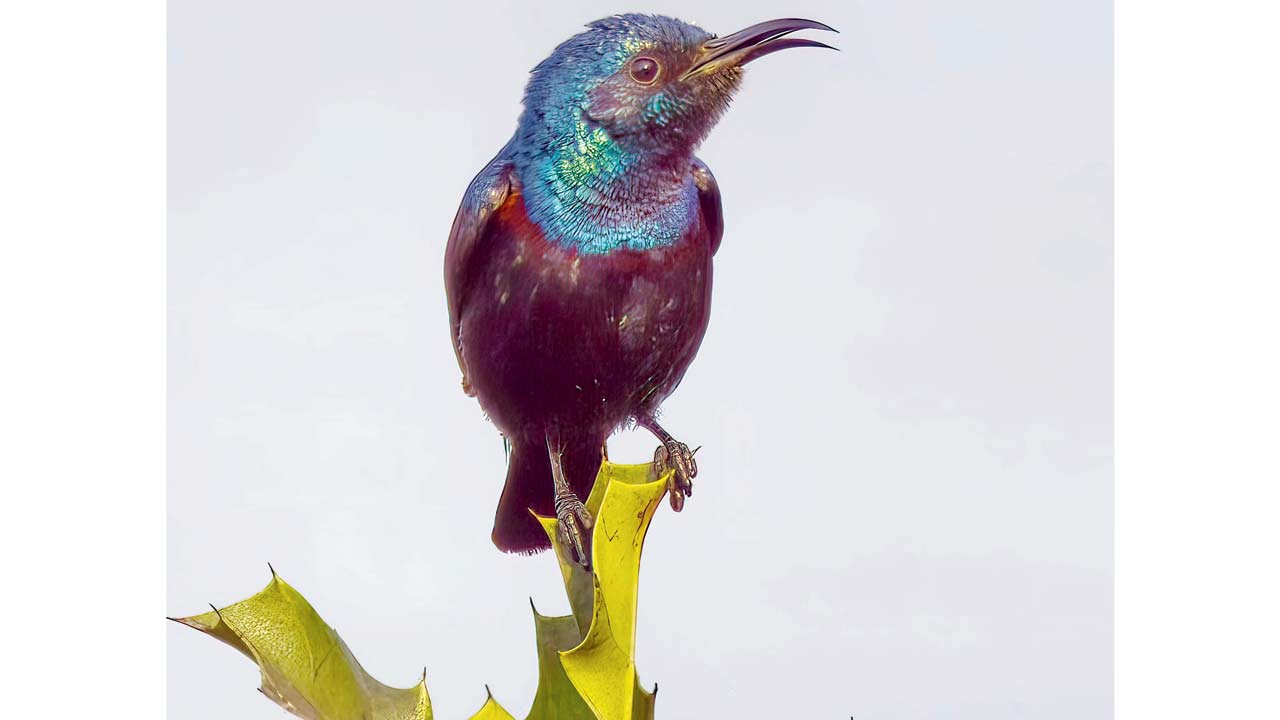 PIC COURTESY/ASHOK SOMESHWAR
Amateur photographer, Ashok Someshwar, 64, is among them. "The availability of water and some wild flowers makes Green Valley Park a great place for birding and bird photography," he tells us. "Sit by the flowers, and there is a good chance of spotting the purple sunbird. The real challenge is to click really quickly, and as quietly as possible. Even the slightest sound will scare it away."
Someshwar has been lucky to get a couple of shots of the blue male, and the yellow-and-brown female, but Sharma is not so lucky. "My bird would just not sit still. It kept hopping from one tree to another," he sighs. "Thankfully, we still have some time before the monsoons…"
WHAT: Bird photography and birding
WHERE: Green Valley Park, Sector 9, CBD Belapur, Navi Mumbai
WHEN: 6 to 9 AM, 5 to 8 PM (park timings)