A new book by American researcher Andrew Otis reveals the true events that led to the creation of Hicky's Bengal Gazette, South Asia's first printed newspaper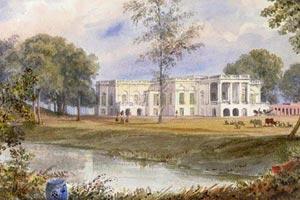 Warren Hastings' Belvedere Estate, near the site of Hastings and Francis' duel. Painted by William Prinsep (1838)
In the history classroom, the story behind the making of South Asia's first printed newspaper, Hicky's Bengal Gazette, also known as the Original Calcutta General Advertiser (1780-82), has never been told with the same passion its creator, Irishman James Augustus Hicky, had for the project. Part of the reason could have been the scarce representation of Hicky in textbooks, where his contribution to the Indian press has mostly been reduced to a few sentences, if at all.
But Hicky had the most interesting story, says Washington DC-based researcher Andrew Otis. "He was a man who worked his way out of debtors' prison, founded a printing press and started the first newspaper in India from almost nothing. And then, having worked his way up from nothing, he sacrificed everything for an ideal — the freedom of the press. He stood up to a power-hungry regime bent on conquering India and tried to expose its corruption. That was impressive. Just imagine the tenacity of a person who could do all that. Hicky was not just a historical figure," says Otis.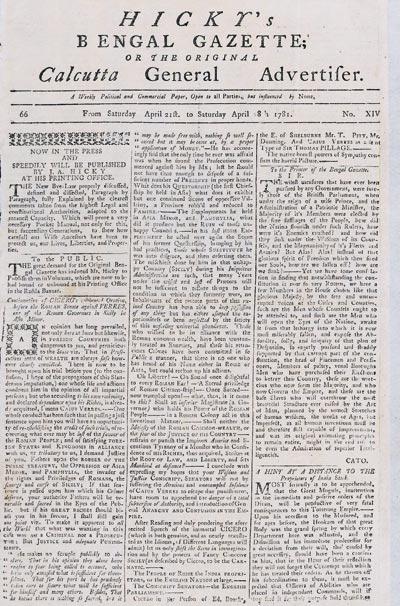 The front page of Hicky's Bengal Gazette, 28 April, 1781. Pic courtesy/The University of Heidelberg
Determined to trace the true events behind the making of Hicky's newspaper, Otis set out on a research journey, which began at the British Library in London in September 2011 — after he chanced upon a copy of Bengal Gazette — and took him to as far as Kolkata — where Hicky started the paper — in India, and Germany. The result is a first-of-its-kind volume, Hicky's Bengal Gazette: The Story of India's First Newspaper (Westland Books, Amazon), which offers a compelling addition to the history of subcontinental journalism.
Set in the late 18th century Calcutta, Otis' book, which he undertook as part of a scholarship, chronicles Hicky's decision to establish a newspaper to lay bare the murky underside of the English East India Company. "When I first came across Hicky, I thought he might be a paranoiac. In one issue of his newspaper he wrote that there was an assassination attempt on his life. At first I didn't believe it. But as I came to learn more about the British East India Company, I came to learn that his exaggerations were maybe not so much exaggerations after all. The Company was brutal in its repression of dissent," he says.

Hicky's paper was critical of Warren Hastings (1732-1818), then Governor General of India. Pic/Getty Images
Hicky's immediate target was the then Governor-General of India Warren Hastings (1774–1785). The back-story, as relayed in the book is that Marian, Hasting's wife, had expressed her interest in supporting his press. "It was well known in Calcutta how much sway she [Marian] had over her husband. If all went well, they [the investors] implied that Marian could use her influence to let his newspaper be mailed for free through the post office...But in Hicky's mind no such help could come for free," Otis writes in the book. The next day, he went to Hastings' Belvedere Estate, but as he began to approach the home, he "began to feel uneasy, like a selfish traitor who did not have the courage to stand up for his beliefs. Abruptly, at the last minute, he turned around and left," he writes.
"Hastings didn't do a very good job of hiding his crimes. When Hastings bribed Chief Justice Elijah Impey of the Supreme Court of Bengal, he made it a matter of public record, by documenting the bribe in official Company records. I think Hastings thought he was the above the law," says Otis, while explaining why exposing Hastings had became a major goal of Hicky's journalistic endevaour.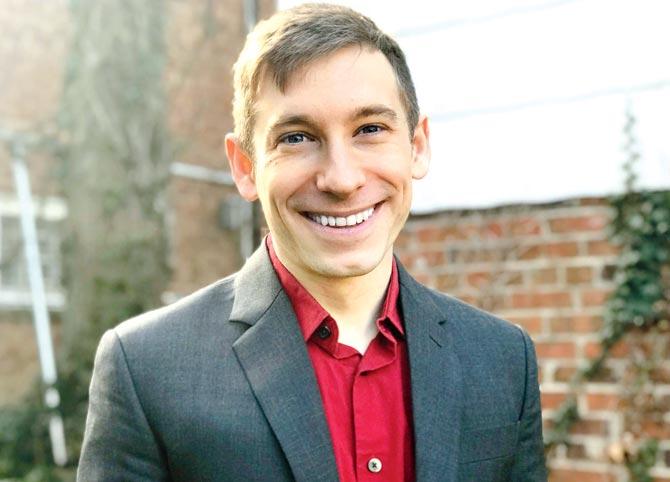 Andrew Otis
What Otis found amusing was Hicky accusing Hastings of erectile dysfunction. "It was just a pot shot. Hicky had written an article accusing Hastings of waging an illegal war that would end in the deaths of thousands of lives, and at the end of the article, he added a line, as if almost an afterthought, that the stress of the war had lowered Hastings's libido. Hastings was the most powerful man in India, and Hicky had the audacity to question his manhood!" Hicky often paid dearly. He was sentenced to jail for three years, but refused to give up printing the newspaper. "The Supreme Court of Bengal had to issue a special order seizing his press to stop him," he says.
It's for this reason and more that Otis feels that Hicky played a crucial role in organising dissent against the Company. "Hicky pioneered a generation of journalists in India. One of Hicky's assistants became the printer for the first illustrated book in Bengali, Annada Mangal, published by Ganga Kishore Bhattacharji. Bhattacharji was the editor of one of the first Bengali newspapers, the Bengal Gazette."
But to say that he may have influenced the rebellion that was to come in the next century, could be incorrect. "He argued that British subjects had fundamental rights. Some thought it meant everyone, British and Indians alike. Others thought it meant only Britishers. Hicky never clearly stated his opinion. He was a radical in that he wanted to change how British India was governed. But did he want a revolution where Indians would have equal rights with British? Maybe not," he says.
Catch up on all the latest Mumbai news, crime news, current affairs, and also a complete guide on Mumbai from food to things to do and events across the city here. Also download the new mid-day Android and iOS apps to get latest updates