While it suits the current crop of politicos to make the controversy surrounding The Kashmir Files a myopic Congress vs BJP affair, author Ashwin Sanghi says Islamic control of a Shaivite and Buddhist Kashmir dates back to the 8th century
Ashwin Sanghi
All history is distorted by the lens of the observer... Each historian peddles his or her own narrative and repeats the errors of the group that preceded it," Ashwin Sanghi, one of India's highest selling English authors, tells us over an email interview. It's why Sanghi feels that a film like The Kashmir Files, directed by Vivek Ranjan Agnihotri, which has stirred up a hornet's nest for its portrayal of the exodus of Kashmiri pandits in 1990 needs to co-exist with other narratives of history.
Sanghi admits that Agnihotri's film is "difficult" to watch. "Sometimes, fact is more sinister than fiction. As someone who has read a bit of history, I knew that the events narrated [in the film] were true, and this made watching the film even more painful," he says.
ADVERTISEMENT
The author's own curiosity about Kashmir was spurred by what he describes as a transformative event that took place nearly two decades ago, in 2003, during a visit to Srinagar. "A missed return flight gave me an extra day in the city, and I used the bonus time to visit a local tomb known as Rozabal. Land records indicate that a mausoleum has stood at that spot since 112 CE. The person buried within is a medieval Shia Muslim mystic, Mir Syyed Naseeruddin. As is typical of Islamic burials, Naseeruddin's sarcophagus lies along a north-south axis. But there is an earlier burial beneath the Islamic one, which lies along an east-west axis in Judaic tradition," he says. "Since Islam was founded only in the seventh century, who was this tomb's sole occupant during the first five centuries of its existence? It is believed that the earlier inhabitant was a charismatic preacher Yuz Asaf, who arrived in Kashmir from Israel. Outside the sarcophagus are carved a pair of human feet with crucifixion marks. Legend has it that Jesus Christ survived crucifixion, travelled to Kashmir, and lies buried there. I found this tale utterly fascinating, and this sparked my interest in the pre-Islamic history of Kashmir as described in [12th century Brahmin writer] Kalhana's Rajatarangini." This, he says, is what prompted him to write his first novel, The Rozabal Line, a theological-cum-historical novel based on the notion that Christ had lived in Kashmir.Sanghi, who has since then written over 10 novels, and even featured in The New York Times bestseller list, tells mid-day why it's important to understand Kashmir's past, to make sense of the state's contemporary history, and how "the events of 1990 were merely the final chapter" in a dreaded saga.
Edited excerpts from the interview:
In an earlier interview, you spoke about how Kashmir has a rich heritage that is Hindu and Buddhist in nature. Take us through its past. 
The primary deity of Kashmir of antiquity was Sharada, a manifestation of Saraswati, the goddess of wisdom. Prayers refer to her as "Kashmir puravasini" (she who resides in Kashmir). Looking at today's Muslim-majority Kashmir valley, it is easy to forget that Kashmir was part of the Maurya Empire and then the Kushan Empire, before falling to the Huns and then the Karakotas, Utpalas and the Loharas. One forgets that the land derived its name from the goddess Kashmira and the sage Kashyap. Adi Shankaracharya, the greatest Guru of Adavita Vedanta visited Kashmir, travelling on foot from the southernmost tip Kanyakumari. It is forgotten that Patanjali, the author of the Mahabhashya commentary on Panini's Ashtadhyayi, was a Kashmiri (so were several other grammarians such as Chandra). Charaka Samhita [a Sanskrit text on ancient Indian medicine] would have been lost to us had it not been for the Kashmiri Dridhabala, who added several chapters to Charaka's work. Yoga Vasishtha was authored in Kashmir and became an enduring work on the nature of consciousness. 
Kushan emperor Kanishka picked Kashmir as the venue of the most important Buddhist Council with over 500 Buddhist monks and scholars in attendance. One of the greatest Buddhist teachers, Kumarajiva, who was key to the spread of Buddhism in China, was from Kashmir. The Martanda temple, built by Lalitaditya, is one of largest-ever stone temples to have been built in this land (later destroyed by the Shah Miri dynasty in the 15th century). We have forgotten Anandavardhana and Abhinavgupta's work on the aesthetics of poetry.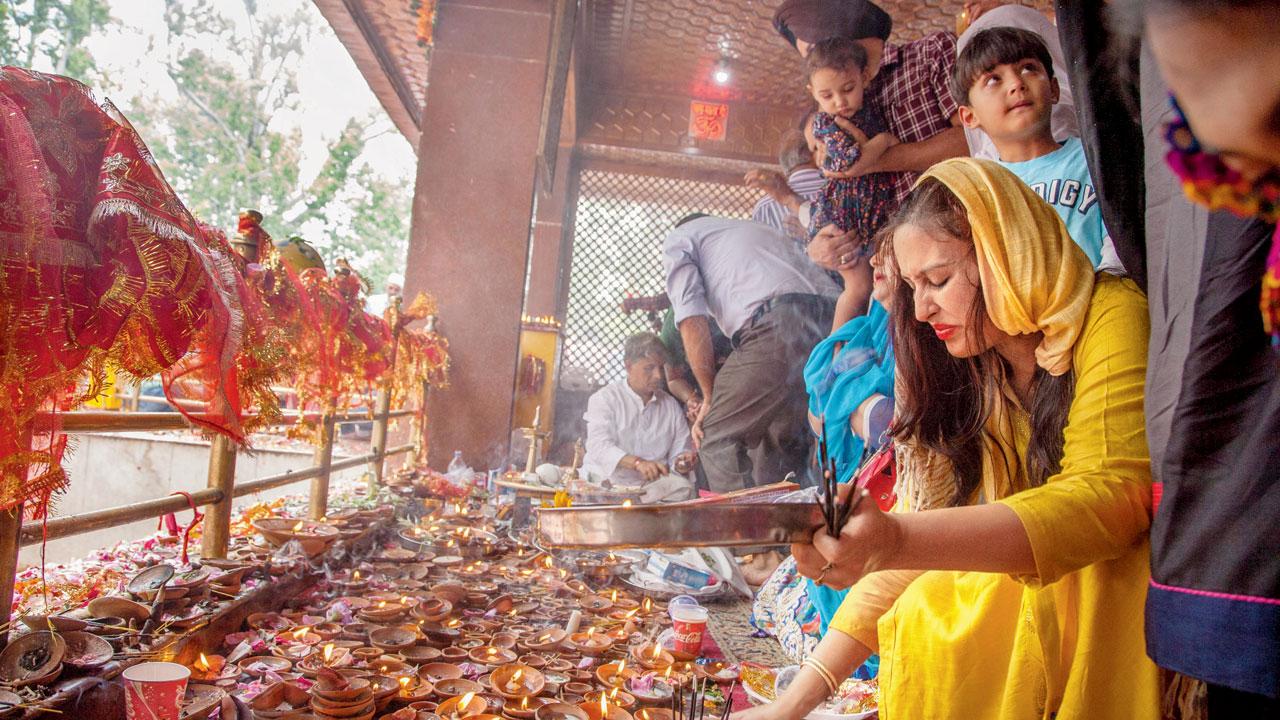 A Kashmiri Pandit devotee lights lamps during the annual Hindu festival of the Kheer Bhawani, in 2018 in Tullmull, 25 km east of Srinagar. Each year, thousands of Pandit devotees line up in spring with plates of sugar and milk to pay homage to the Goddess Kheer Bhawani. Pic/Getty Images


Things began to rapidly change post the eighth century. 
From your own readings, do explain how the fabric of Kashmir evolved. Kashmir was a thriving Shaivite and Buddhist civilisation, but by the eighth century many attempts of Islamic conquest began. Arab raider Junaid attacked the land, but was repelled by Lalitaditya. [Mohammed] Ghazni raided in 1002 CE, but was defeated by Sangram Raja, but some of the tribals along the borders converted to Islam. Many Muslims who were being persecuted by Taimur [Lung] also made their way to Kashmir as traders and fakirs. In the Indian tradition, they were given refuge by kings such as Suhadeva and Ramachandra. This was also the time when Bulbul Shah, a prominent Sufi from Turkestan arrived in Kashmir. One of the advisors of King Ramachandra was a Buddhist called Rinchen who overthrew the monarch and converted to Islam, along with 10,000 Brahmins, under the influence of Bulbul Shah. Then Hindus who did not convert were attacked. Kashmir was a thriving Buddhist and Shaivite culture until Sikandar Shah decided to forcibly Islamise it. There is an oft-repeated opinion that the problems of Kashmir are related to the decline of tolerant Sufi traditions and the rise of intolerant Salafism. The wise observers obscure the fact that Sikandar's Islamic zeal was inspired by a Sufi preacher, Mir Muhammad Hamadani. Does it even make sense then to talk of a historical kashmiriyat or syncretic tradition?
 
You've pointed out that Kashmiri Pandits cannot be seen or understood from what happened in the 1990s alone, and that there's a more bloodied past, which goes back centuries. Why is that context important now?
By the 14th century we had Sikandar, a king deeply influenced by a Sufi, Syed Mir Mohammed Hamadani. This was the greatest assault on Indic civilisation. There was a complete prohibition on Hindu festivals, rituals, prayers, and traditions such as the forehead tilak. Hindu temples and Buddhist viharas were destroyed, books were burned, and idols of gold and silver melted. A spot called Bhatta Mazaar came to be known as the graveyard of Kashmiri Pandits with several hundreds of them burned or drowned. The atrocities continued under successive kings like Sultan Ali Shah, who ensured that fleeing Hindus were captured and killed. Then there was Hyder Shah who overlooked the chopping of noses of hundreds of Brahmins. He was followed by Hasan Khan under whom the Nurbakshiya order flourished. There is a Persian work, Tuhfat-ul-Ahbab, that records that each day 1,500 to 2,000 infidels were to be brought to the doorstep of Mir Shamsud-Din Iraqi, a Shia-missionary, so that their sacred threads could be ripped off and kalma administered to them. Sometimes forced circumcision and force-feeding of beef was part of the process. Over 24,000 Hindu families were converted to the Shia faith by compulsion. Things were no better by the time the Mughals conquered Kashmir and Jiziya tax was imposed. The Mughal period was followed by Afghan rule, which was equally dark. So those who say that the Hindu exodus began in 1990 are forgetting history. Exodus, extermination and conversion began centuries ago. It was so effective that Kashmiri Hindus were eventually left as a five per cent minority. The events of 1990 were merely the final chapter in this dreaded saga.
 
Would you say this idea of a Muslim majority state colours the narratives and histories emerging from the place?
Germany is a country where the vast majority of its population sided with the Nazis either through sins of commission or omission during the holocaust. Do you think that narrative of the holocaust portrayed in Hollywood and European cinema should change on account of the present demographic of Germany? This is political obfuscation. Didn't movies like Parzania, Haider and Shikara also get made? If they could be permitted to present an alternative view then why should anyone have an issue with The Kashmir Files?
Atal Bihari Vajpayee referred to kashmiriyat, implying a supposed tradition of communal harmony and religious syncretism in the region. But think what happened a few months ago. Makhan Lal Bindroo, Supinder Kaur, Virender Paswan, Deepak Chand... Hindu targets being killed. It reminds one eerily of the 1990s in which hit lists of targeted Kashmiri Pandits were being circulated while local newspaper ads were exhorting the community to leave or convert to Islam. I sometimes wonder where was kashmiriyat hiding when from around 75,000 Kashmiri Pandit families, more than 70,000 fled between 1990 and 1992 alone. But the process did not start in 1989. As far back as 1931, anti-Hindu sentiments were whipped up leading to the region's first major riot. It was done to destabilise Maharaja Hari Singh's Dogra monarchy and the beneficiary of that polarisation was none other than Sheikh Abdullah.
Atal ji also spoke of insaniyat—or humanity. But insaniyat has been missing from the region for a long time. Some estimates indicate that around 60,000 people have died from 1989 to 2020 in the insurgency. But the numbers mask the horror of each death. As is often misattributed to Stalin, the death of one man is a tragedy but the death of millions is a statistic. For example, in 1990, a Kashmiri Pandit called Ashok Kumar Qazi was shot dead. But before he died, his knees were shattered, his hair was plucked out and his body was urinated on. As recently as 2017, Indian Police officer Muhammad Ayub Pandith was lynched by a mob of 200 people outside the outside the Jamia Masjid. He was stripped naked and beaten with stones and iron rods. His body was recovered in a mutilated state. Where is insaniyat to be found in this insanity?
 
I found your perspective on "truth and reconciliation" very interesting. Would you say that history is a bit of both?
See the recent spate of statues being torn down around the world. These are reactions to one-sided historical narratives. History can be quite easily manipulated by any group to either erase their past sins or glorify their deeds. In India, we whitewashed our history in our effort to maintain the peace. All history is distorted by the lens of the observer. And that's why I call it 'distory'—distorted history. Each set of historians peddles their own narrative and repeats the errors of the group that preceded it. This prevents old wounds from healing because of lack of closure. When we do not heal wounds, they fester. We need to cauterise that festering wound quickly.
What is the solution? As it turns out, the solution in the matter of both statues and history is the same: don't be selective. Let thousands of statues stand. Let dozens of historical narratives flourish. Allow history to be understood as an inexact narration of events often coloured by the sensibilities of the narrator. Allow all sides to have their say. The problem is selectivity. George Orwell said, 'He who controls the past, controls the future. He who controls the present, controls the past.' While politics determines control of the present, history determines control of the past. It's about time that we freed both from the shackles of one-sided narratives. History should have taught us that. Alas, in the words of Hegel, the only thing that we learn from history is that we never learn from history.